Wally The Walrus Wreaked So Much Havoc On This Coastal Town That Authorities Had To Get Involved
Muireann and her father were taking a stroll along the Irish coast when they caught sight of a massive creature the size of a bull resting on a rock. To their surprise, the creature turned out to be a walrus–who has since become infamous for causing trouble across European shores.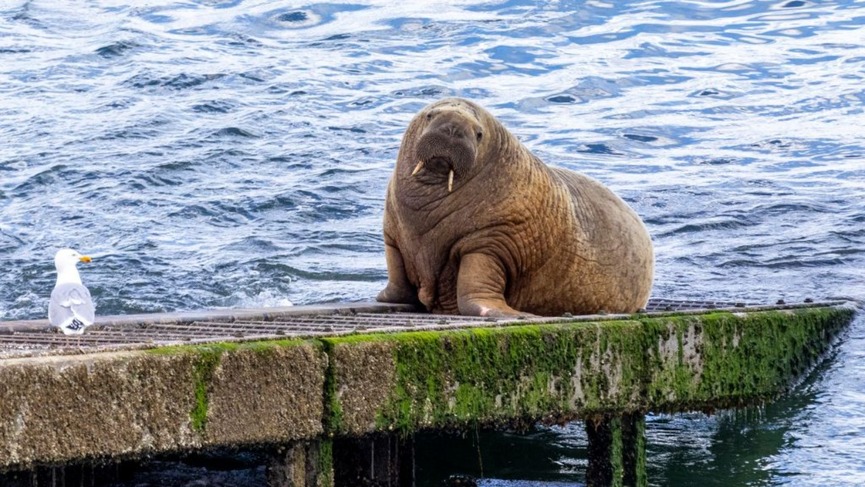 Wally (as he is affectionately known) has become quite the traveler, but his mischievous antics have caused concern, and authorities have stepped in.
Wally The Walrus Comes To Town
While we wouldn't exactly call walruses cuddly creatures, they certainly have a cuteness of sorts about them–and Wally, the walrus, is no exception. Based on his appearance, you might assume that Wally is harmless. He's a jolly and enjoyable presence, albeit one who enjoys human habitats more than his natural one.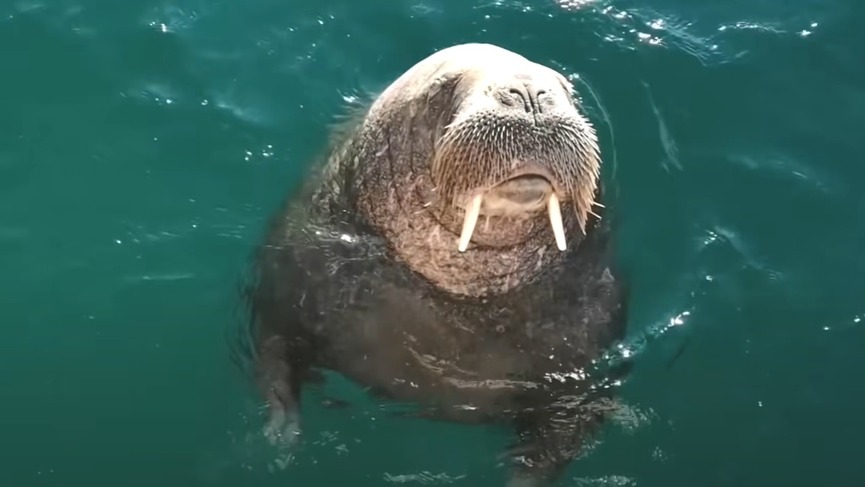 But despite Wally's newfound international fame, his troublesome behavior has caused a stir among the residents of the European towns he frequents. Consequently, authorities have been prompted to take action against Wally.
Wally In The Spotlight
Although Wally has impressed people around the globe with his out-of-the-ordinary behavior, many are unaware of the unintended consequences of his actions. After all, having one of the largest animals on Earth outside of its natural habitat is bound to cause a ripple effect in one way or another.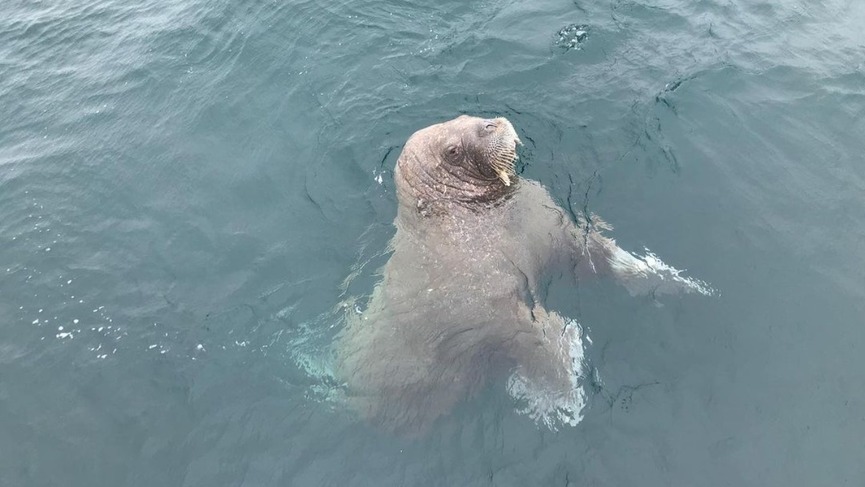 Wally's behavior has infuriated certain individuals to the point that they have suggested "deporting" the marine creature from European waters, essentially banishing the walrus back to where he came from. Unfortunately, Wally is unintentionally causing a great deal of frustration to many.
He Doesn't Know Any Better
Despite Wally's lovable demeanor from afar, he has managed to rile up the local populations in the areas he frequents. But what in the world could such a charming creature have done to upset people?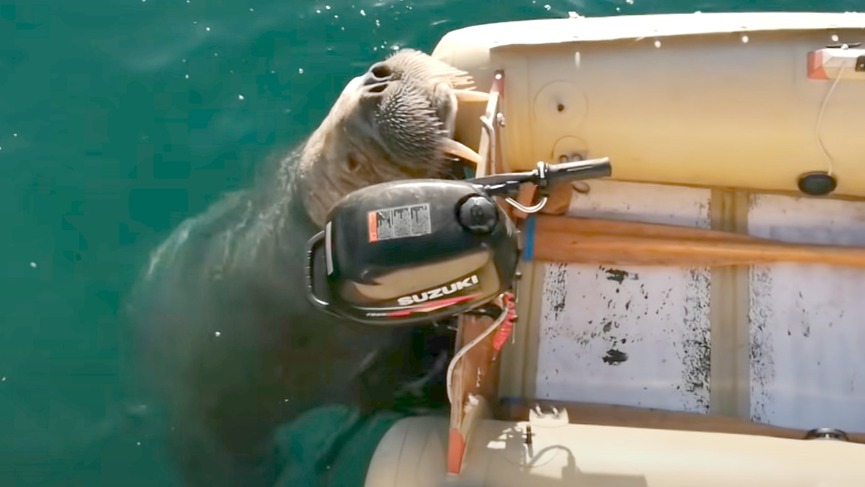 The truth is that Wally has been displaying peculiar and rather alarming behavior ever since he arrived on unfamiliar coasts. But can he be faulted for it? Wally is unfamiliar with how to behave in his new environment and is sincerely trying his best!
Wally's First Sighting
In 2021, Wally's initial appearance on the shores of County Kerry, Ireland, left both the general public and wildlife specialists bewildered, and rightly so. According to Kevin Flannery, a marine biologist at the nearby Dingle Oceanworld Aquarium, "This is the first confirmed sighting of a walrus. It's a one-off as far as I'm concerned," as reported by the Irish Examiner. 
With that said, the question remains–where did Wally originate from, and what brought him to the Irish shores?
Wait, Wally's From Where?
Indeed, most walruses are typically found much farther north in arctic waters. However, Wally is an exception to the norm as he appears to prefer living his life in warmer waters down south.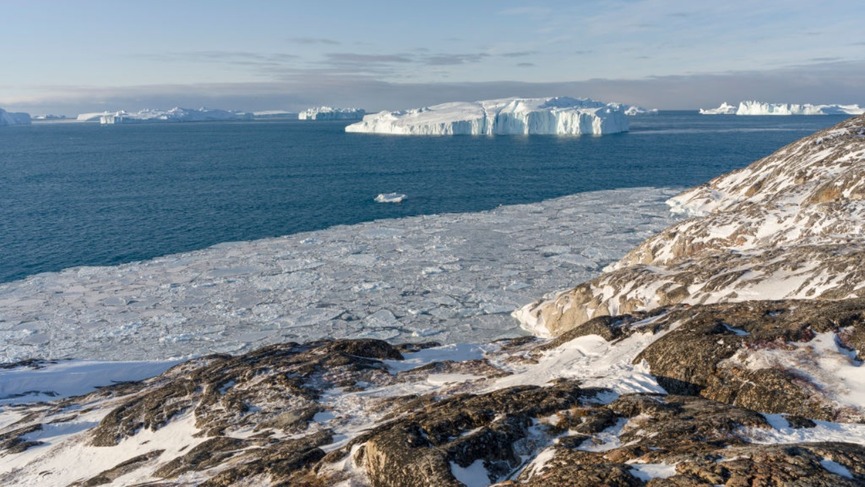 Experts are unsure why Wally has made this unusual choice to migrate south, and they can't be sure what compelled the walrus to embark on a journey away from his usual habitat. Despite this uncertainty, these wildlife specialists have developed various hypotheses to explain Wally's exceptionally unique behavior.
He May Have Slept Through The Whole Thing
There are a few plausible explanations for Wally's relocation. One working theory for Wally's presence in an unusual location is that he may have accidentally journeyed there. Wally (who experts believe to be around four years old) may have fallen asleep on an iceberg and only woke once he had unintentionally drifted far beyond his normal habitat.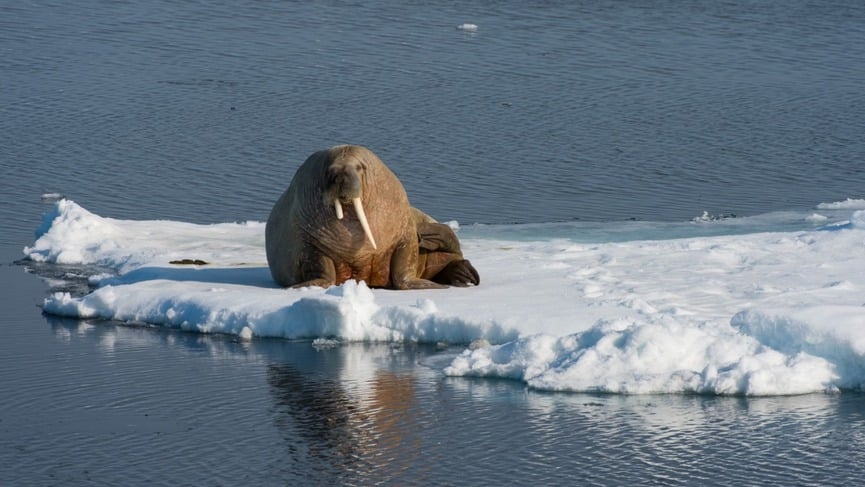 While this possible explanation reads like a Disney movie in the making, the World Wildlife Fund is not fully convinced that this is the case with Wally.
Was He Just Hungry?
In 2021, Tom Arnbom, a senior advisor for the World Wildlife Fund, spoke to BBC News and shared his perspective on Wally's situation. Arnbom disclosed that it's not uncommon for adolescent animals to embark on long journeys.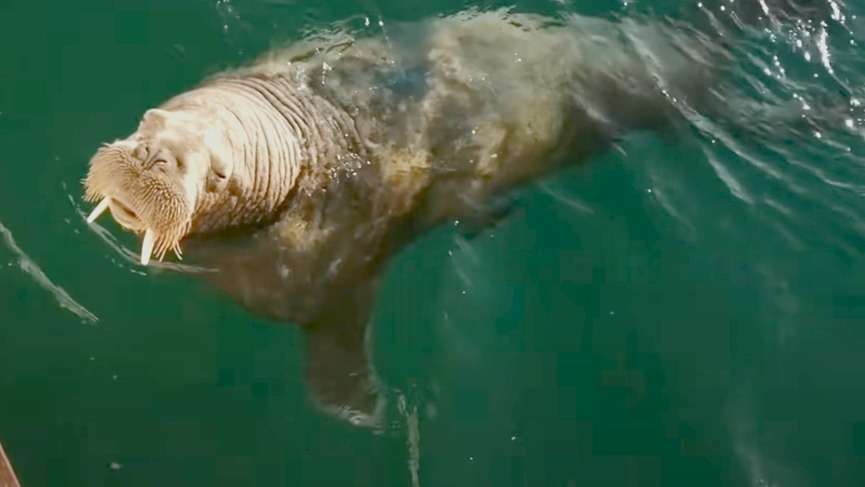 He also expressed his belief that Wally may have been searching for food. This is a reasonable explanation, especially given similar stories that have emerged regarding other arctic animals like polar bears who have appeared in populated cities in recent years looking for food. However, one must wonder why the marine animal would venture so near to land.
For The Love Of Shellfish
According to Arnbom, walruses must eventually venture to shallower waters, typically less than 100 to 200 meters deep, to feed on their preferred diet of shellfish like mussels and clams, which they can consume in large quantities.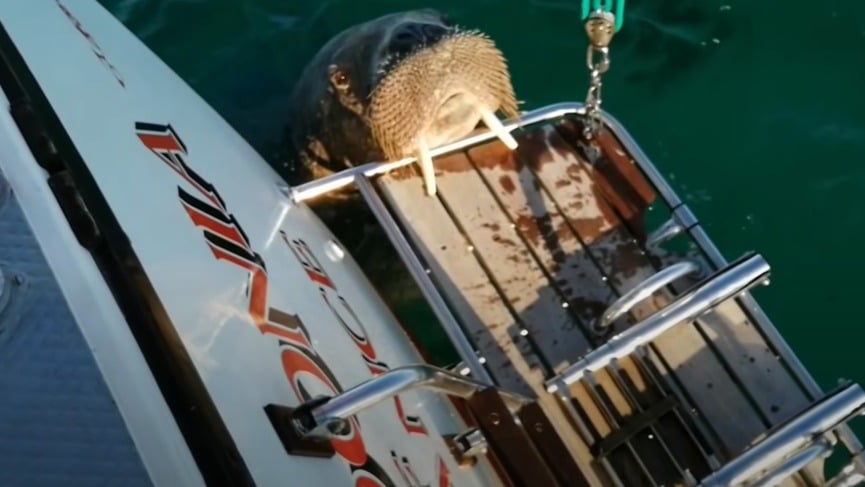 Thus, it's quite probable Wally may have been hunting for food, allowing him to amass a substantial amount without sharing with other walruses. Arnbom also noted that Wally would likely continue to travel around before ultimately returning to his home.
Wally At First Sight
Based on current observations, it appears Wally is indeed continuing to explore new territories. The walrus has been popping up all over Europe, but where was he first spotted, and by who?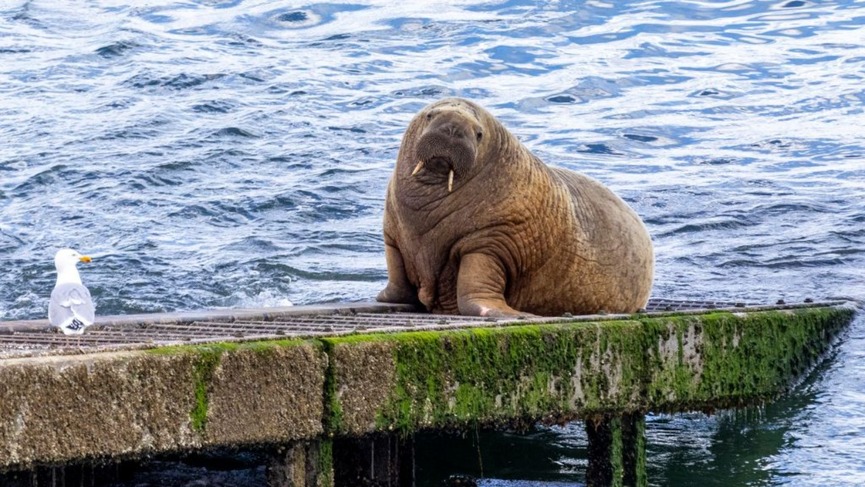 The first known sighting of Wally was by a father and daughter, Alan and Muireann Houlihan, on Valentia Island in County Kerry, Ireland. According to Alan, the walrus was enormous – comparable to the size of a large bull. The father and daughter pair shared this information with local media.
Walrus Life 101
Alan and Muireann Houlihan were utterly fascinated by the out-of-place walrus. They didn't move for some time as they stood observing the giant creature. They explained that after disappearing into the sea for a while, the walrus later resurfaced and rested on a rock for several hours.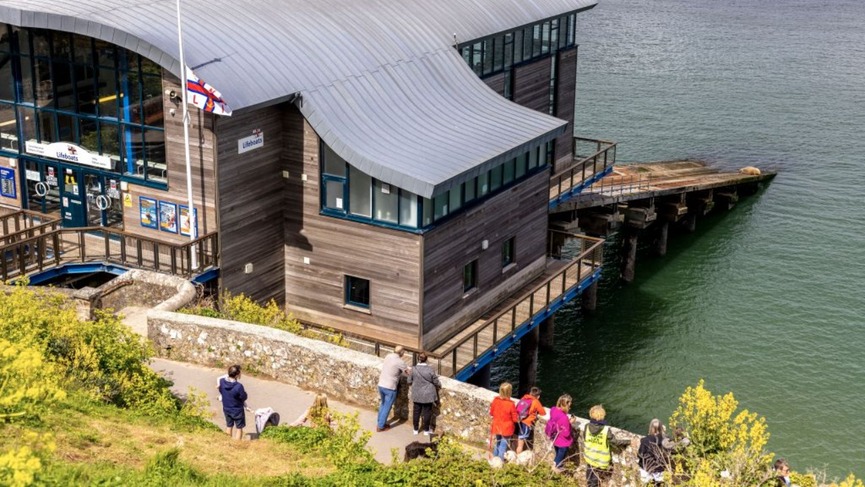 According to Alan, it was a fantastic sight. However, as Arnbom had suggested, Wally eventually became restless and moved on. This was just the first in a long line of Wally sightings across Europe.
Walrus Witnesses Speak Out
Following his debut in County Kerry, Wally is said to have traveled to Broad Haven South beach in Pembrokeshire, Wales. Witnesses who spotted the wandering walrus were understandably confused and contacted the Welsh Marine Life Rescue for assistance.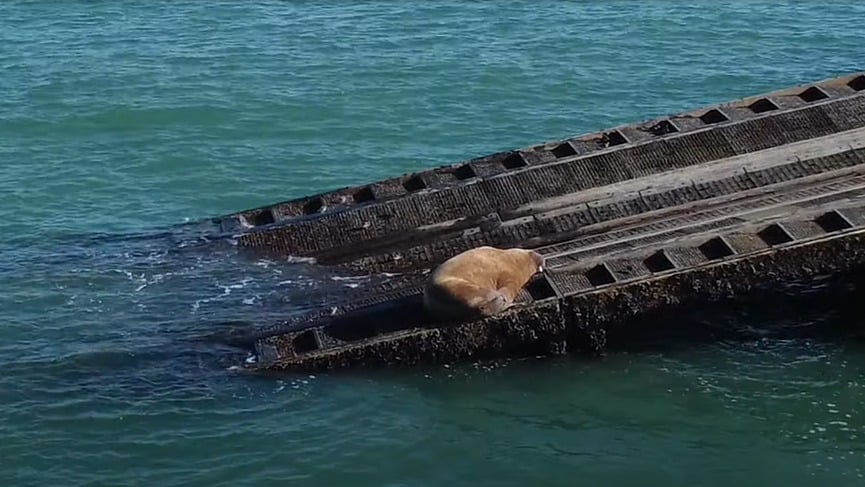 Cleopatra Browne was dispatched to investigate, and she confirmed the reports of Wally's presence. In an interview with BBC News, Browne described the walrus as "sat there, chilling," a statement one could easily joke about as a characteristic of "cool" Arctic animals. 
Face To Face With A Walrus
It's certainly not every day one encounters a walrus in the wild–especially off the coast of Wales. So, Browne had a lot to say when describing Wally: she referred to him as a massive creature that was about the size of a cow.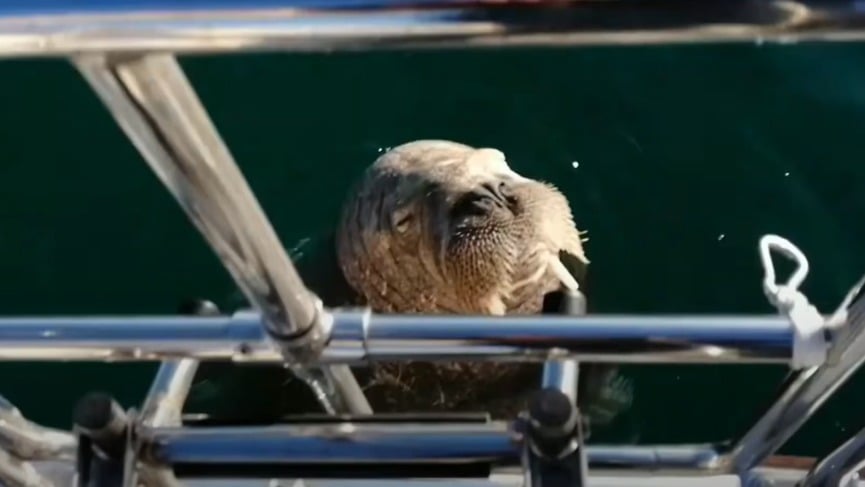 She also said the sight of him was so unexpected it could be compared to seeing a penguin in your lounge. It is definitely a bizarre and memorable experience for those who witness the wandering walrus.
Walruses Need Doctors Too
During his time near land and human civilization, Wally was examined by Ellie West from the RSPCA (Royal Society for the Prevention of Cruelty to Animals). Surprisingly, she noticed that Wally was slightly thinner than expected, despite the numerous reports of his voracious dining habits. However, West was relieved to report that Wally showed no signs of sickness or injury.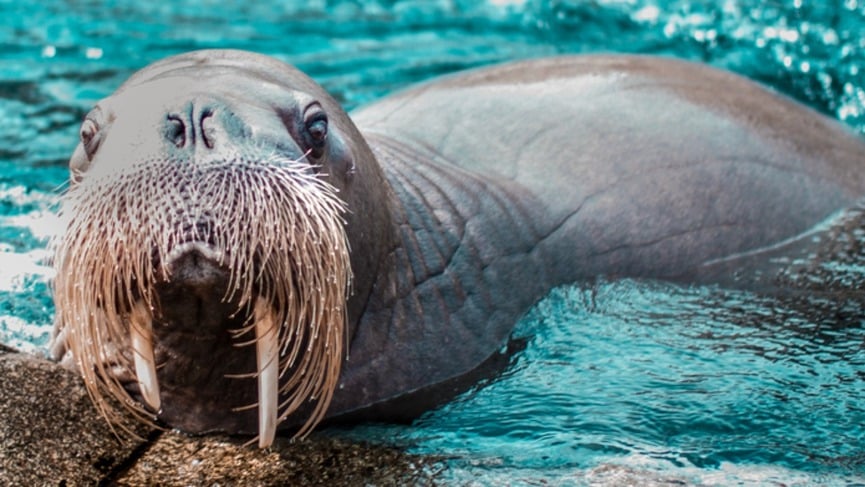 But unfortunately, as we'll soon learn, on his next stop, Wally was on the verge of causing some unintentional harm.
Wally Sleeps Anywhere And Everywhere
Wally was spotted again in Tenby, Wales, where he reportedly stayed for a few days feasting on shellfish to his heart's content. This left the walrus in a satisfied state, almost like a food-induced slumber. However, the location he chose to sleep off his full belly was not ideal.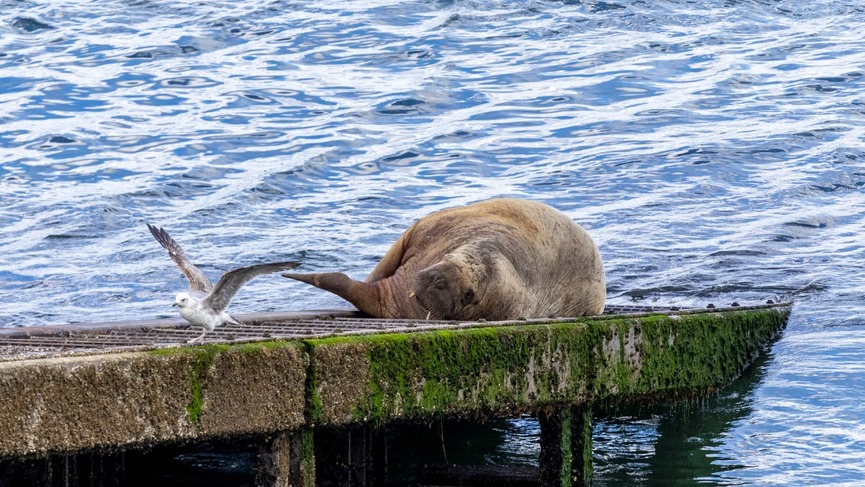 Wally decided to settle down on a lifeboat slipway, and in doing so, he ended up blocking access for emergency vehicles–unintentionally, of course. Nevertheless, the giant walrus was in the way, and people were becoming less and less understanding of Wally's presence.
Should You Wake A Walrus?
Wally, unfortunately, had unknowingly chosen an inconvenient spot to rest after several days of eating when he nestled into a long sleep on a lifeboat slipway. For obvious safety reasons, the ramp must be clear at all times. So it was deemed necessary for someone to clear the sleeping giant out of the way.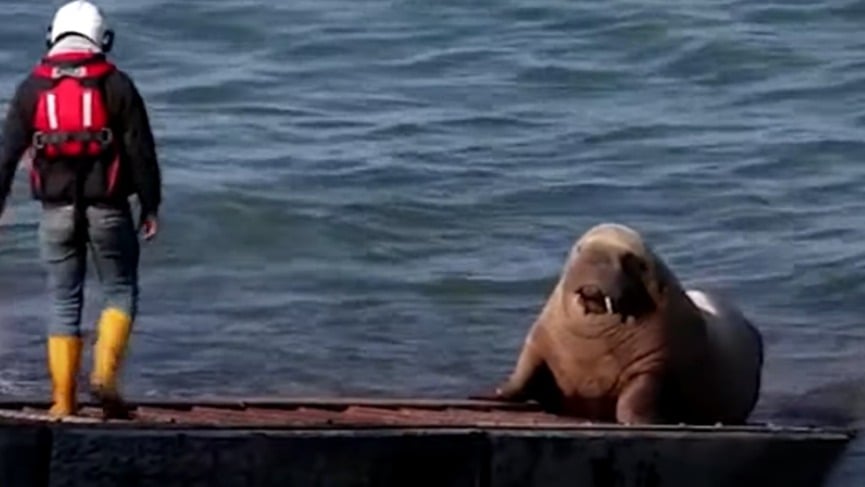 However, when a crew volunteer went out to move the walrus, it turned out to be a challenging task. The volunteer's first attempt involved using a sweeping brush–but it was unsuccessful.
A Rude Awakening
Martyn Sidwell, a tourist who witnessed the event, shared that Wally seemed entirely unimpressed when a crew volunteer tried to remove him from the lifeboat slipway the walrus now called home. "The walrus looked at him as if to say, 'You're laughing,'" Sidwell recounted to the media.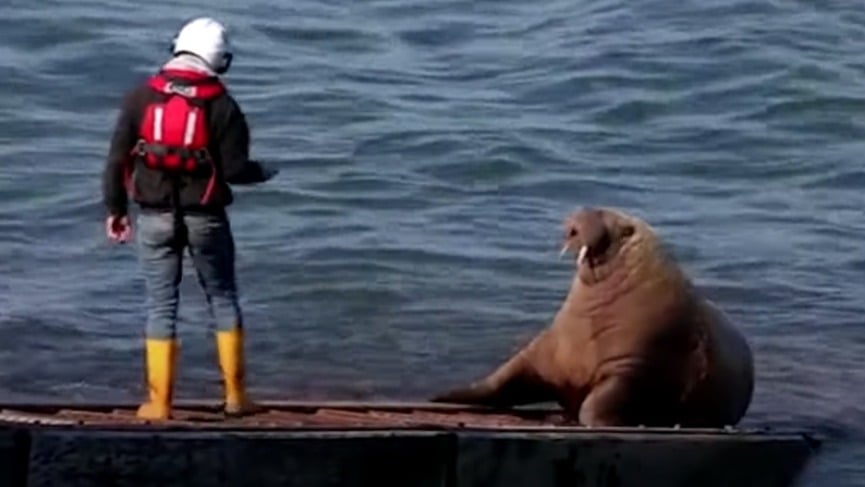 However, the determined crewman didn't give up and returned with an air horn, which proved a better method. Wally was startled by the sound and moved on to find another spot to rest.
Wally The Entertainer
Following his departure from Wales, Wally traveled along to Padstow in Cornwall, England. Fortunately for him, the reception he received there was much warmer. The residents and tourists were quite excited to see the wandering walrus.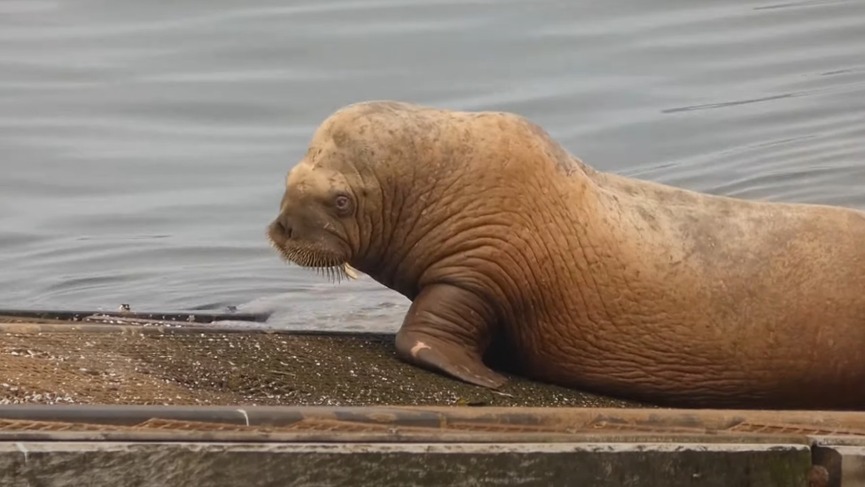 During his stay, Wally even provided some entertainment for a group of tourists who were on a sea safari. He accompanied their boat for a while, and the passengers were amazed at the unexpected sight of the massive marine mammal swimming alongside their vessel.
Wally Spotting
Nathaniel Barry, a wildlife photographer who works for Padstow Sealife Safaris, recalled his exciting experience of first spotting Wally in Padstow, Cornwall, during his boat trip. He shared his experience on Facebook, noting that at first, he and the passengers believed the animal to be a very large seal.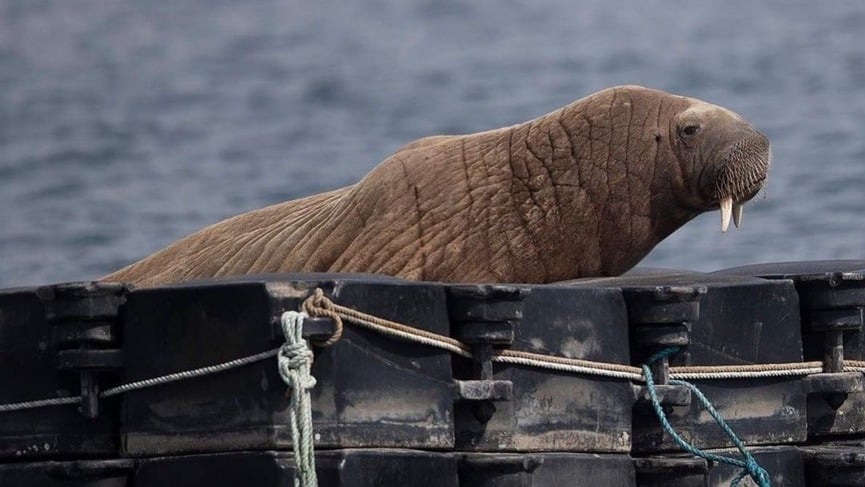 However, to their amazement, it turned out to be Wally, the famous walrus who popped up and revealed his pair of tusks. The crew and passengers were thrilled by the unexpected walrus sighting.
Join The Wally Fan Club
​​Ever since his stay in Padstow, Wally has been spotted in warm waters across France and Spain, marking a journey that has taken him across Europe. Wally has gained significant attention as he continues to travel, making him a popular figure among fans.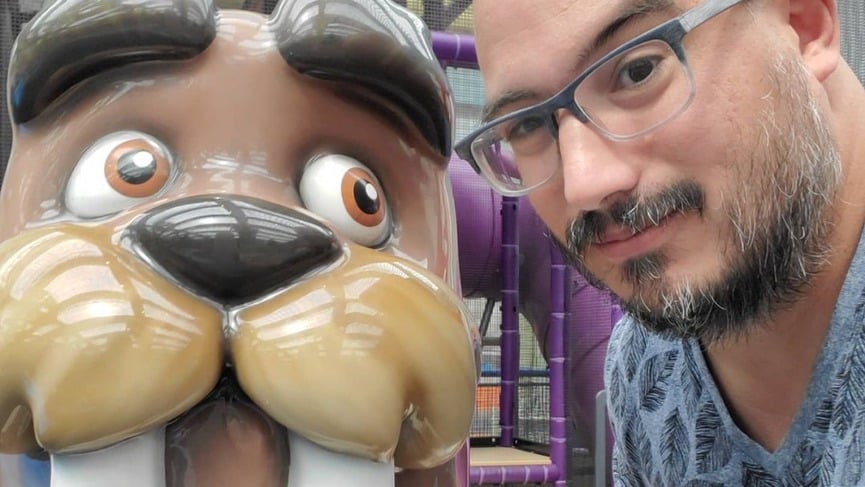 His arrival at a new destination usually draws crowds of admirers eager to glimpse the arctic mammal so far from home. However, the buzz around Wally continues well beyond fan sightings. Wally is now a for-profit walrus. 
Making Merch
Coastal towns where Wally has been sighted have begun to take advantage of the walrus' popularity and started selling walrus-themed merchandise and memorabilia to commemorate the occasion. Shoppers can now purchase various items, including cushions, T-shirts, and mugs adorned with Wally's iconic image.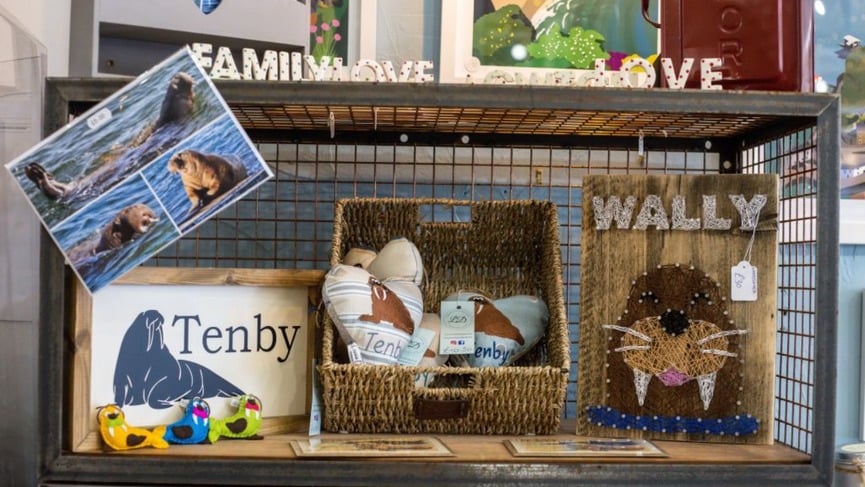 In addition, Wally's stay in Wales has inspired a children's book titled Wally the Walrus by Sharron Taylor. The Wally fandom was certainly growing, but we'll soon learn Wally's number of critics rivaled his fans.
Cheers To Walruses
Wally had garnered such significant attention from local businesses in Tenby that Harbwr, a brewery in the area, even created a beer named Tamar's Tusk in honor of the charming creature.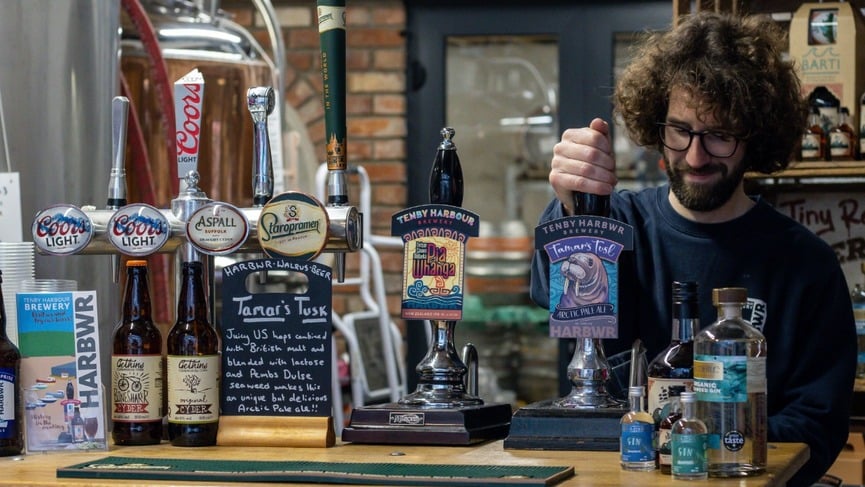 This clever name refers to the lifeboat slipway where Wally caused a commotion, as a Tamar is a kind of lifeboat. However, despite the positive attention, it hasn't been smooth sailing for dear Wally. His unexpected travel route caused some challenges and concerns for many.
Wally Doesn't Belong
Though an entertaining spectacle for some, Wally's presence in European waters has raised concerns for others. His behavior, which is natural and harmless in his arctic environment, is not suitable for the coastal areas he has been visiting.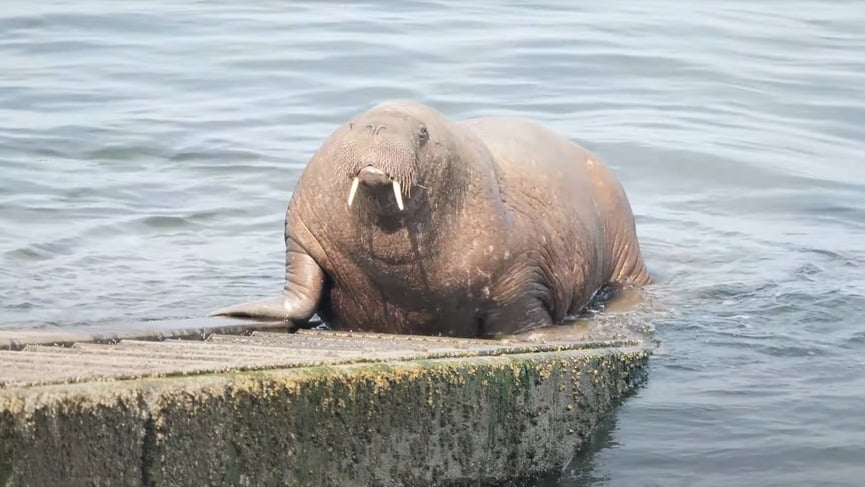 In addition, his unexpected appearances have caused some individuals to face financial consequences. In July 2021, John Hourston, the founder of The Blue Planet Society, was quoted by Metro as saying, "We are getting quite a few people asking us why Wally can't be taken home." 
Deporting The Walrus Of Chaos
Hourston commented that Wally's presence in European waters had caused some disruption and concern, and some people started to question whether he should be returned to his arctic home.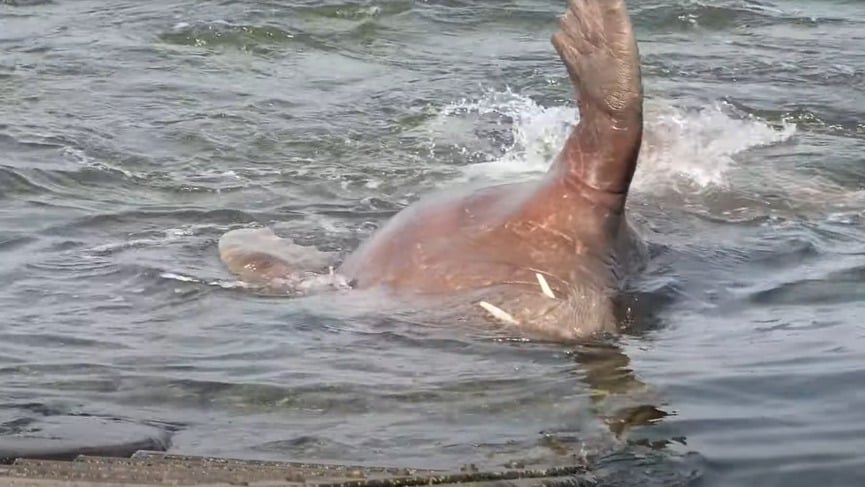 However, the Department of Environment, Food and Rural Affairs (DEFRA) has stated that deporting Wally may not be feasible. Like anyone in the spotlight, Wally the walrus, though just a marine animal, has his dedicated fans and his fair share of haters. 
It's Not As Simple As It Sounds
DEFRA stated to The Sun in 2021 that relocating marine mammals like Wally can cause significant stress to the animal, plus there is no assurance that they won't return to their original location. This news wasn't well received by locals, who were, in large part, becoming frustrated with Wally's behavior.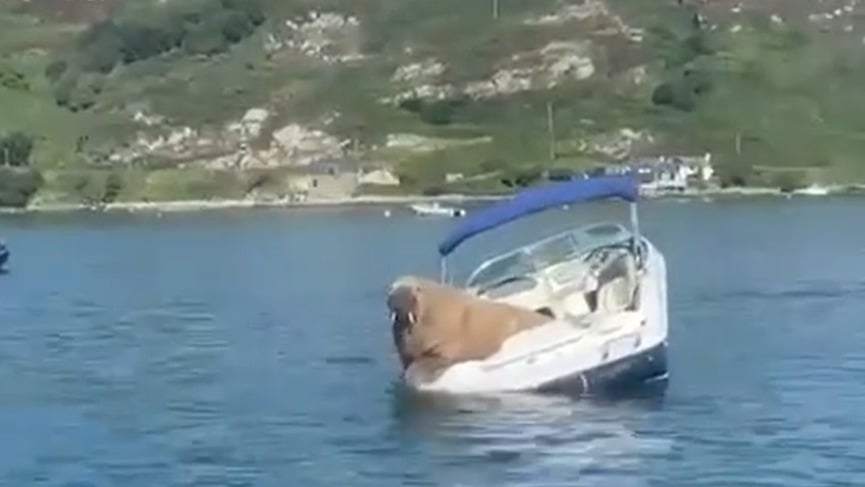 Unfortunately, transporting Wally back to his arctic habitat is not that simple, and many marine wildlife experts believe that Wally should be allowed to return to his natural habitat on his own accord.
Just Your Average Walrus
As we mentioned earlier, it is possible that Wally arrived in Europe on an iceberg. And circling back to this idea, such a scenario is quite plausible when considering typical walrus behavior.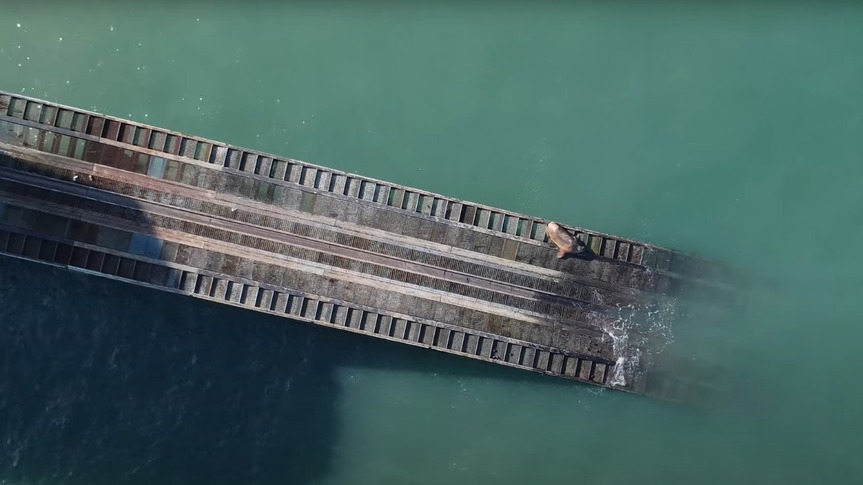 As a species, walruses are naturally inclined to haul themselves out of the water and rest on ice floes. This behavior is not only a way for them to take a break from swimming, but it also plays a vital role in their typical hunting and feeding routines.
In Lieu Of An Iceberg…
The Smithsonian Museum has described how walruses typically use sea ice as a haven when nursing their young and when hunting clams and other bottom-dwelling creatures. However, in areas with warmer waters where sea ice is scarce or nonexistent, walruses need to find alternative platforms upon which to rest.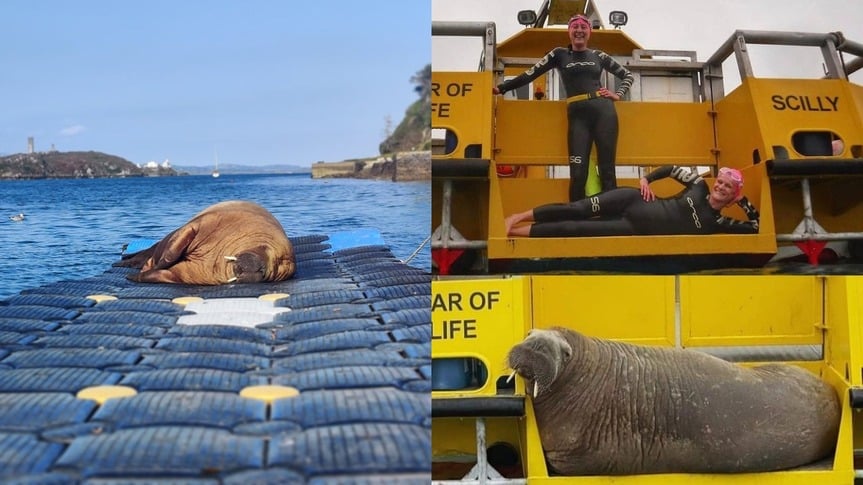 In Wally's case, he has chosen boats as his preferred resting place, much to the delight of many tourists who found his behavior amusing – but much to the discontent of the respective boat owners.
Once In A Lifetime Experience
Many consider it a rare occurrence to witness a walrus hauling itself up on the boat deck while enjoying a pleasant boat ride and regard it as a once-in-a-lifetime experience. Sailor Rafe Ward, the owner of the Calypso yacht, is a prime example.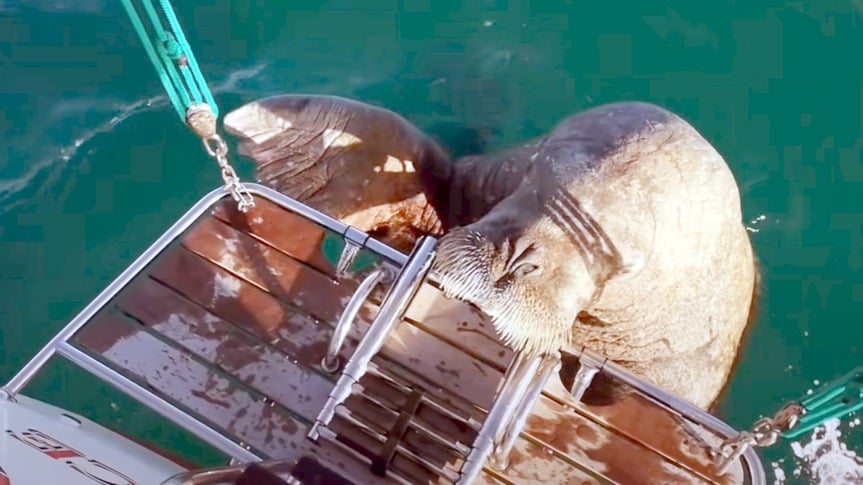 He and the group of tourists he took out to sea made an effort to spot Wally in the Isles of Scilly, England. Their primary goal was to spot the storied wandering walrus in the flesh.
Wally's Soft Spot For Boats
According to a statement Ward made to Wales Online in 2021, he was uncertain whether he and his passengers would be able to spot Wally. However, they managed to locate him almost immediately after starting their voyage.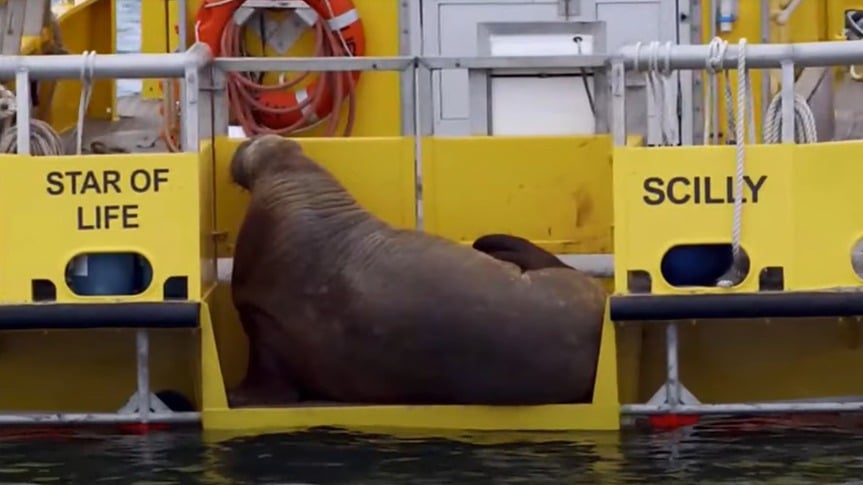 Although Ward attempted to maintain a safe distance, the walrus showed a fondness for their boat, which is understandable given its pleasant appearance. Furthermore, Ward expressed his delight in witnessing Wally firsthand since he had been sighted so frequently lately.
"More Exciting Than The Great Barrier Reef"
Ward went on to explain that Wally seemed to be in a friendly mood and simply wanted to greet everyone. And everyone aboard the vessel felt likewise, finding the experience thrilling. One passenger even stated it was even more exciting than his diving excursion at the Great Barrier Reef.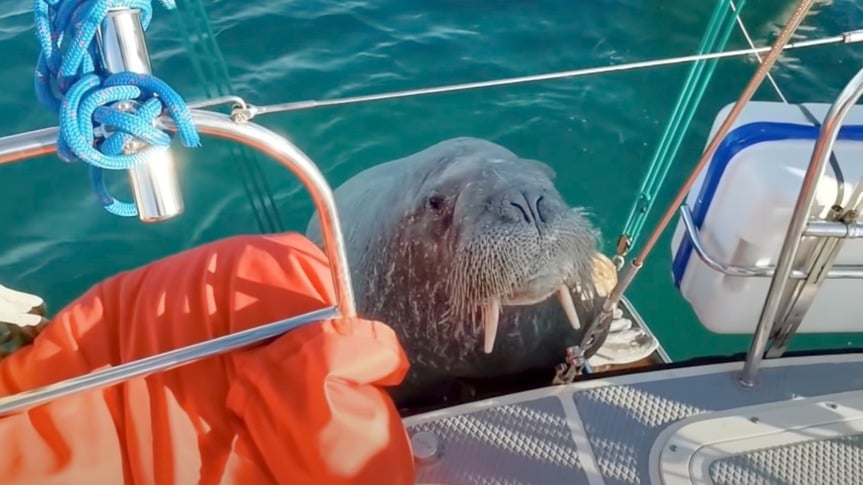 However, individuals who own smaller boats view Wally's behavior in a more harsh light since, unsurprisingly, a walrus weighing 2,000 pounds has the potential to cause significant damage to a vessel.
Sinking Boats Walrus Style
According to reports, certain boats are incapable of sustaining Wally's enormous weight, and as a result, they have allegedly sunk. Furthermore, after boarding certain vessels, the walrus renders them inoperable for several days.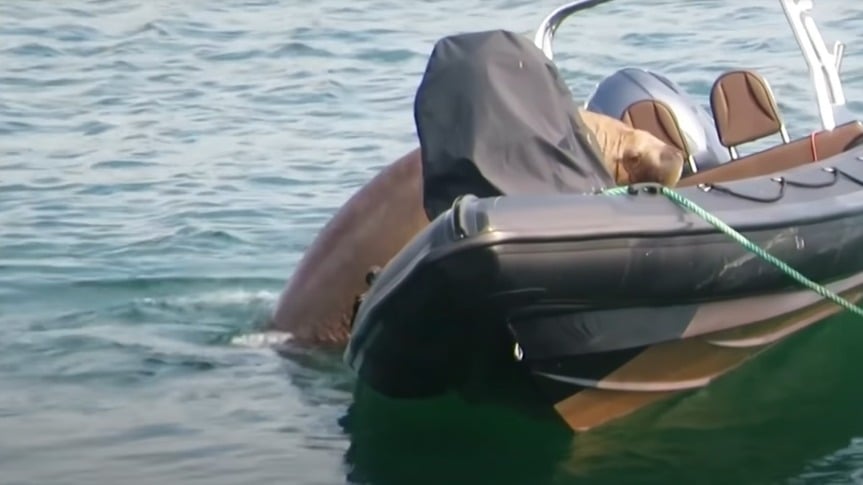 As a result, sailors are not only required to spend a significant sum of money on restoring their vessels but their means of earning a living are also affected. So when combined, these factors are enough reason to insight significant backlash against the world-famous celebrity walrus.
Unhappy Boat Owners
Isaac Scoble, a distressed boat owner, made a plea to the online community to understand his situation by saying, "The walrus needs to go."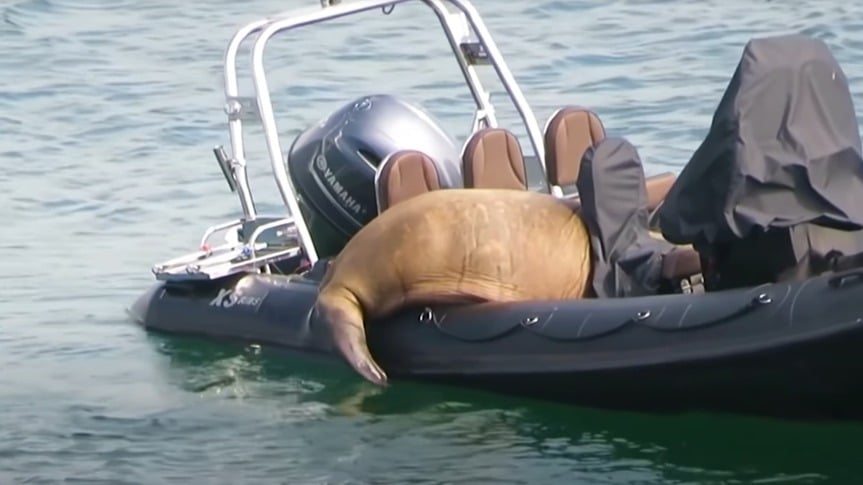 Scoble went on to write that he believed most visitors were unaware that the islanders invest a substantial sum of money in their boats, some of which may cost tens of thousands of pounds. So when a rogue walrus disrupts them, the impact is significant. And the discontent directed towards Wally did not end there.
Is Wally Actually Dangerous?
Another local online user, Joy Hughes, also joined the chorus of voices calling for measures against Wally. In her statement, she said, "He's lovely, but sorry, Wally, you're becoming a menace and dangerous, too. This will not end well if he stays much longer."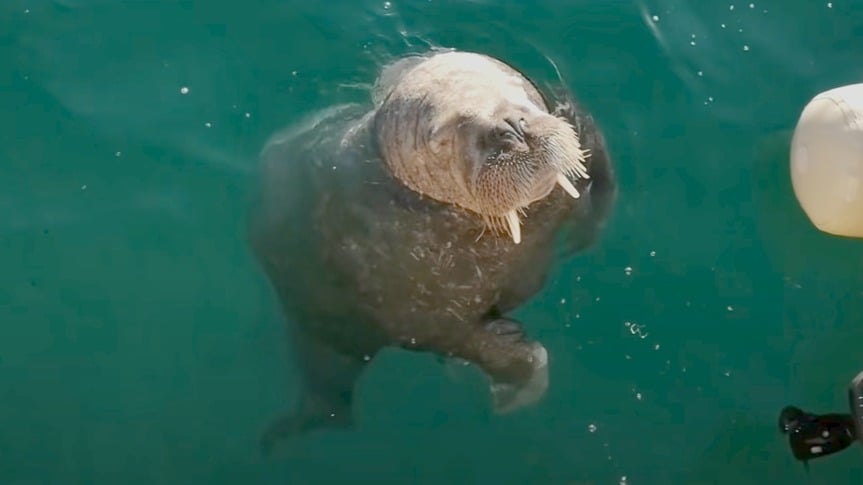 These were big claims against the so-far gentle giant, but is this friendly walrus a source of danger? It's a possibility. While Wally has not caused any known injuries yet, he is undoubtedly capable of doing so, albeit unintentionally.
He Flipped A Boat
As an example, Wally inadvertently overturned a dinghy in Tenby while attempting to board it like he would an iceberg. Fortunately, no one was on board then, and no harm was done. But for many, this was a wake-up call to the potential physical dangers Wally and his large body could inflict on others.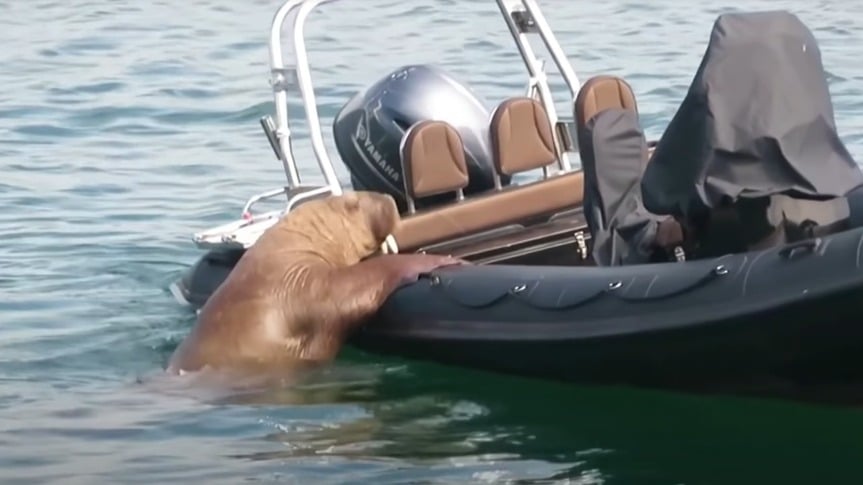 So, in the interest of all concerned, British Divers Marine Life Rescue (BDMLR) decided to partner with conservation organizations and authorities to address the Wally situation.
A Potential Threat To Human Lives
According to a statement from BDMLR, the rescue group claimed that, regrettably, the presence of Wally in a commercial harbor within an island community poses significant hazards. The risks include harm to Wally himself, economic stability, and potential danger to human lives.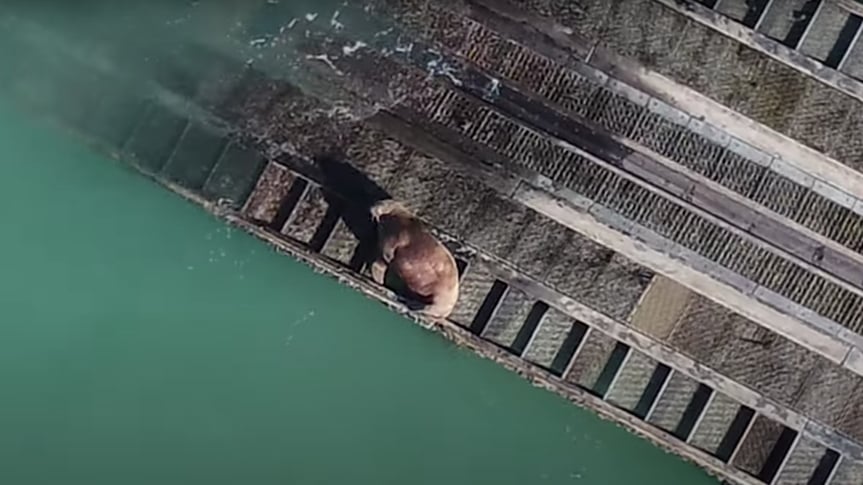 In addition, BDMLR told the public if he overturned a boat with passengers, he could cause severe injury or even fatalities or hamper the immediate readiness of emergency response vessels. The official statements from BDMLR hurt Wally's image as a celebrated sea creature.
Wally's Not Going Anywhere
At the moment, it appears that Wally will remain where he is. So rather than continue to protest against the giant creature, County Cork, Ireland, has devised another approach. Instead of trying to oust the walrus, they seek to be more welcoming to their new inhabitant.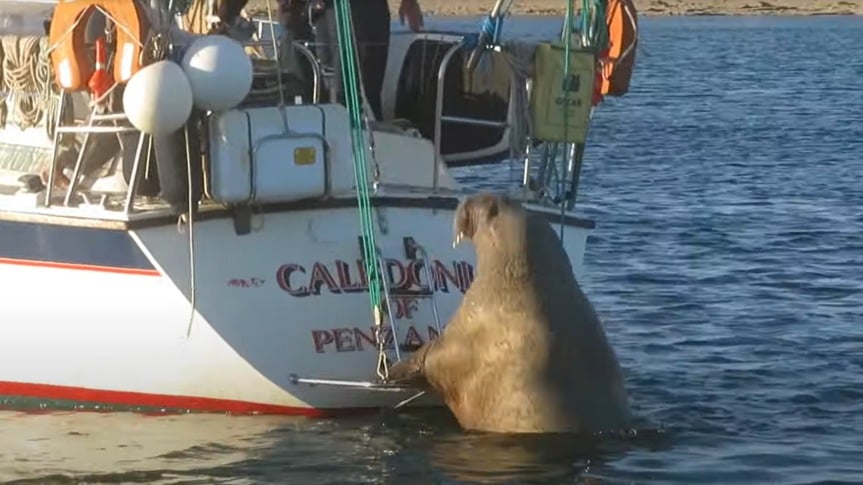 When Wally utilized a motorboat owned by West Cork's Clonakilty Distillery, the company decided to assist him. The business decided to go in the way of acceptance rather than resistance, hoping to inspire others to do the same when it came to Wally.
Wally's Takeover
Typically, the motorboat would be out collecting botanicals for the gin-making process, but currently, it's functioning as a temporary resting place for Wally. To support the displaced walrus, the distillery has put the boat to use by providing Wally with a safe spot to rest for as long as required.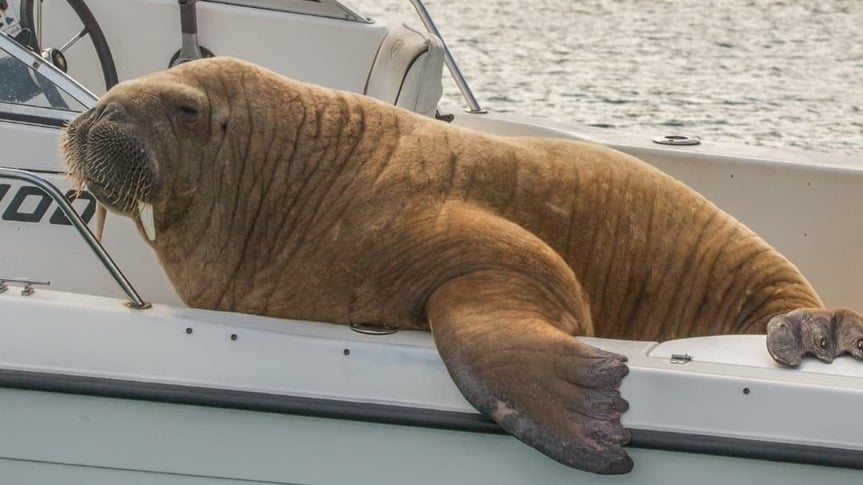 The spokesperson for the distillery, Adam Collins, said the company has agreed to permit Wally to use the boat as a resting spot until a more permanent solution can be found. The gin makers made a promise not to move the boat until then.
Walrus House Hunting 
While a more permanent solution is sought, officials are appealing to the general public to mimic the gin company and provide Wally with a spot to relax. With this public plea, officials hope to find assistance in their quest to aid Wally while at the same time aiding the community.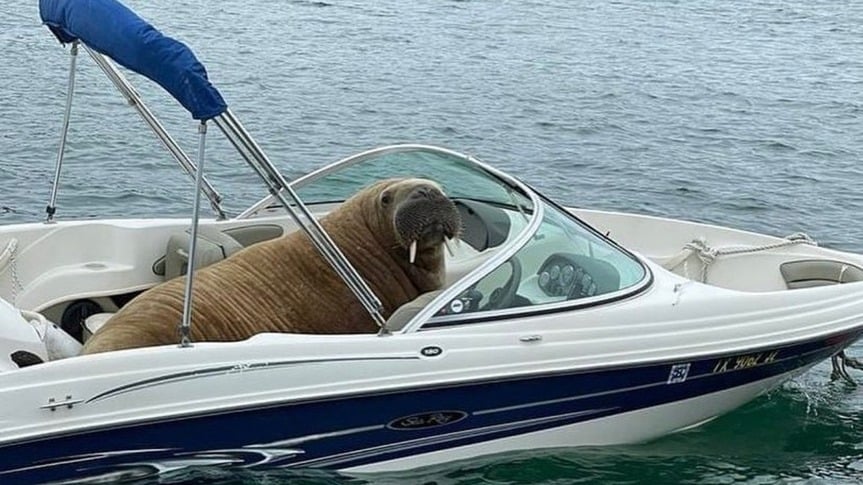 In addition, Seal Rescue Ireland has taken the initiative to find another vehicle or platform where the walrus can lounge and be monitored from a safe distance, preventing any unintentional damage to boats. 
Don't Forget He Is A Wild Animal
​​Despite his adorable and seemingly friendly nature, Seal Rescue Ireland urges the public to treat Wally like any other wild animal. The organization recognizes the need to address this issue as Wally spends so much of his time close to inhabited areas.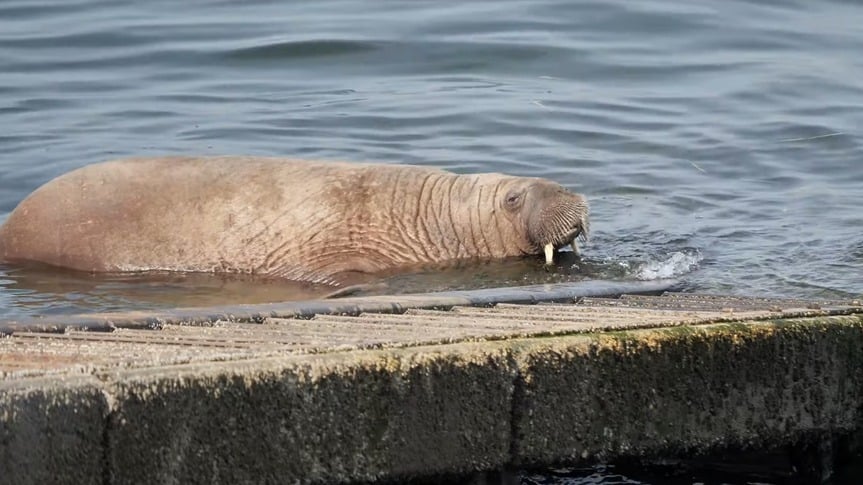 Melanie Croce, the organization's executive director, emphasized the importance of keeping a safe distance from the walrus in a statement to BBC News, compelling the public to show Wally respect from afar. To provide further guidance on how to interact with Wally, a representative from the U.K.'s Green Party drew an interesting analogy.
Loving Wally From A Distance
Malcolm Noonan, a politician for the U.K.'s Green Party, likened the situation with Wally, the walrus, to that of other wild animals like foxes or rabbits, which are protected under the law. He emphasized the importance of treating Wally with consideration and respect, given that he is far from his natural habitat.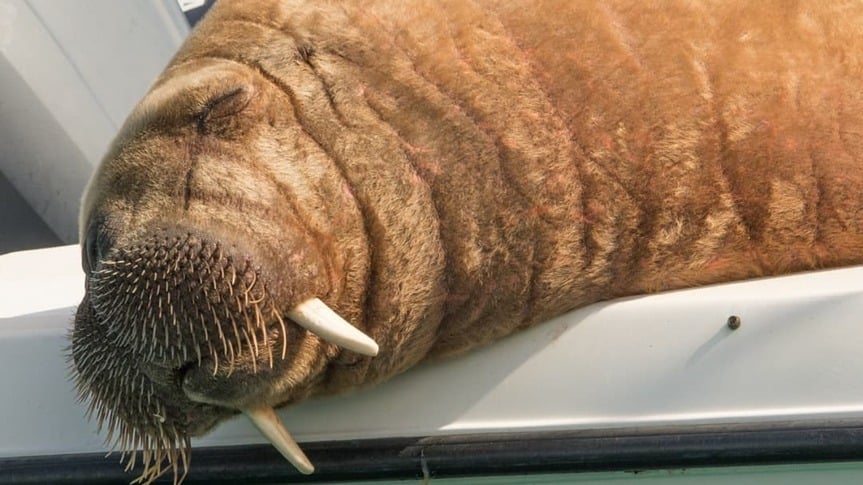 According to Noonan, people should avoid disturbing the walrus and view him from a safe distance, using binoculars if necessary. If the public can respect Wally by keeping a distance, it is more likely the walrus can live in harmony with the locals during his travels.