Bizarre Moments Captured By Surveillance Cameras
Have you ever felt like the world is full of strange occurrences waiting to be discovered? You're not alone. Tons of peculiar events happen all around us, but we don't see them most of the time because there's no record of their existence.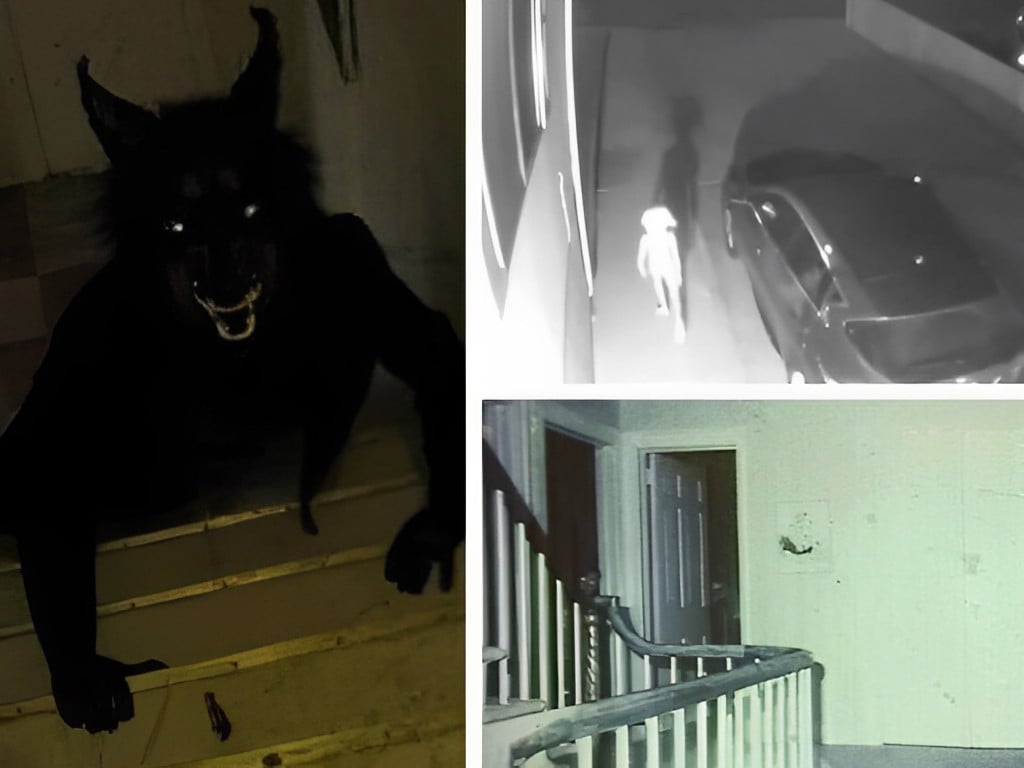 Fortunately, with the advent of hidden cameras and advanced security technology, we can finally catch a glimpse of what happens when people think nobody's watching. But, unfortunately, it can be quite freaky. Keep reading for a peek into the mysterious and intriguing side of our world that we rarely get to witness.
Why Did The Ghost Cross The Road?
If you are prepared to read some spine-tingling news, better hold onto your seats. We bet this driver similarly held on to his seat when he had a hair-raising encounter with a ghostly figure that appeared out of nowhere right in front of his moving car.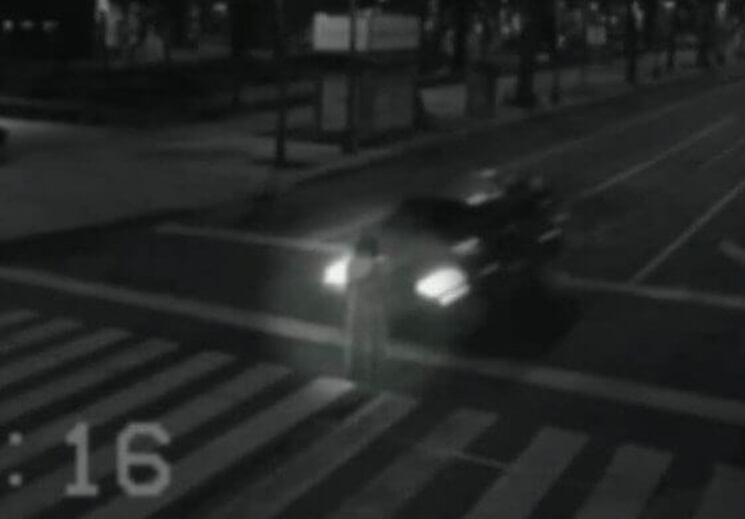 But don't take our word for it–look at the footage yourself. A video captured this bone-chilling event wherein a figure resembling an almost transparent woman was seen in the middle of the road. Could this be a genuine ghost sighting?  
Doorbell-Licking-Man Caught On Camera 
Just when you think you've seen everything, you suddenly realize you have not. We'll break this story down for your shock to be incrementally distributed. Apparently, homeowners were in disbelief when their front door camera captured a random stranger outside their house.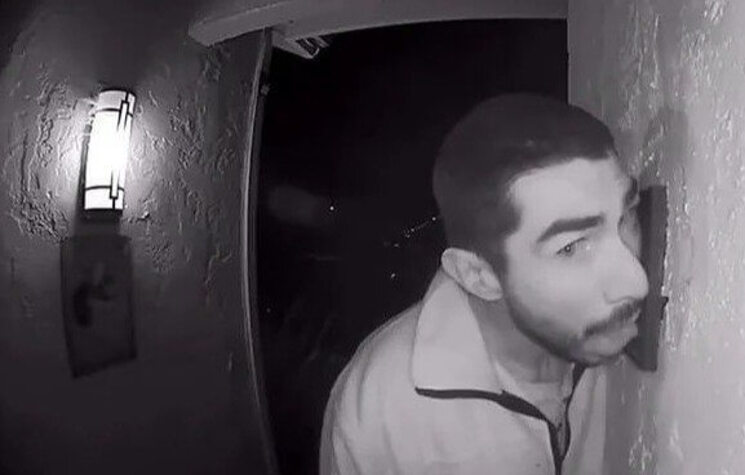 If that wasn't strange enough, the man upped the ante by licking their home's doorbell. Nobody knows the gross reason behind this bizarre occurrence. But there's more. As it turns out, the man was recorded doing the head-scratching activity for three hours. The assault against the hapless doorbell was the first of its kind recorded on video and hopefully will be the last.
Pilfering Pizza Toppings 
We can understand that a situation like this can occur, especially if a delivery guy is famished after a day's job delivering food he can't afford to eat. But we also have to admit this is gross. The least the guy could have done was use a napkin or plastic fork to lift the toppings away instead of digging his fingers in the crust.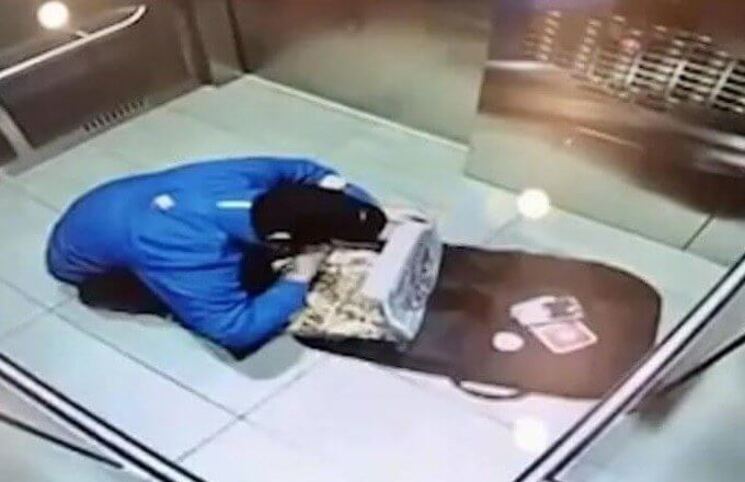 Unfortunately for him, his toppings theft was caught on camera. We are not sure if stealing pepperoni falls under a specific charge. After all, he left the pizza intact, and only the toppings were stolen. Maybe the worst that could happen is he's given a penalty for pepperoni pilferage.  
The Face Behind The Door
This baby and his mommy were simply having a fun time outside their house. However, little did they know that someone or something was actually watching them from behind the door. Some say a devil-like face of a female is peeking through the screen. Meanwhile, others believe it was a visitor or spiritual entity. But skeptics are adamant that the seemingly distorted facial figure was merely a smudge on the lens of the camera.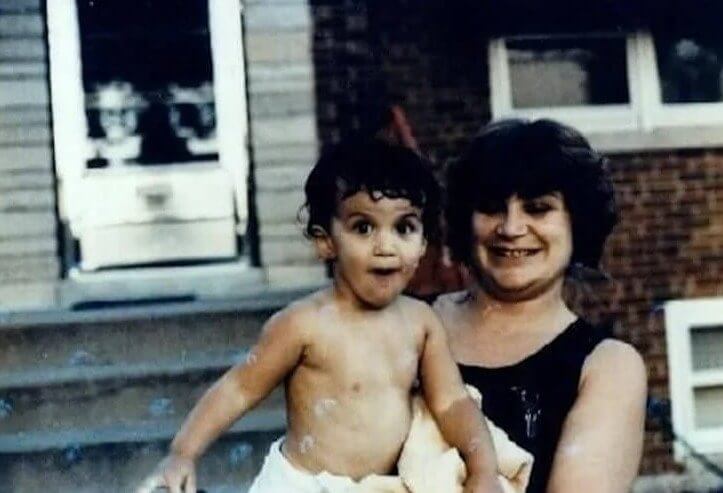 No one really knows what it is, but the fact is that a terrifying face that suddenly appears in a photo is surely every person's nightmare. But if you actually see that figure inside your house, for safety's sake, maybe it is time to call a priest or a shaman to bless your home and have them drive any negative energy away.
Elevator Stretching Is Subtle Flexing 
We completely understand Ms. Red Sweatshirt's facial reaction. If we're not mistaken, we could even hear her sigh of resignation. Imagine being trapped in an elevator with Ms. Yoga Pants, who is literally loudly and proudly telling everyone inside the cramped elevator how flexible her legs and hips are. By "everyone," we mean the audience of one who is trying hard not to pay attention to Ms. Air Splits' in-your-face air splits.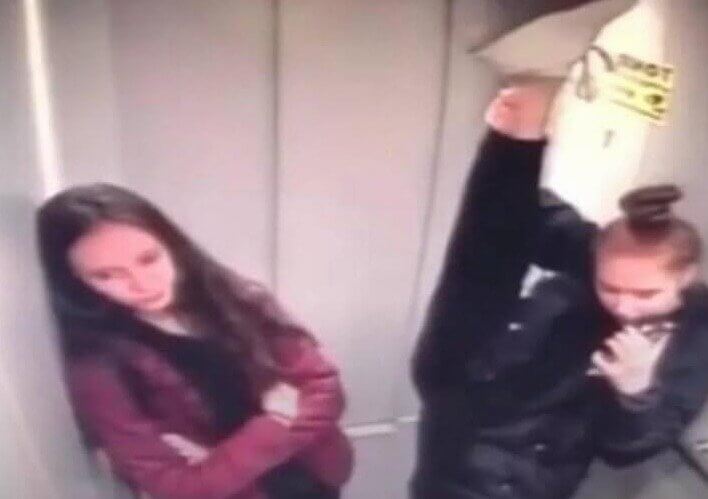 Though calf muscle stretching is a healthy way to keep the legs pliable and strong, we believe there is a time and place for everything. Doing these stretches in places that do not resemble the gym, yoga center, or your room is just you flexing your muscles to compensate for your rickety sense of self. Best to leave the stretching at home in front of your dog or cat. 
The Piano-Playing Bear
This bear might have thought his playing was just right after pounding a few keys on the piano in the house it entered without permission. Fortunately, a camera managed to capture the incident. Of course, we do not mean it was fortunate that the bear entered the house uninvited. We only meant that it was fortunate that there was a camera to bear witness to this bear's unique sensibility.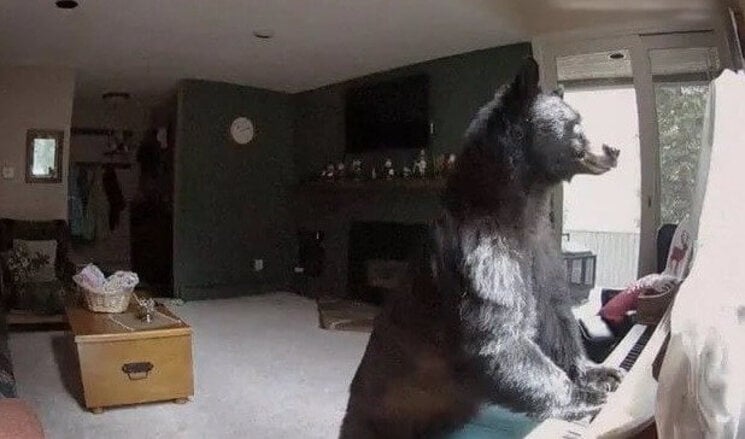 Instead of looking for food, it decided to play a few tunes. Maybe it only wanted to be a human for a few short minutes before it decided to go back to the woods and become a regular bear. We like to imagine it was merely fulfilling its long-held dream to be Li-bear-ace and play like his idol Liberace, even for a few short minutes.
Sheriff Break Dances During Break Time
What is it about elevators that causes people to reveal the best and worst of themselves? Is the small space giving them the vibe of unbridled freedom? Do they believe they are the only ones who can see what they're doing? Fortunately or unfortunately, this employee of a sheriff's office felt just like that when he was seen on the elevator's security cam busting a move.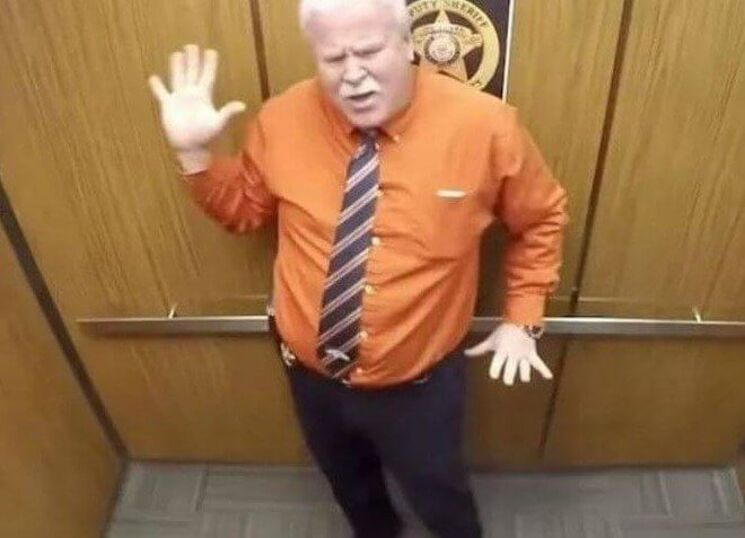 Though he may be a man known to live strictly by the law, in this instance, he decided to dance like no one was watching. Either that or maybe he just needed to loosen up after a day of work-related stress. But he was in a good mood, and we commend him for his efforts in brightening everyone's day with his own brand of choreography.
Who Is The Real Ross Geller?
Friends, the quintessential sitcom that's still going strong in our hearts and minds, has given us so much joy over the years. But the show's beloved character Ross Geller, played by the charming David Schwimmer, has been caught in the middle of a sticky situation. It's not every day that a famous actor becomes a suspect in a convenience store theft: that's what happened when security footage of a beer thief went viral.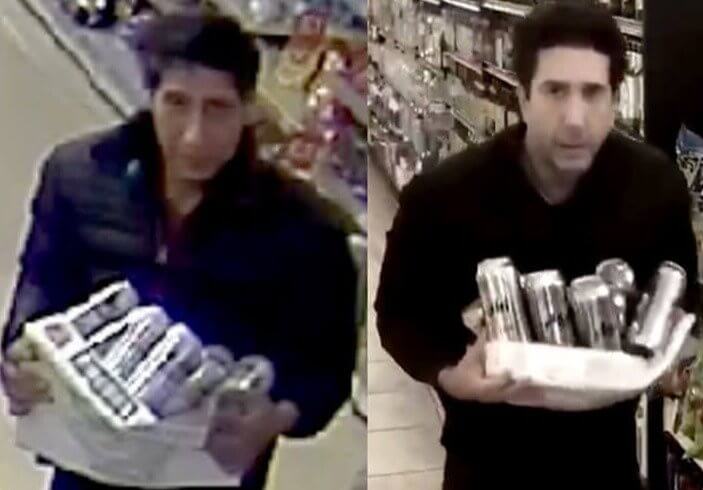 Many mistook the culprit for none other than our dear Ross. Upon closer inspection, we can see that the real Ross Geller is innocent of this crime. David Schwimmer himself has clarified that he was not the beer thief in question. But for a moment, we were all left wondering–would the real Ross Geller please drop the beer and marry Rachel already?
Next Time, Take The Stairs
The hairs on the back of this boy's neck stood up as he walked into the elevator and saw a figure we thought existed only in scary movies or ghost stories. But no, this was real life, and the figure was all too horrifyingly real. Dressed in a suit that would have looked perfectly normal any other day, the figure was marred by a pillowcase wrapped tightly around his head.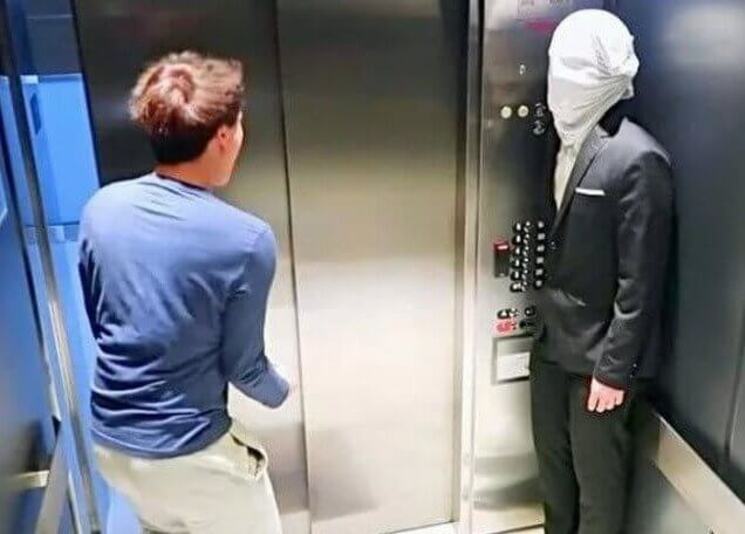 It was a strange and unsettling sight that left the boy feeling absolutely terrified. It's enough to make anyone consider taking the stairs from now on, just to avoid the unpredictable encounters that can happen in those small, enclosed spaces.
Dobby, Is That You?
It was strange to see the motion sensors and lights on the side of the house triggered by a creature roaming across the driveway of a humble home. But what was truly bizarre was the uncanny resemblance the creature bore to a certain beloved character from the Harry Potter franchise.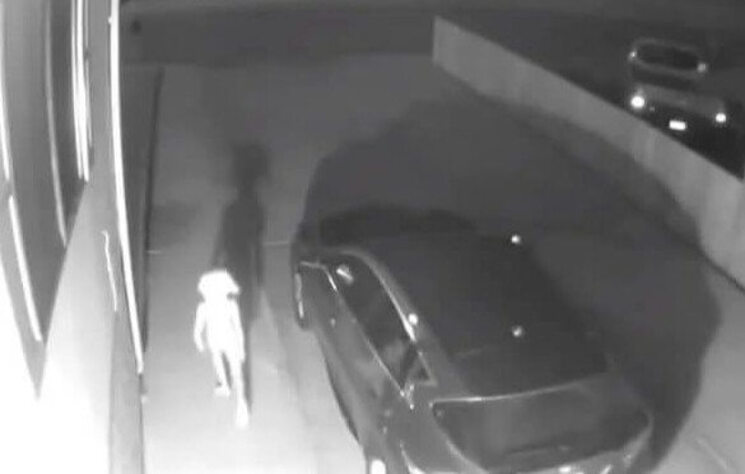 It seemed Dobby the house-elf came alive and was strolling through the neighborhood. Had Dobby somehow found a way to step out of the movie screen and into our world? While we may never know the truth behind this bizarre sighting, one thing is certain–Dobby is always welcome at our house. 
The Elevator Strikes Back
The man in the corner of the elevator is either living his wildest dream or nightmare. However, he looks more like he's seen a ghost–or maybe a Sith Lord–as he clutches his phone and casts frightened glances around at his fellow passengers.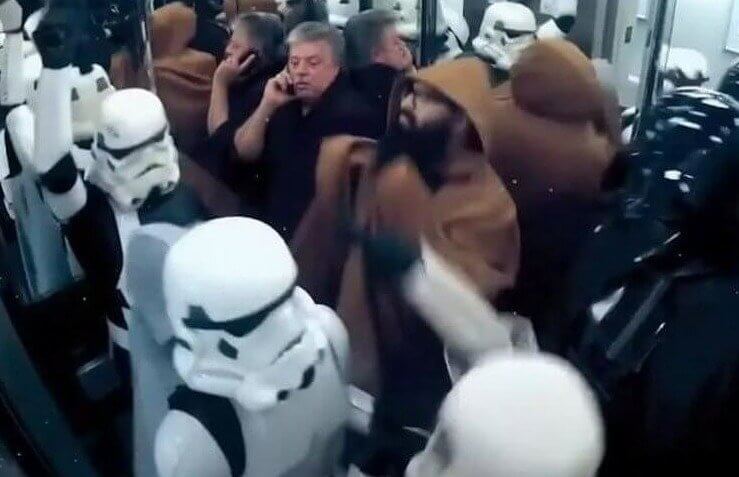 We've all been crammed into a crowded elevator before–but have you ever been stuck in there with Chewbacca, Darth Vader, and Princess Leia? It's a surreal experience. If you're not a fan of the series, you might want to take the stairs just to avoid the intergalactic crowd.
Hide Your Car Keys
Imagine you're a homeowner minding your business when you decide to check the footage on your trusty security camera. But you see a strange figure lurking around your property carrying a device that looks like something out of a horror movie. Plus, those eyes appear positively demonic, surrounded by sinister black paint.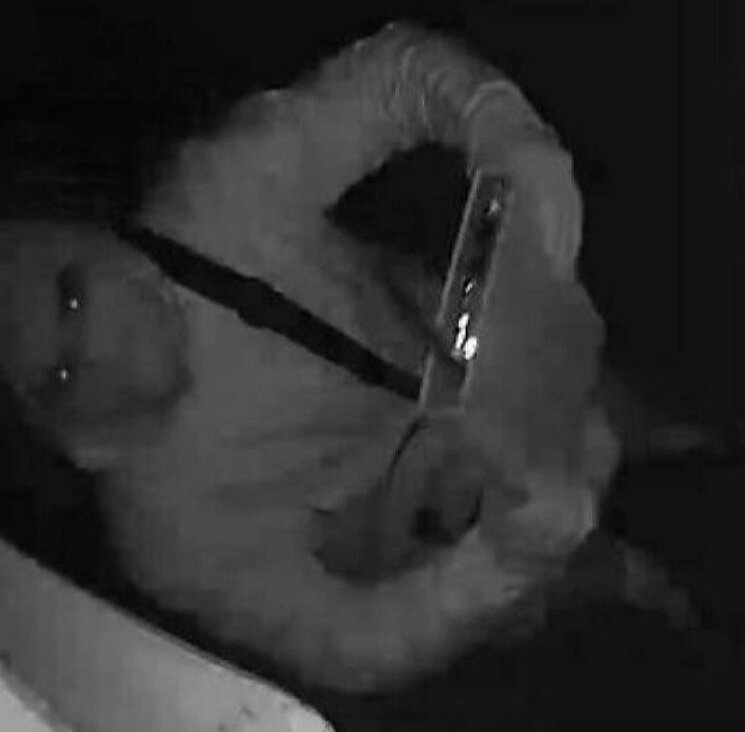 As it turns out, the device is used to detect keyless cars. It's a thief's dream come true. If you leave your car keys too close to windows or doors, this creepy contraption can steal the necessary information to get your vehicle running without the thief even breaking a sweat.
A Modern Love Story?
Are you ready for a love story that will make your heart skip a beat? At first glance, it seems like this was a simple snapshot. The woman is stealing a glance at the man next to her, her eyes sparkling with interest. However, the man is trying his best to play it cool.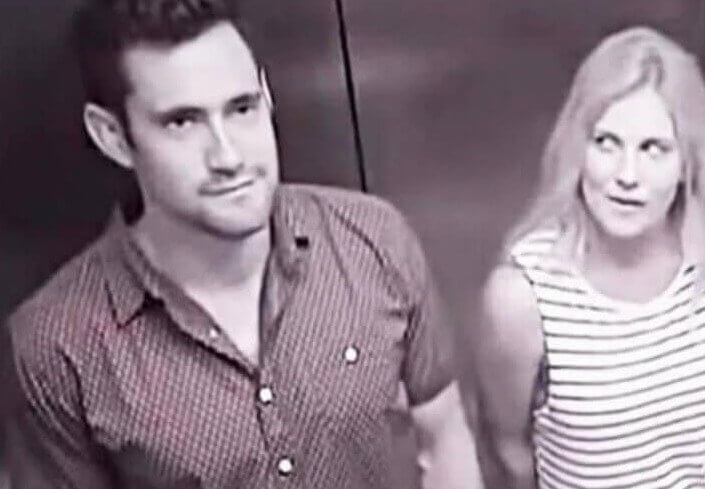 It seems he's feeling the same way. There's a palpable chemistry between them, a connection that jumps off the screen and takes your breath away. Though we can't say if they ended up together,  we all love to imagine they did. 
Meet The Brown Lady
In the heart of England lies Raynham Hall, a place where the paranormal is said to be alive and well. If this photo is any indication, the rumors are true. Behold, the infamous Brown Lady, captured in all her eerie glory.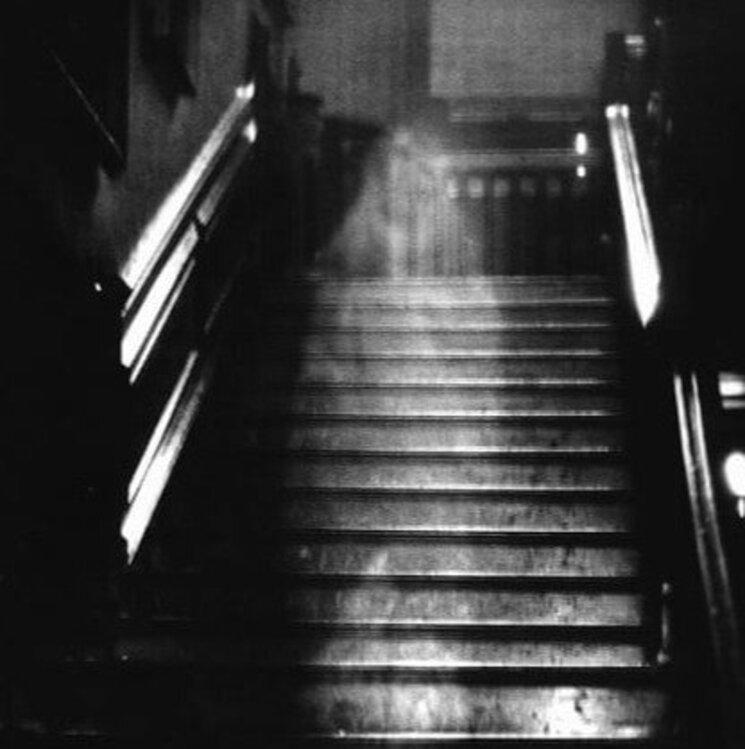 This ethereal figure, draped in a flowing white gown, seems to defy the laws of gravity as she floats effortlessly down the grand staircase. Still, some claim the figure is merely a camera smudge. Either way, believers will feel shivers down their backs. It makes you wonder what other otherworldly entities might be lurking just out of sight.
Amber Heard And James Franco's Elevator Drama
During a recent court trial, Amber Heard claimed she had little memory of James Franco's visit to her home the day after her fight with then-husband Johnny Depp. However, the court had evidence of Franco's visit in the form of a picture taken in the elevator of Amber and Johnny's building.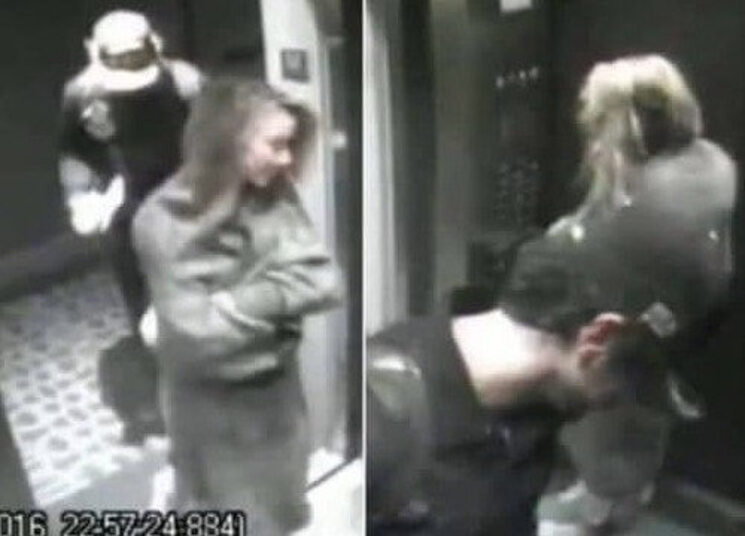 This image provided the date and time of the meeting, which supported Depp's case. The picture exposed Heard's lie and proved that Franco was, in fact, there. The ongoing legal battles between Heard and Depp have garnered significant attention, but this particular piece of evidence shocked the public and the courtroom.
Ghost Child In An Empty House
If you're feeling brave enough, take a peek at the eerie little ghost child lurking in the doorway. This image was caught on camera in the dead of night. Look closely and see the child's bright, haunting eyes staring directly at the lens.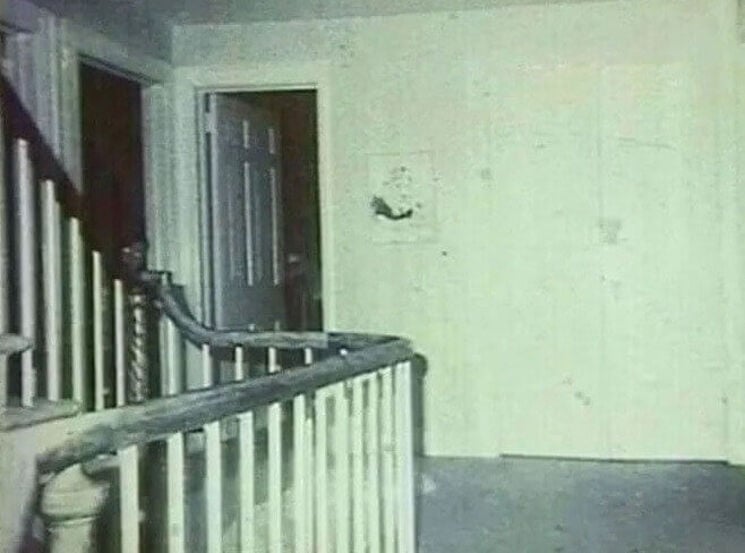 The homeowner who captured this creepy snapshot didn't likely stick around for much longer, especially since the house was supposedly vacant at the time. It's unclear whether the ghostly apparition is male or female, but it's safe to say that it's best to leave the house when something like this appears right in front of you.
This Praying Mantis Has Plans
Insects may seem insignificant, but this praying mantis caught on a home security camera seems to be an exception. Its size appears monstrous as it stands right in front of the lens, almost as if it's glaring at the homeowners inside.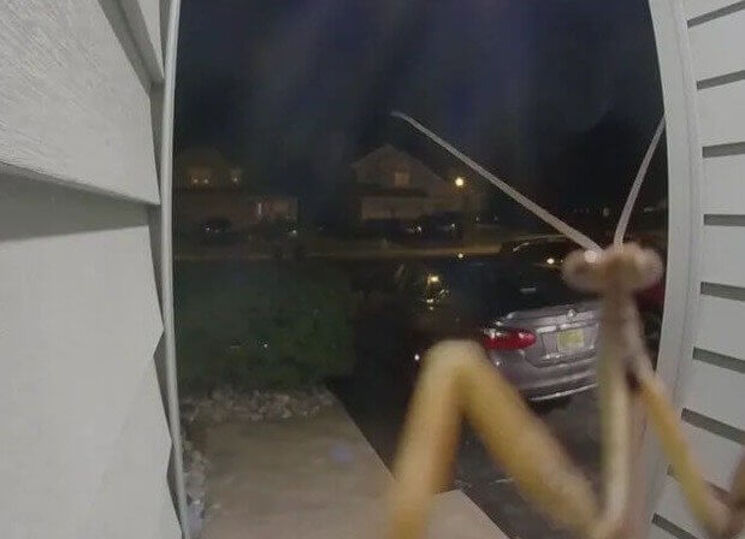 Despite their reputation for being relatively harmless, this particular bug gives off a menacing vibe, and it's hard not to wonder what devious schemes it may be plotting. Who knows, maybe the praying mantis is a mastermind with some nefarious plan up its sleeve.
Elevator Timeout?
Walking into an elevator and finding someone standing awkwardly in the corner can be unnerving – as seen in this picture. The older man in the lift can't seem to figure out what the younger guy is up to, as he appears to be in a deep state of contemplation.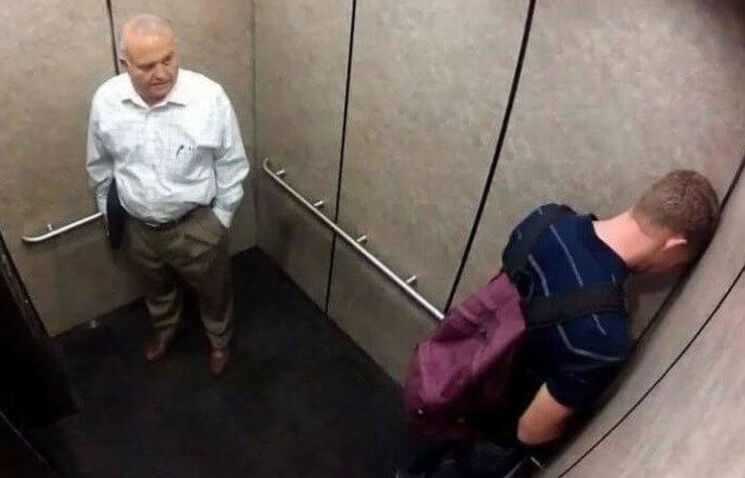 Perhaps he's meditating, or maybe he's crying, but either way–it's a strange sight. It's as if he's in his private bubble and wants to be left alone. Who knows what's going through his mind? It's almost like a snapshot from a movie, leaving us wondering what's going on behind the scenes.
The Television Was Not On
The photographer had no idea they were about to capture something supernatural when they snapped a picture of this little boy. It wasn't until the photo was developed that they noticed a spooky face lurking in the background on the turned-off television.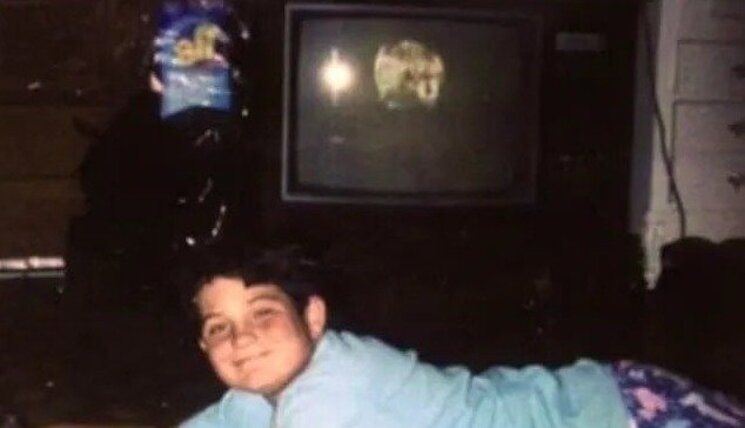 The image is so faint that it's almost imperceptible, but its presence is undeniably creepy. Who or what could be behind this haunting reflection? This photographer may never know, but one thing is for sure–they won't be taking any more photos in that room alone.
Trapped For More Than 40 Hours
Elevator rides can be a dreaded experience for many, but it's nothing compared to what this poor man went through. He thought he'd have a smooth ride down to the parking lot, but little did he know he was in for a harrowing experience.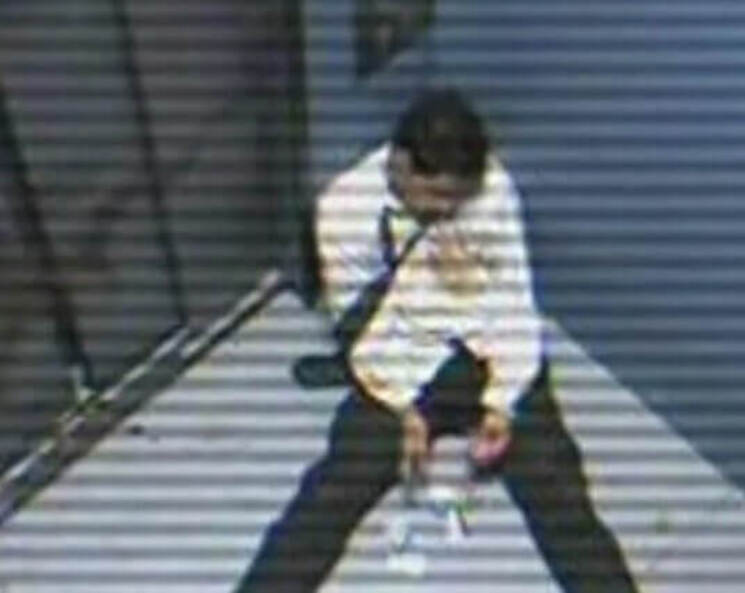 The elevator suddenly stopped, and the buttons didn't work anymore. The man was trapped and had no idea how long it would be until he was rescued. The hours turned into days, and his fear and anxiety grew with each passing moment. It's a good thing that he was eventually rescued, but the memory of those 41 hours will likely stick with him forever.
Horrifying Werewolf Costume
The old house in the photo seems to have a dark past, and the appearance of a werewolf on the stairs certainly doesn't help its case. The glowing eyes of the figure only add to the eerie ambiance, making it seem like something straight out of a horror movie.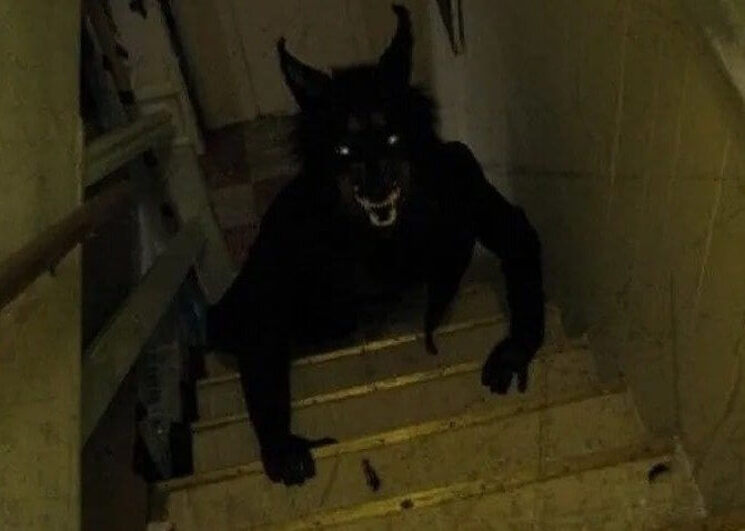 While it's obviously just someone dressed up in a costume, the level of detail is impressive and incredibly scary. You have to wonder why anyone would want to put on such a terrifying outfit and wander around an old, creepy house. Whatever the reason, it's enough to give anyone goosebumps.
Bees In The Trap
It's a good thing that bees don't know how to press the elevator buttons themselves, or we might all be in for a terrifying ride. Unfortunately, in this case, someone thought it would be funny to transport these buzzing insects in a public elevator.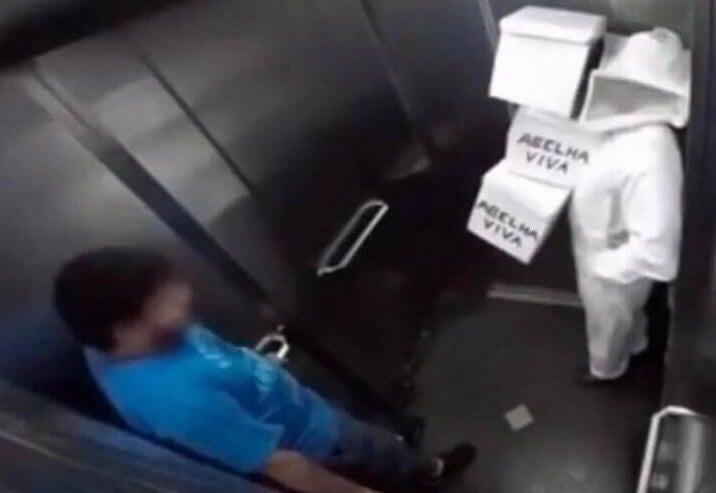 As for the poor man in the corner, he looks like he's ready to jump out of his skin. Can you blame him? It's hard to imagine a worse scenario than being trapped in a small space with a bunch of angry bees. Let's hope this was just a misguided prank, not a regular occurrence.
Puss In Elevator Boots
This sassy feline is no ordinary pet. She has figured out how to navigate the world on her own terms and rides the elevator in her apartment building like a pro. Imagine the surprise of the residents who catch a glimpse of her confidently stepping out of the elevator to explore the world.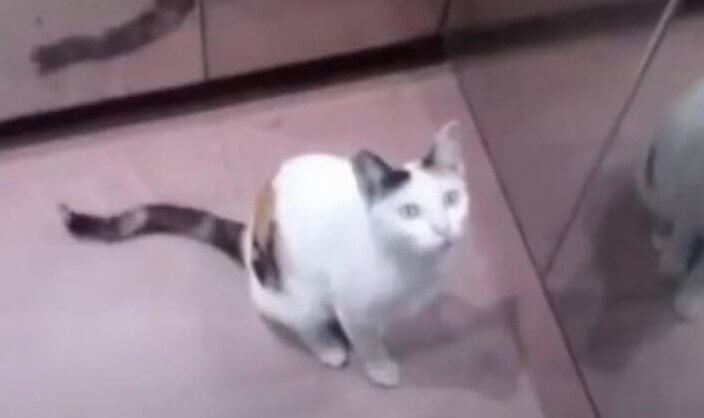 You can't help but feel awed by this independent and self-reliant cat who doesn't wait around for anyone. We wonder what adventures she's had or will have in her travels. It's a reminder that sometimes it's good to take control of our lives and blaze our own trails.
Cruel Elevator Prank
It's not every day that you see a trap door in an elevator, but when you do, you know you're in for a ride. In this particular case, it's a ride straight down. Luckily for these unsuspecting victims, the trap door led to a slide rather than a deadly drop.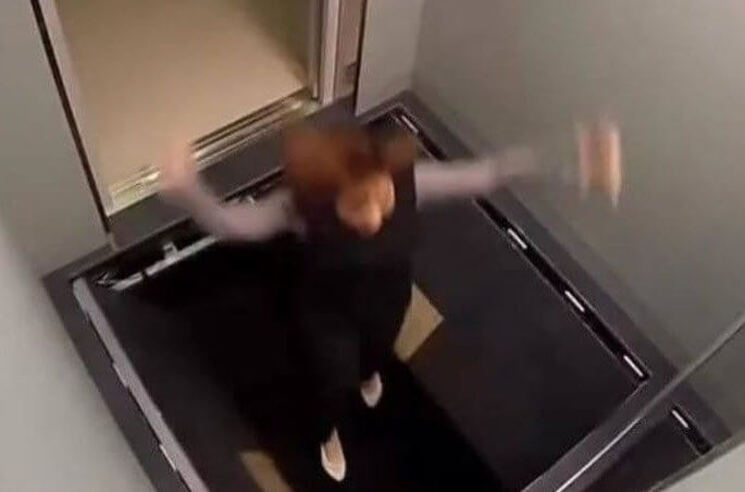 However, we still wouldn't want to be in their shoes when the floor gave way beneath them. It's safe to say that they were probably relieved to find out it was just a harmless prank, but we can't help but wonder what kind of creative minds came up with this idea.
Camera Captured Woman Abandoning Her Dog
It's a heartbreaking sight to see a dog's trust in humans shattered by the cruel act of abandonment. The woman in this story thought she could deceive her loyal companion by taking him on a walk, but instead, she led him to the woods and left him there to fend for himself.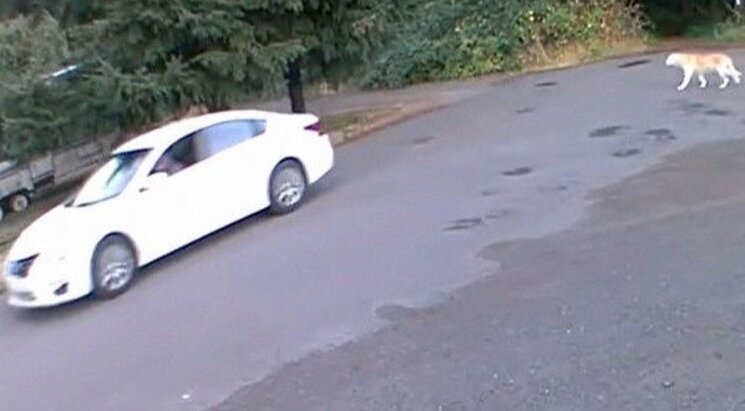 Dogs are known for their unconditional love, loyalty, and trust in humans, and leaving them alone on the streets is a heinous act of neglect. It's a terrible betrayal that the dog will never forget. Luckily, there was a camera to capture the cowardly act and bring justice to this innocent animal.
Trapped In An Elevator With A SWAT Team 
Imagine stepping into an elevator, minding your own business, and then suddenly being surrounded by a group of people wearing all-black face masks. That's what happened to this man, and it's no surprise that fear was written all over his face.
But as it turns out, these masked figures were members of the SWAT team, and this elevator was just part of their mission. It's hard to decide which scenario is more unsettling–being stuck in an elevator with thieves or caught up in a tactical operation. Either way, this innocent bystander never saw it coming.
Fun And Joy Inside An Elevator 
Sometimes, you just can't contain the pure joy and excitement that bubbles up inside you. This woman was bursting with happiness. It's clear from the huge smile on her face and the twinkle in her eyes. She may have thought she was alone, but little did she know that the camera was there to capture her impromptu dance of joy.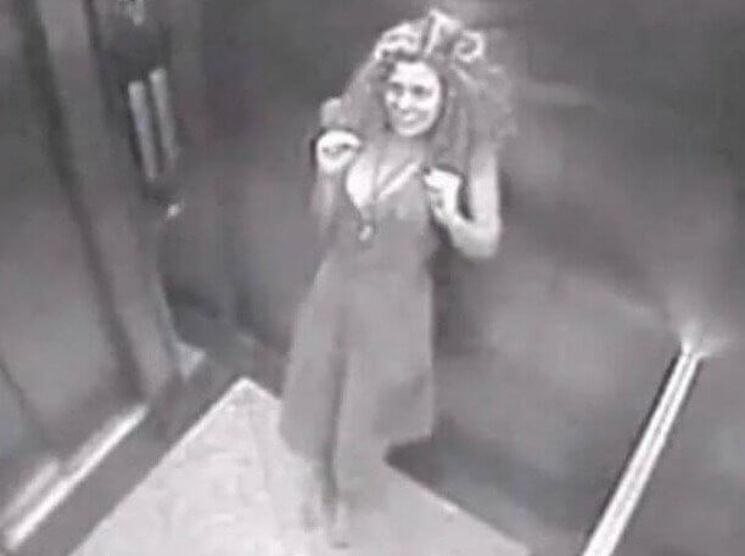 We can only imagine what amazing news she received to cause such an exuberant reaction! Sometimes life gives us reasons to celebrate, and it's always refreshing to see someone letting loose and enjoying the moment.
Pranking A Mate
Elevators are supposed to provide us with a quick and safe ride, but things can quickly spiral out of control when a prankster gets involved. This particular elevator prank took it to the next level, simulating a free-falling elevator ride for an unsuspecting man.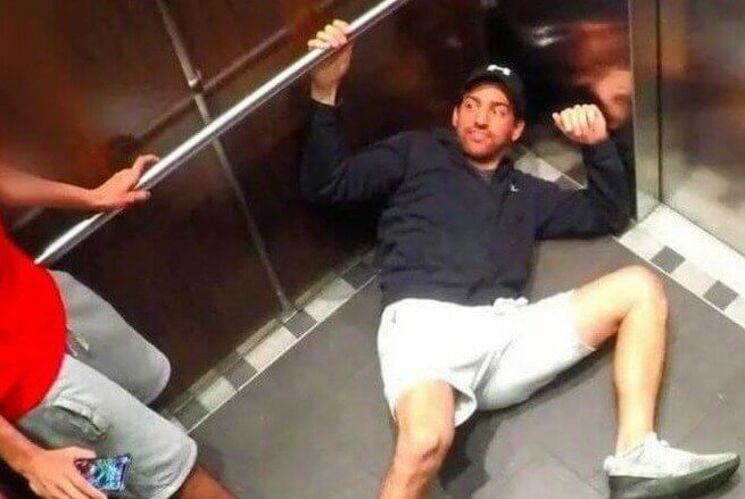 As the elevator plummeted down several floors, he lay on the ground, clinging on for dear life. We have to admit, it's a pretty funny prank, but we can't help but feel a little uneasy about it. Surely, this will go down in history as both hilarious and horrifying. 
Elevator Twerking Is Not Illegal
The elevator is like a secret dance club where you can let loose like no one is watching–except for the security camera. This woman was caught busting out her best dance moves in the elevator, completely oblivious to the fact that her every shimmy and shake was being recorded.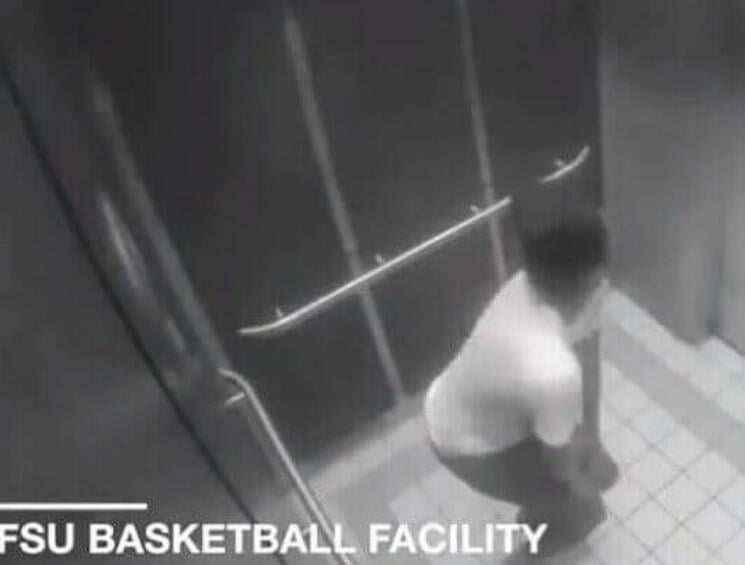 We have to give her props for letting her inner dancer out–especially since she didn't know who might walk in at any moment. Who knows, maybe the elevator is the perfect place to unleash your inner Beyoncé without anyone judging you.
There's Always A First Time For Everything
The elevator camera has seen it all, from weird dances to hilarious pranks. But these two women took things to a new level when they decided to do some impromptu graffiti in the lift. With spray paint in hand, they drew a heart on the elevator door, seemingly nervous but giddy with excitement.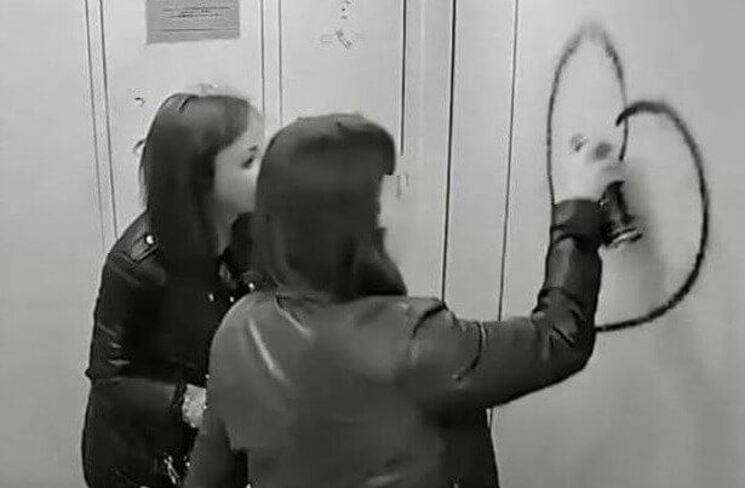 Maybe it was their first foray into the world of vandalism, or they were just looking to add a bit of art to an otherwise bland elevator ride. Either way, we can't help but wonder what other masterpieces they've created since then.