Hostels are an amazing option for people traveling on a budget. They are the least expensive accommodation outside of couch surfing! Hostels are also an incredible way to meet other travelers from all over the world as well. You already have something in common: You've traveled to the same destination. Choosing a hostel requires some research. You want to make sure the place you're staying is safe, in the right location, and meet all your expectations. Here are some tips for choosing the right hostel. Happy travels!
                                                                                   Cheaper is not Always Better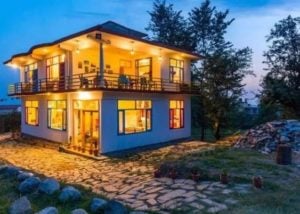 Source: instahimachal.com/ Pinterest
We know how tempting it is to pick the cheapest option when you're traveling on a budget. Some hostels are as low as $10 a night! But cheaper does not always mean better.
Some super inexpensive hostels are not cleaned well, have uncomfortable accommodations, and have dirty showers (gross). It's worth spending a little more to have a comfortable place to rest your head at night. Check out photos online and reviews to get an idea of what the hostel is looking like before you stay there.
                                                                                   Make Sure There are Lockers
Lockers are an absolute must when it comes to choosing a hostel. You'll be spending most of your time in the city you're visiting rather than in the hostel itself so you need a safe place to lock up your things.
These days, lockers are pretty standard for most hostels but you want to double check before you stay there. Trust us, it's not worth getting your belongings taken no matter how great the hostel is. Don't forget to bring a lock with you!
                                                                                       Choose Based on Location
One of the most important factors you should consider regarding your hostel is the location. How close is it to all the things you want to do? Is it within walking distance to town? Are there restaurants close by? What kinds of transportation is nearby?
These are all super important questions to ask when searching for a hostel. Check out the hotel's address on Google Maps and see what's around and if it's close to the things you plan on doing and seeing.
                                                                                     Is There a Common Area?
This is more of a preference than a necessity, but many travelers appreciate a big common area where they can get to know other travelers. This is a great way to meet people, get recommendations on places to visit, and share your travel experiences.
If you're traveling solo, this is one of the easiest ways to make some friends in a new place. Some common rooms will have board games, video games, pool tables, etc. We recommend adding this to your list of hostel requirements!
                                                                                               Is There Free Wi-Fi?
This is another "want" rather than "need". Depending on your destination, Wi-Fi might not be offered at any hostel. But it is worth looking into because free Wi-Fi is always a plus!
Most hostels do have Wi-Fi these days, but it might only be available in certain rooms, like the kitchen or common areas. Reading reviews on the hostel will give you an idea of what the Wi-Fi situation looks like.