Ex-Criminals Share Tips to Keep Your Home Safe from a Potential Burglary
Now and then, we hear the news of a break-in or burglary causing extensive damage and financial loss, leaving homeowners vulnerable. While many invest in securing their homes, persistent criminals can still barge into them.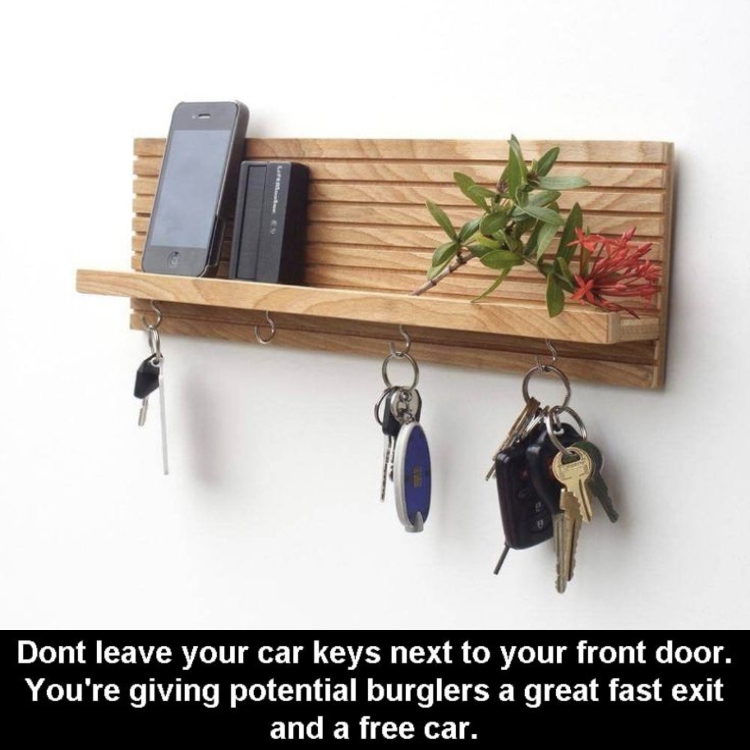 This article offers insight into the tactics used by burglars to enter homes and reveals tips that can help prevent these incidents from happening. Homeowners can then significantly reduce the risk of break-ins and protect their property.
Don't Announce It to the Whole World
It is hard to resist posting every detail about your vacation on social media. As such, people put extra effort into their outfits to make their pictures worth posting. While such posts can get many likes and comments, they can also attract potential robbers to ransack the house while on vacation.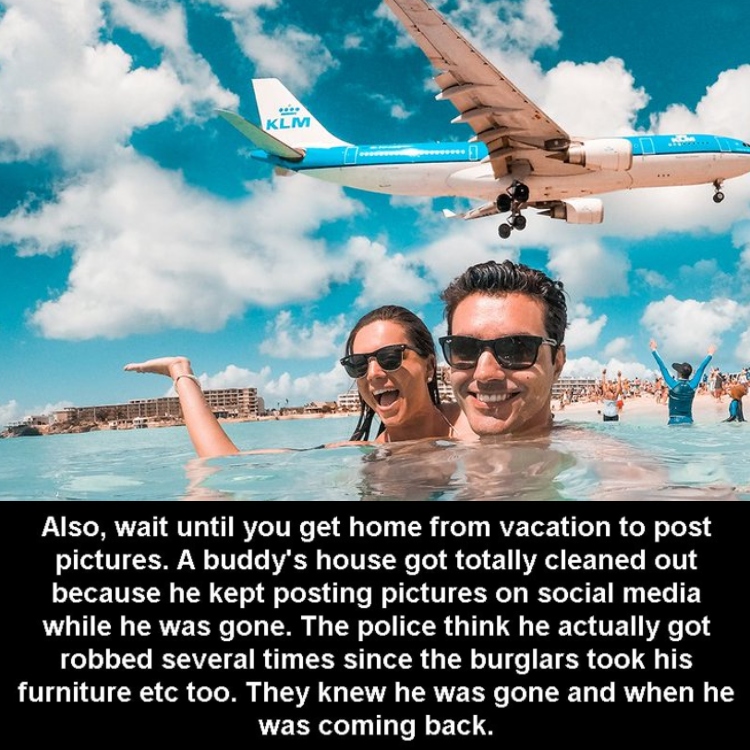 In such a scenario, avoid posting pictures online and keep the fun to yourself. Meet with your friends in person and share the trip details with them.
Being Untidy Came Handy
When burglars rob a house, they are usually in a rush, so they rarely have time to check every nook and corner. They clean the safes and vaults and are on their way out. So whoever thinks that their valuables are safe in a safe is mistaken.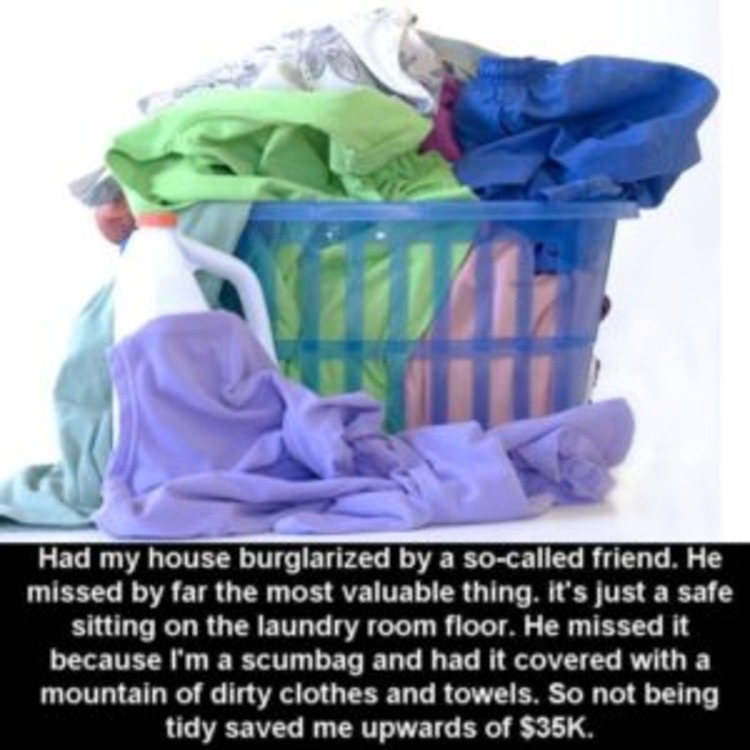 Interestingly, a pile of dirty laundry can save you a lot. This guy unintentionally left his dirty laundry in his safe. After ransacking the house, the burglars never imagined there would be anything of value underneath the dirty pile of laundry. This act saved him a fortune.
They Don't Need To Know That
They say what you say reveals more of what you think. Well, it does that and spills sensitive information on strangers. Many people have the habit of sharing details about their houses with agents. Poor chaps don't realize that they may be inviting robbers over.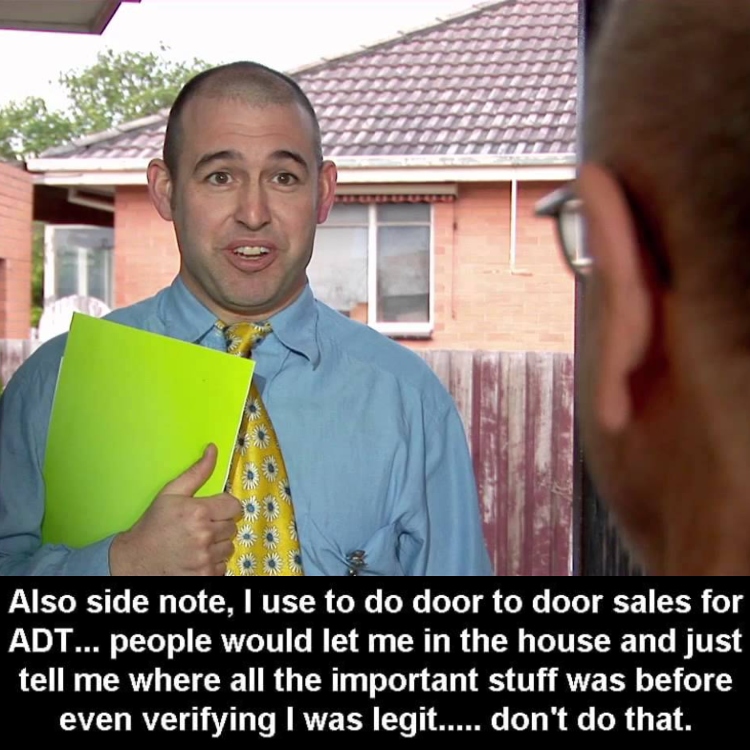 So, please only give away valuable information once the agent produces the company ID and verifies it by calling the company. Nobody would want a break-in into their homes and possibly be the cause of it.
Stop Doubting - We Do Have A Dog!
Let's compare two security measures and see which is most effective. An alarm whose power supply can be tampered with, or a fierce dog trained to guard the homeowner's property?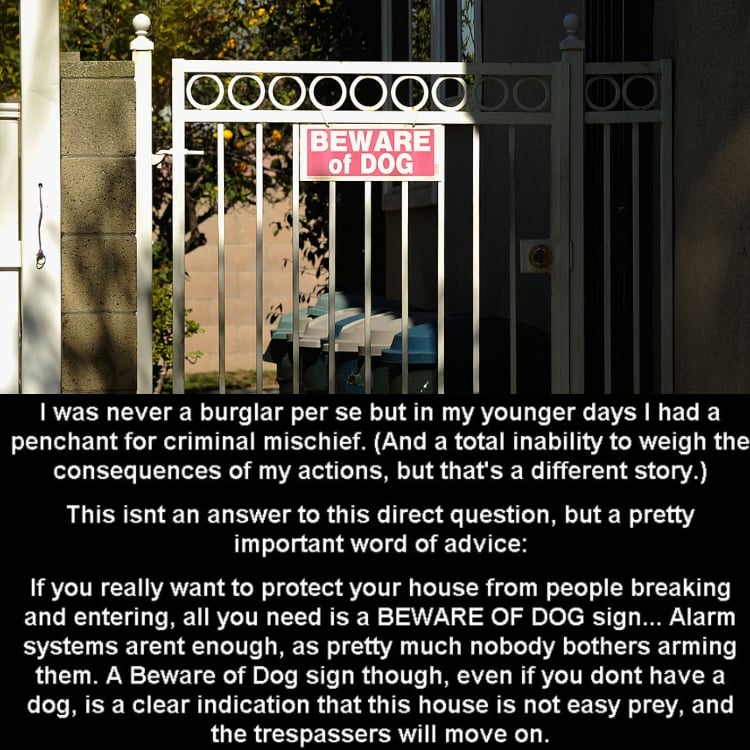 There is no doubt that a fierce dog would be effective at protecting a house from burglars. Even if you may be scared of having a dog or don't want to have one as a pet, a simple "beware of dogs" sign would be helpful to keep burglars away.
The Perils of the Key Under the Mat
Despite the undeniable risks associated with leaving the key under the mat, it remains a common practice. According to a 2011 Ask Jeeves survey, 1% of respondents still rely on this method to grant access to family, friends, and service providers.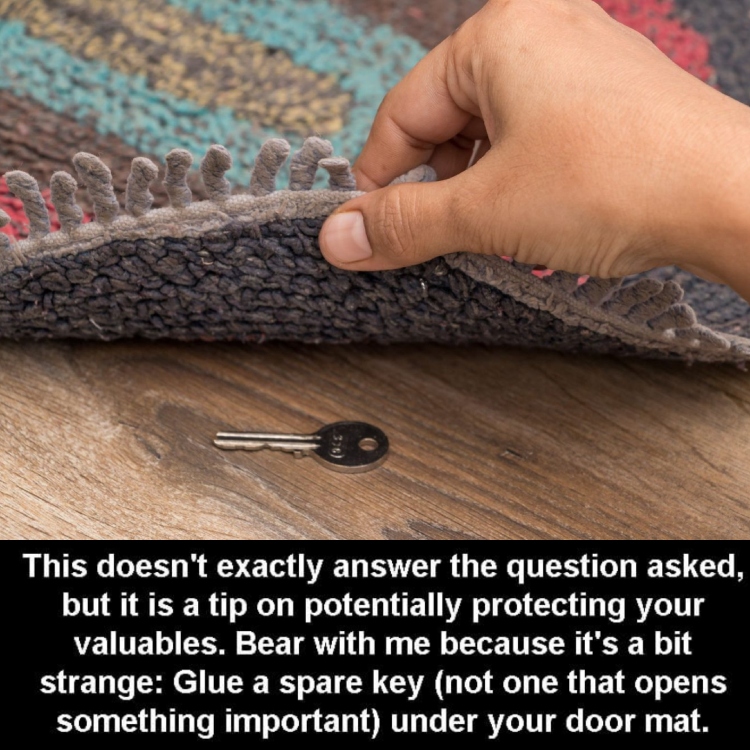 Although this is a small percentage, this approach is risky and vulnerable to break-ins. To outsmart would-be thieves, glue a dummy key under the mat. This will leave them scratching their heads as they try to use it on your door and eventually panic and leave.
A Smarter Way to Keep Your Car Safe
Have you ever found yourself frantically searching for your car keys, only to realize they're inside the house? It's a common scenario that could lead to serious issues. Shockingly, around 873,000 cars are stolen every year, as reported by MoneyGeek.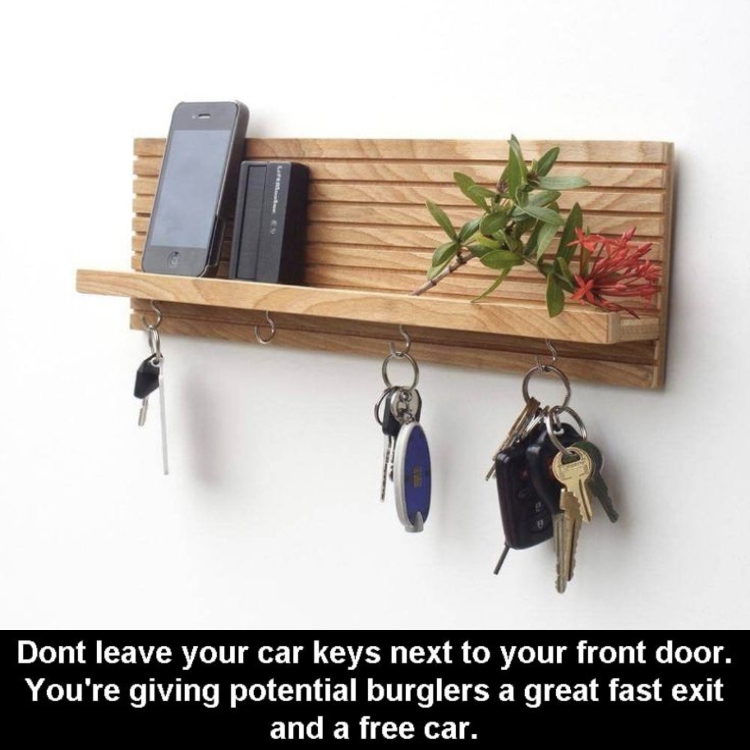 To prevent this, it's wise to stay ahead of the game and adopt clever tactics. One way is to avoid hanging your keys near the door, making it difficult for thieves to gain fast and quick access to your car keys.
Don't Invite Thieves to Take Your Ride
A car is stolen every six and a half minutes with keys left inside, warns the National Insurance Crime Bureau. Even more surprisingly, the doors are left unlocked. Forgetfulness is a common problem among car owners, which makes them an easy target for opportunistic thieves.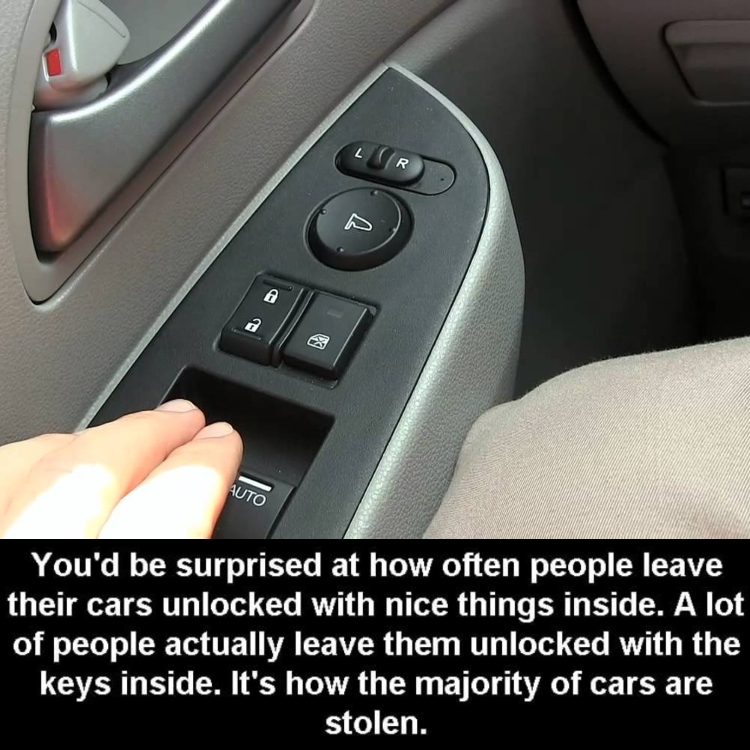 To avoid falling victim to these crimes, the NICB recommends setting a car alarm and parking the vehicle in a garage whenever possible. Don't make your car an easy target. Take precautions to protect your ride.
Keep the Burglar Guessing
Scotsman says one in five households falls prey to burglaries because of the predictable practice of keeping keys under the mat, plant pot, or on top of the door frame.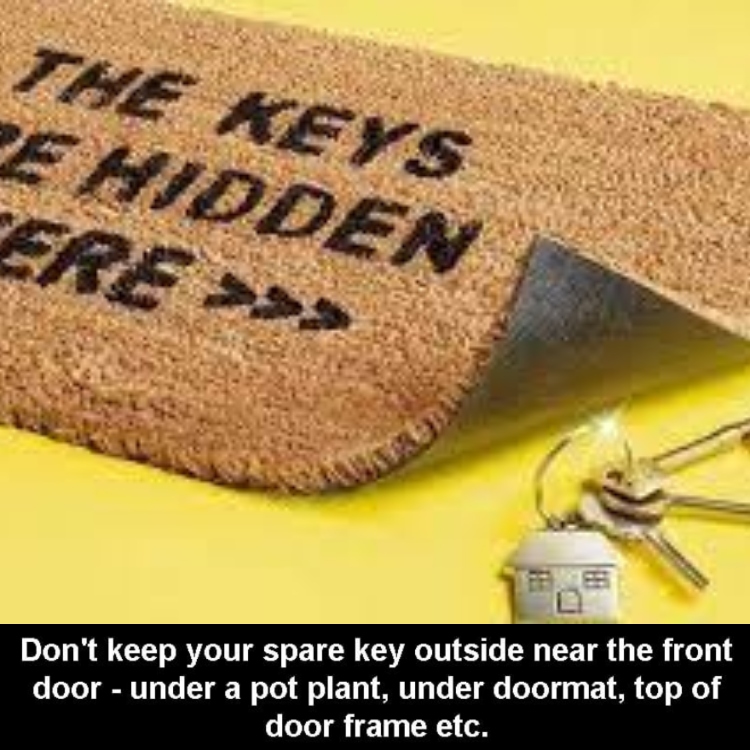 Although this approach gives easy access to keys for the house's occupants, a recent Yale survey revealed that most people don't feel secure with this practice. Instead, the most effective way is to install a security doorbell camera. This smart upgrade will keep intruders at bay while enhancing your home's safety and security.
The 'Window' to Enhanced Security
Windows are like unlocked doors, offering an easy entry point for burglars. Surprisingly, 23% of burglaries occur through first-floor windows, as stated by Reader's Digest. It also adds that burglars don't need to be experts at breaking into a house when homeowners provide windows with the opportunity to access valuables.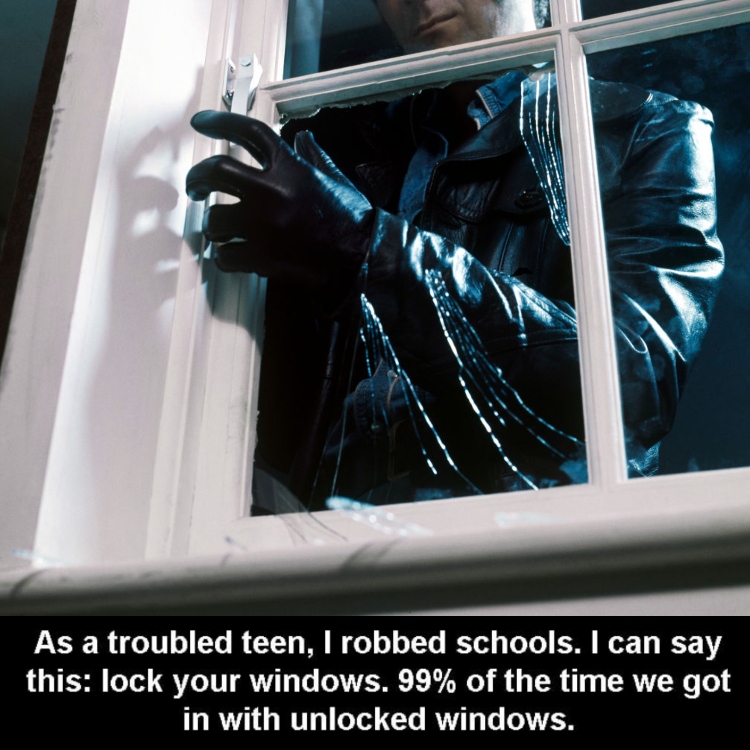 Homeowners should lock their windows before departing or consider replacing the lock mechanism. Locking windows can significantly enhance the security of a home.
Keep Valuables Out of Sight in Your Vehicle
An individual who used to break into cars during high school is now reformed and advises against leaving valuable items in vehicles. Burglars are attracted to high-value possessions, making it crucial to keep them out of sight of others, particularly in vehicles without tinted windows.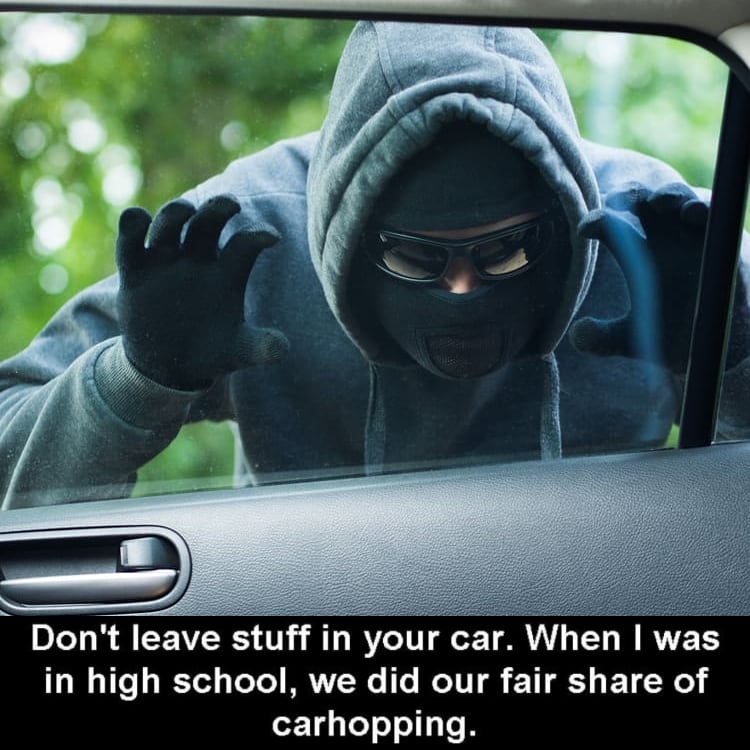 Let us remember to exercise caution around unsafe places. Taking steps to protect our belongings, such as removing them from cars or placing them in secure areas, can prevent theft and reduce the risk of financial loss.
Jewelry Gold Mines in Closets
In an eye-opening incident from January 2022, Full House star Lori Loughlin lost $1 million worth of jewelry in a home burglary. Thieves targeted her Los Angeles residence, likely knowing all her valuables were in her closet.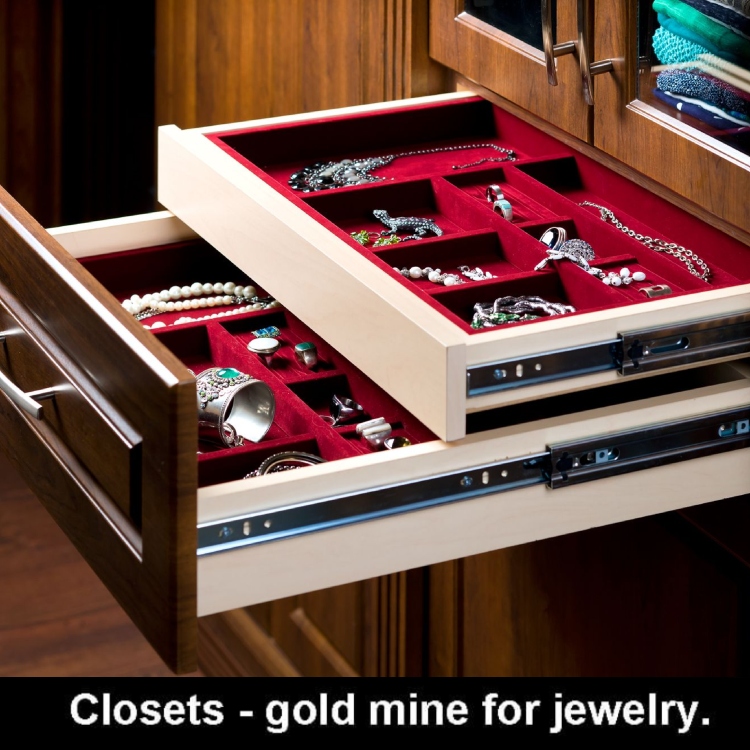 While storing accessories and jewelry in the closet may seem convenient, it can also make them readily accessible and an easy target. For added security, consider keeping precious items in less obvious locations to outsmart potential burglars.
Open Garage: A Burglar's Dream!
Former burglars have disclosed that open garages can act as a beacon for theft. As homeowners leave their garage doors open, burglars can quickly survey valuable possessions like tools and dirt bikes, making it easy to strike. Leaving garage doors open overnight can exacerbate the risk of theft.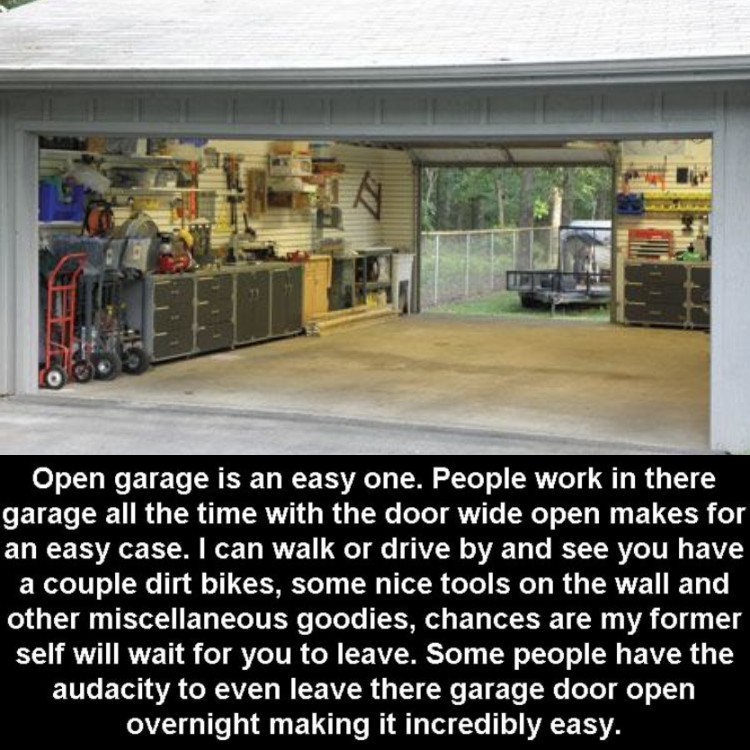 To prevent such incidents, homeowners should remain watchful and not only shut their garage doors when not in use but also install motion-activated lights to deter burglars. This added measure could make a significant difference in safeguarding belongings from potential theft.
Fool Burglars with Faux Treasures
Safes are a prime target for burglars, as the allure of unknown content can be irresistible. However, there are ways to outsmart these thieves. By filling your safe with fake or decoy items, you can throw off their game and leave them with worthless loot.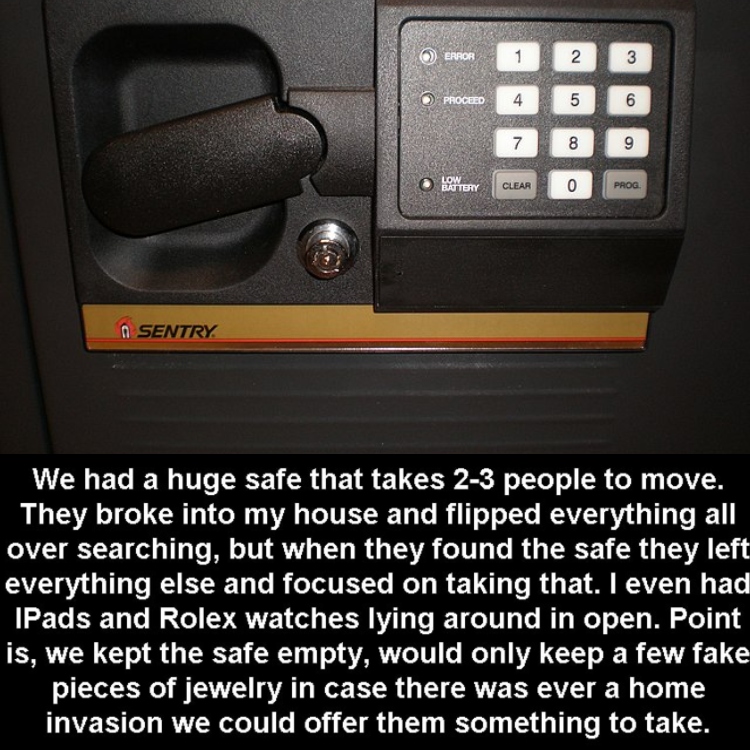 One homeowner's clever tactic involved creating a massive decoy safe, which successfully deterred burglars from stealing other valuables in plain sight. The thieves were so focused on getting into the decoy safe that they completely overlooked items such as iPads and Rolex watches, leaving the homeowner's true treasures untouched.
Outsmart Thieves with Smart Lighting
Did you know you can easily safeguard your home from break-ins by embracing high-tech gadgets? Philips Hue US confirmed that the bulbs have software for connecting to an app or smart home assistant. Investing in smart lighting systems controlled by your smartphone or a smart home assistant can make it seem like someone is home whenever you are away.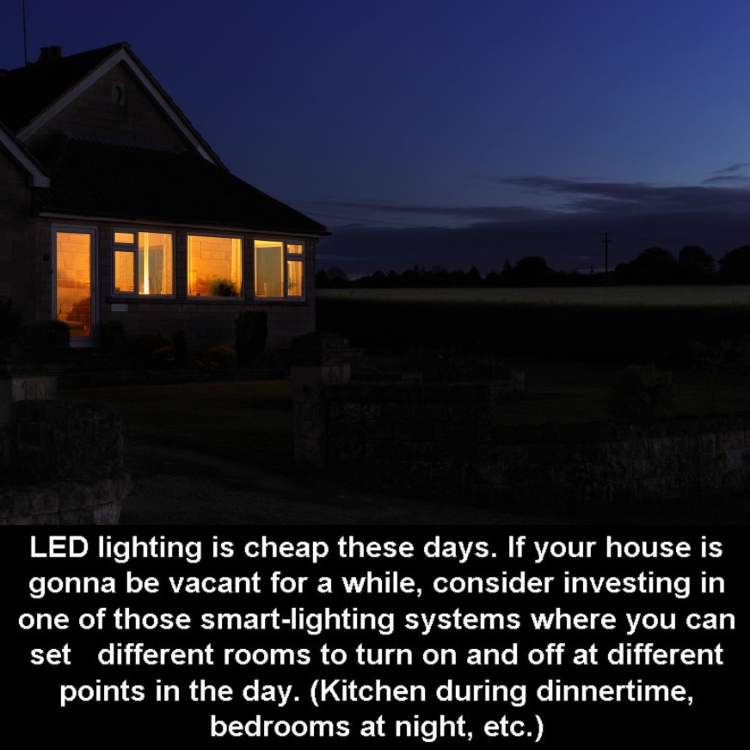 LED lighting is affordable and customizable, allowing you to schedule various rooms to turn on and off throughout the day. Keep burglars guessing and protect your home with this high-tech solution!
Secure Your Smart TV
Wall-mounting televisions have gained popularity because of their many advantages, including keeping a room tidy and organized, which is especially useful in narrow spaces.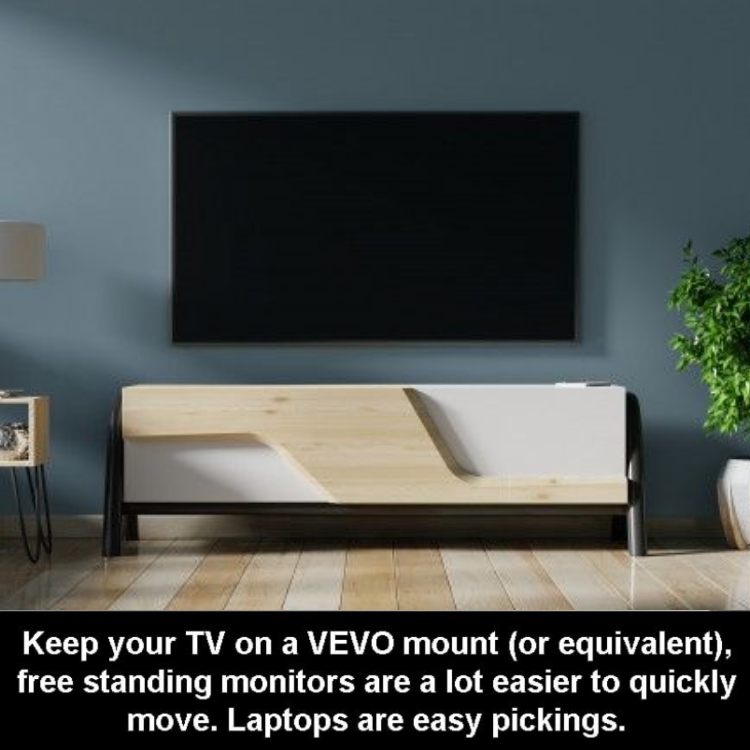 Additionally, mounting a TV is more affordable and offers added security, as it's harder for thieves to remove. Removing the TV would require a screwdriver, and it may take a lot of work for a burglar to remove it. Without tools, removal could damage the device, making it less appealing to burglars. Therefore, it is highly recommended to mount your televisions.
Let Them Housesit for You
Home security is usually the last thing on a person's mind after losing a loved one. While in mourning, in shock and sadness about the deceased's life, it's sad that burglars lurk around to take advantage of people in such situations.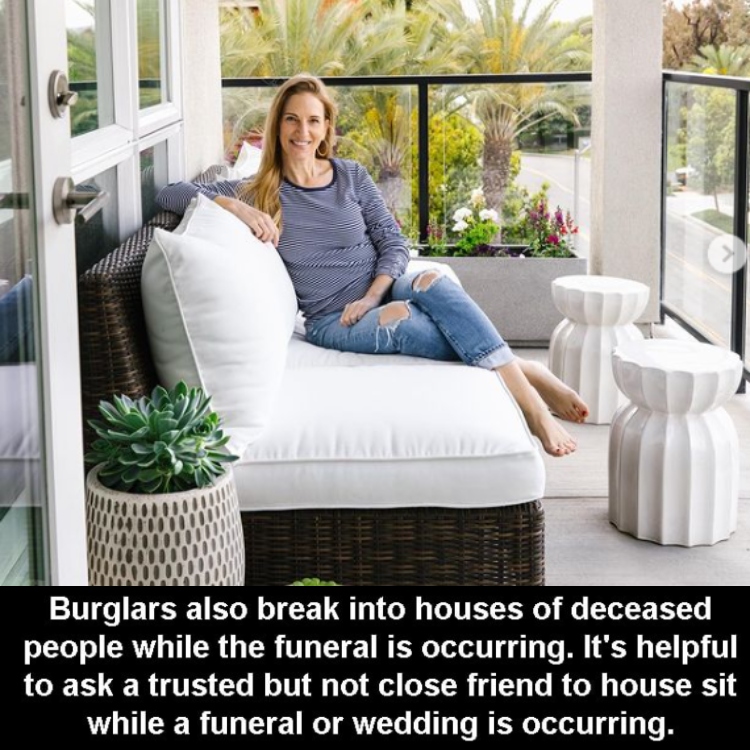 Burglars can break into a house during the funeral and take all priced possessions. It is important to consider home security by asking a trusted friend or neighbor to stay back and take care of the house.
Don't Be Tricked by Their Generosity
It is impossible to predict when the burglars will rob us; they are upping their game. Being generous is one trick they use to get away with your valuables, so you should not be caught off guard.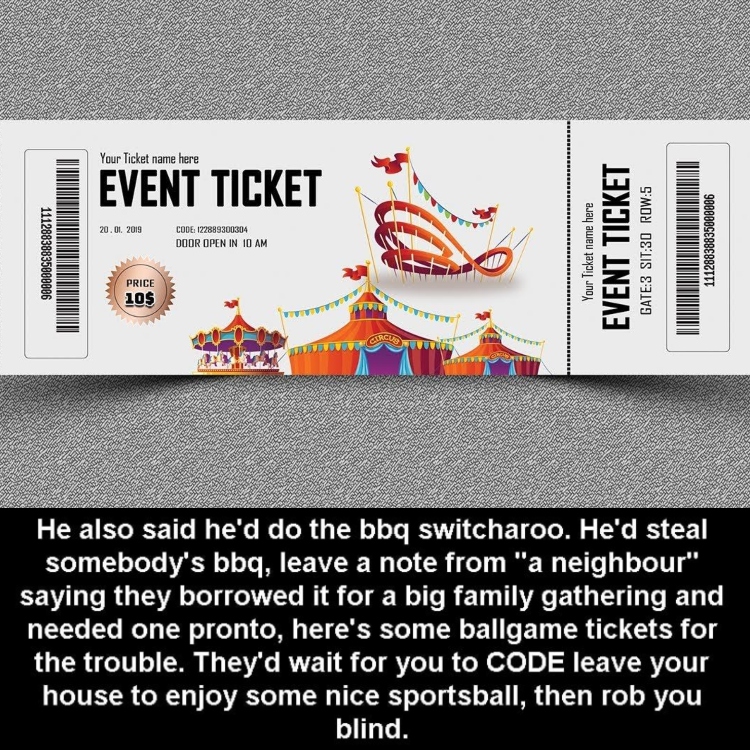 This burglar's trick was to use a ballgame ticket to make a victim leave his home and then rob him blind. It is important to be security conscious and not jump at everything without considering the risks. As the common saying implies, think twice when something is too good to be true.
Boxes Are Not as Safe as You Think
Lockboxes (commonly known as key safes) are small containers that store keys for homes or rental accommodations. Despite their name, these boxes offer a different level of security than expected. Former burglars have claimed they are easy to break into, and the code required to open them can be easily bypassed.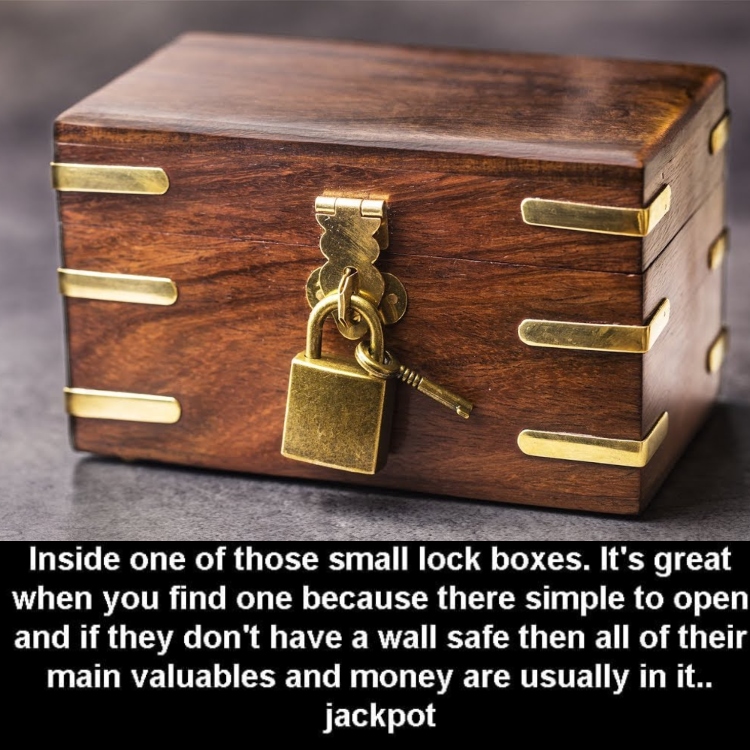 Therefore, it's critical to plan for alternative key storage methods. Duplicating keys and distributing them to trusted family members can ensure a spare key is always available. This reduces the risk of an intruder gaining easy access to the property.
Protect Other Valuables, Not Just Jewelry
Not every thief intends to steal jewelry. Not every burglar wants to comb an apartment searching for a piece of shiny metal that may end up worthless. Some thieves want to spend as little time as possible in the houses they raid, with little hustle, and get the most out of their time.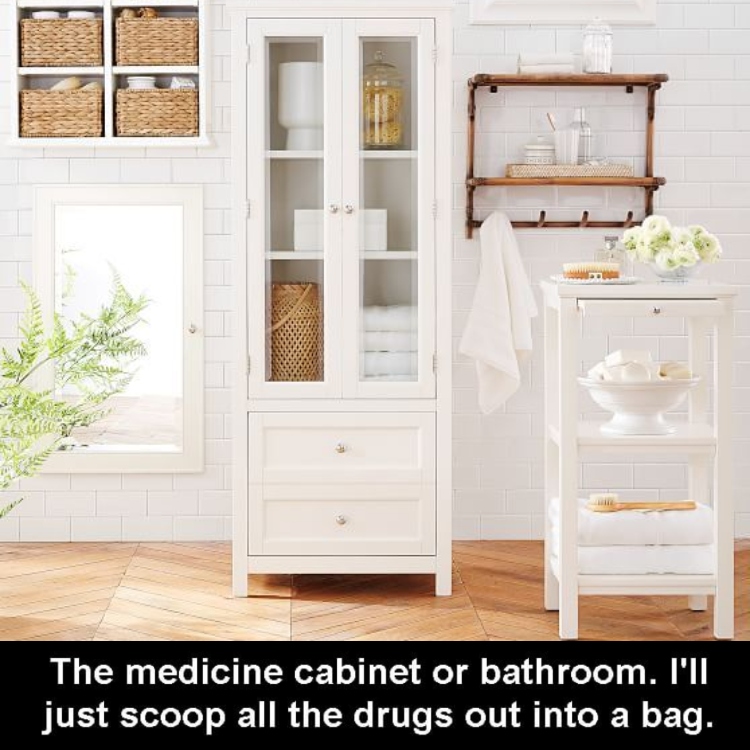 They can easily steal a lot of stuff (including medicine, electronics, artwork, and household items). It's vital to protect your entire home, not just your jewelry.
Drill Basic Safety Practices Into Your Kids
To prevent burglaries, it's always better to be safe than sorry. Burglars often survey a house before breaking in; sometimes, children have unwittingly opened the door for them.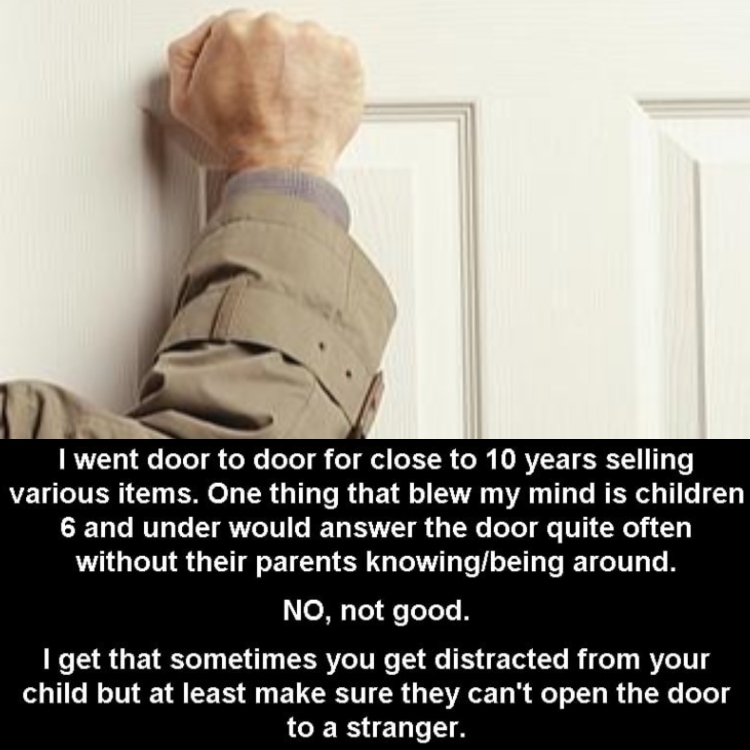 As a safety tip for parents, telling kids the importance of waiting for an adult before opening the door is highly recommended. Kids can be taught to ask who's there through the door or a window before opening it. For extra security, consider adding more locks to the door. Taking these simple steps can help ensure the safety of your home and family.
Schooling is a Luxury
Over the years, the cost of education has increased in America. Nerd Wallet says it's so high that one in five Americans have outstanding student loans. So students have to make money, and one way is by selling old and used textbooks.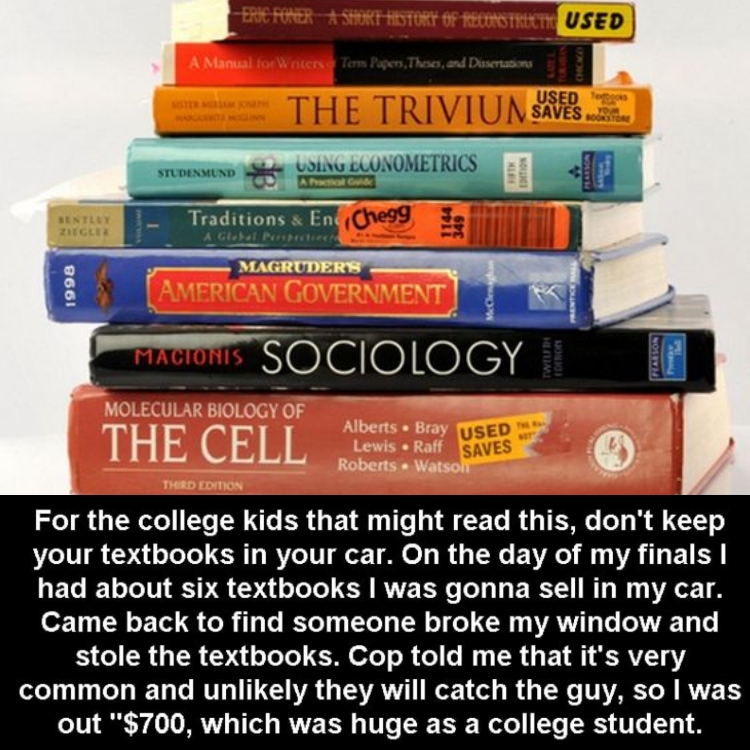 Like the tuition fees, textbooks are also pricey. Sadly, this college student had his money-making opportunity stolen from him. If you're a student, protecting your textbooks is key; avoid leaving them in your car, as anyone with ill intentions can break into the car and take them.
Outlets As Safes
Do you want to protect a valuable item or money from in-house thieves or external burglars? Consider installing false electrical outlets in your home. They will make the perfect place to hide your valuables by placing them in random spots across your home.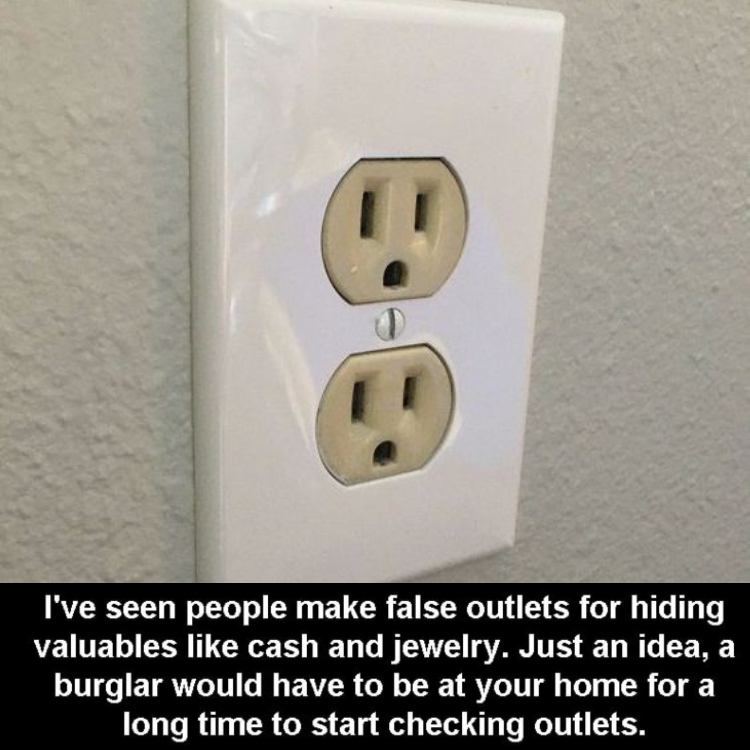 Creating fake outlets is a great way to create hidden compartments because they are unlikely to arouse suspicion. However, caution should be exercised when children are around as they may accidentally come into harm's way.
Purse Thieves on Bicycles
To avoid bike-riding thieves, being vigilant about your surroundings is critical. Simply glancing around can put them off, as they may suspect you are aware of their presence.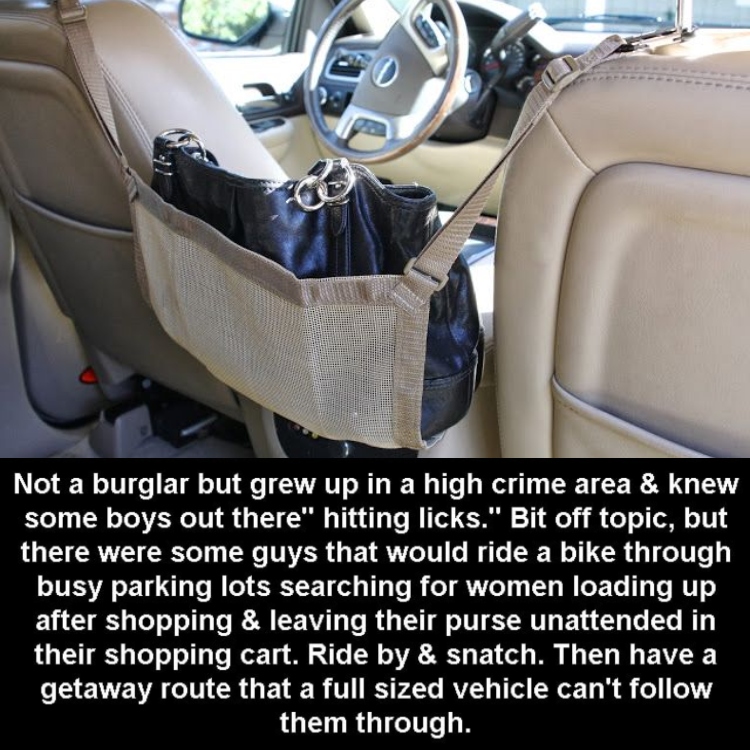 Additionally, keeping your purse near you but out of sight can help deter theft. When leaving your purse in the car, consider covering it with a blanket or other item to make it less visible. Taking these simple precautions can help reduce the likelihood of becoming a target for bike-riding thieves.