Dollar Store Hacks That Make Your Dollar Go Far
Packing is a necessary evil if you're traveling. Predicting what you'll need and finding the space to fit it all in one bag is never easy. Not to mention keeping it under that 50 lb limit at TSA. The dollar store might just be your best friend while you're packing for your next trip. These one dollar tips and tricks will have you packing like a pro!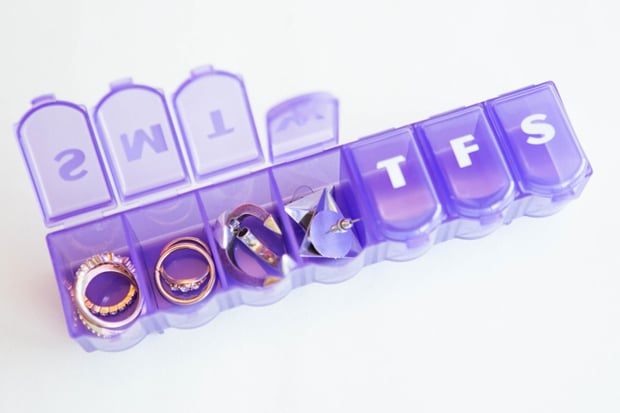 Packing Cubes
Packing cubes are a great organizational tool that allow you to fit more into your suitcase. They come in all sorts of sizes for you to fill your bag in an orderly way. No more throwing piles of clothes into the bag and sitting on it to force it shut.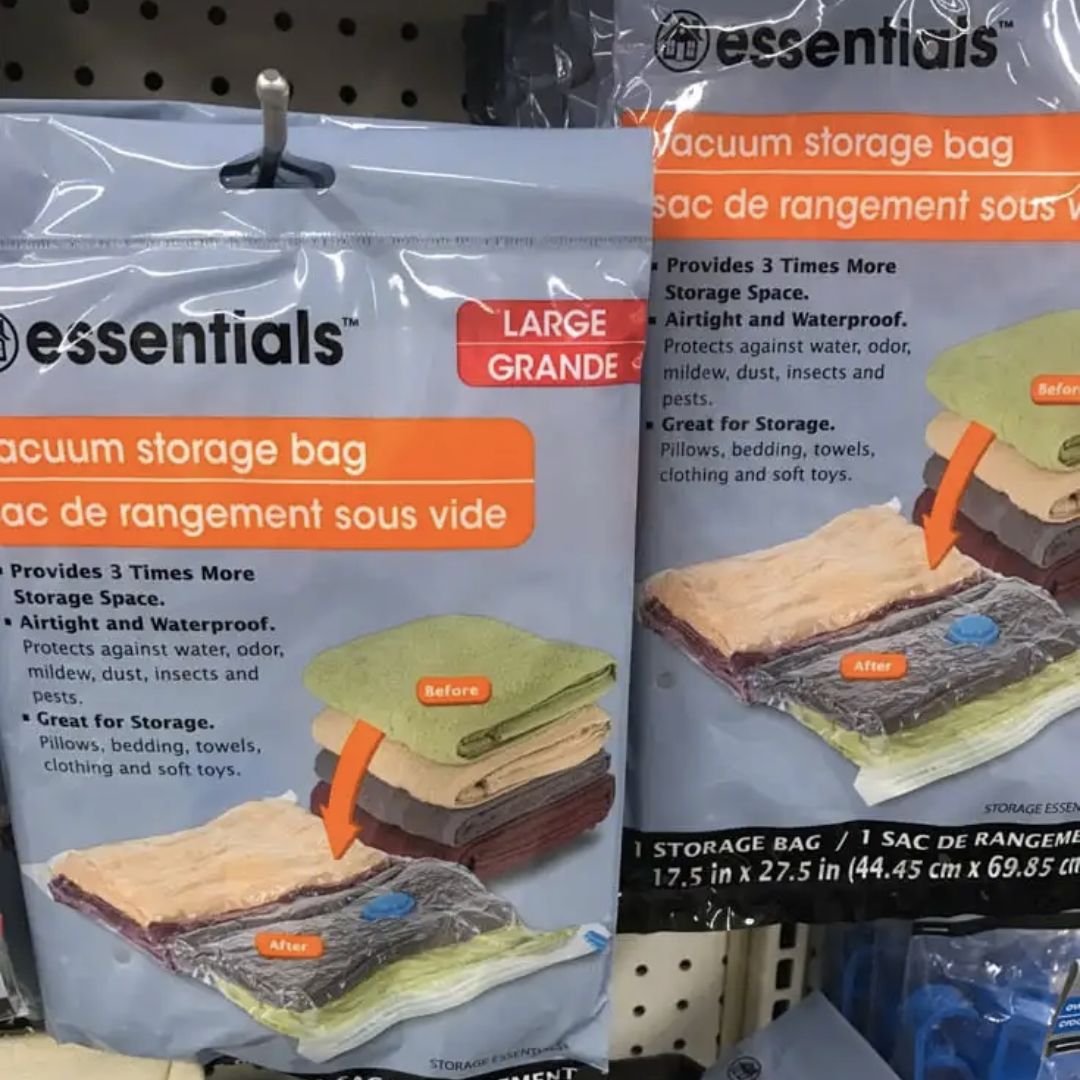 The packing cubes zip up and vent out the extra air from the sides so no more wasted space. The dollar store sells these in packs of 2 for $1.
Shower Caps for Shoes
Shower caps are a great way to protect your shoes in your suitcase. Rather, they protect the other contents of your bag from any lingering dirt on your shoes. Just wrap the plastic cap around your shoes before you place them in your bag.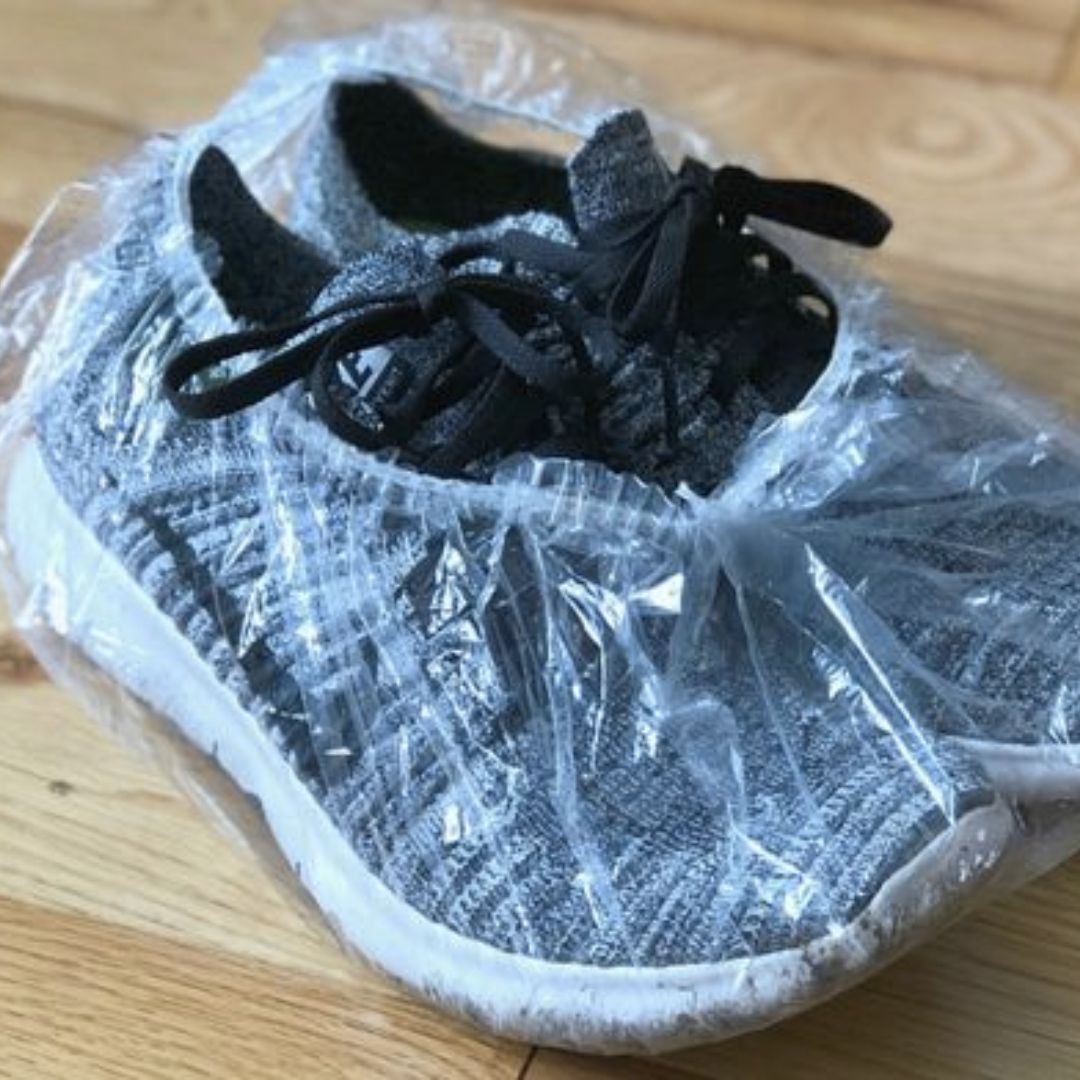 Shower caps can also be used to protect other things in your bag. Wrap small items together in a cap and twist at the top. At 8 caps for $1, this is sure to be the cheapest way to protect your items from shoe grime.
Travel Sized bottles
Packing your toiletries and bathroom essentials is one of the biggest hassles when it comes to packing. Lotions, face washes, shampoos, sunscreens, and shaving creams can end up taking up a lot of space.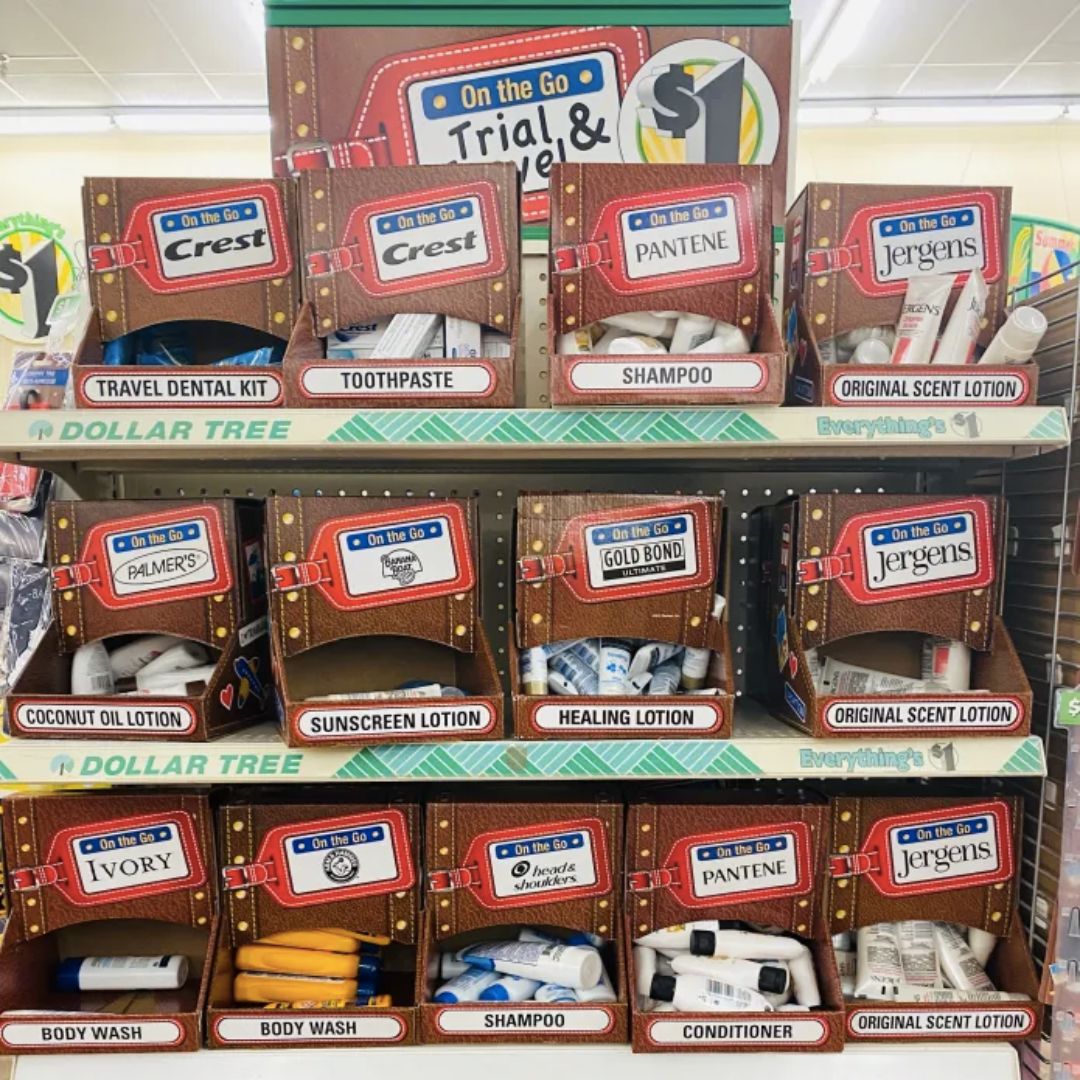 Then there's the matter of TSA liquid restrictions. Get some travel size bottles for your trip that will be smaller and easier to pack. There's a huge selection at the dollar store for you to choose from.
Reusable travel bottles
Along the same lines, using reusable travel bottles is a great way to travel. You already have the products you love at home. Fill these reusable bottles with your products and leave the big bulky bottles at home.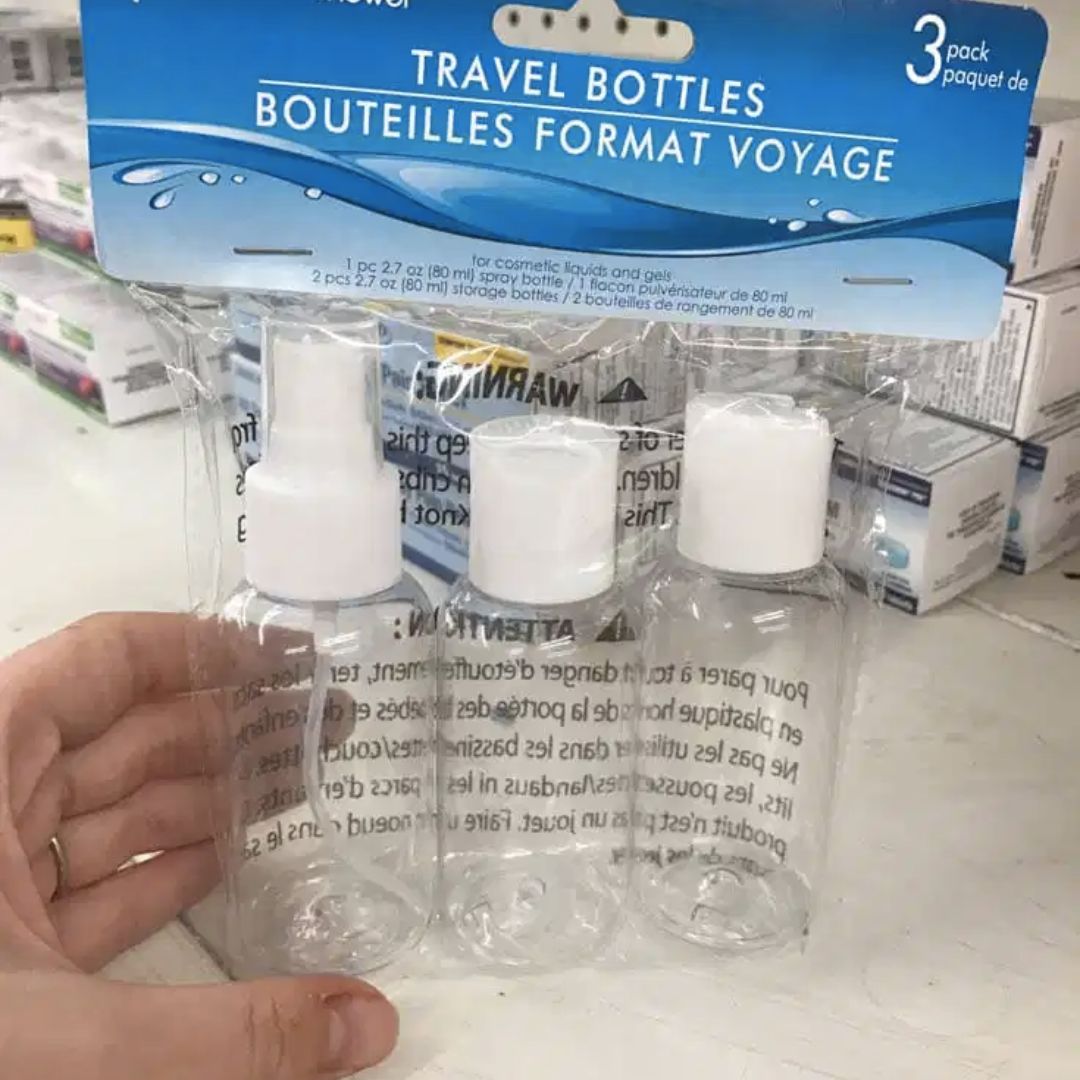 These come in all shapes and sizes for every product you might need. Sprays, creams, and liquids can all be conveniently stored in these little bottles. Different sets come with a variety of jars and bottles, so pick what works best for you!
Pack your earrings
Jewelry is always a difficult item to pack. The small items can easily get lost, tangled, and forgotten. We've all suffered the loss of our favorite jewelry while transporting it from A to B.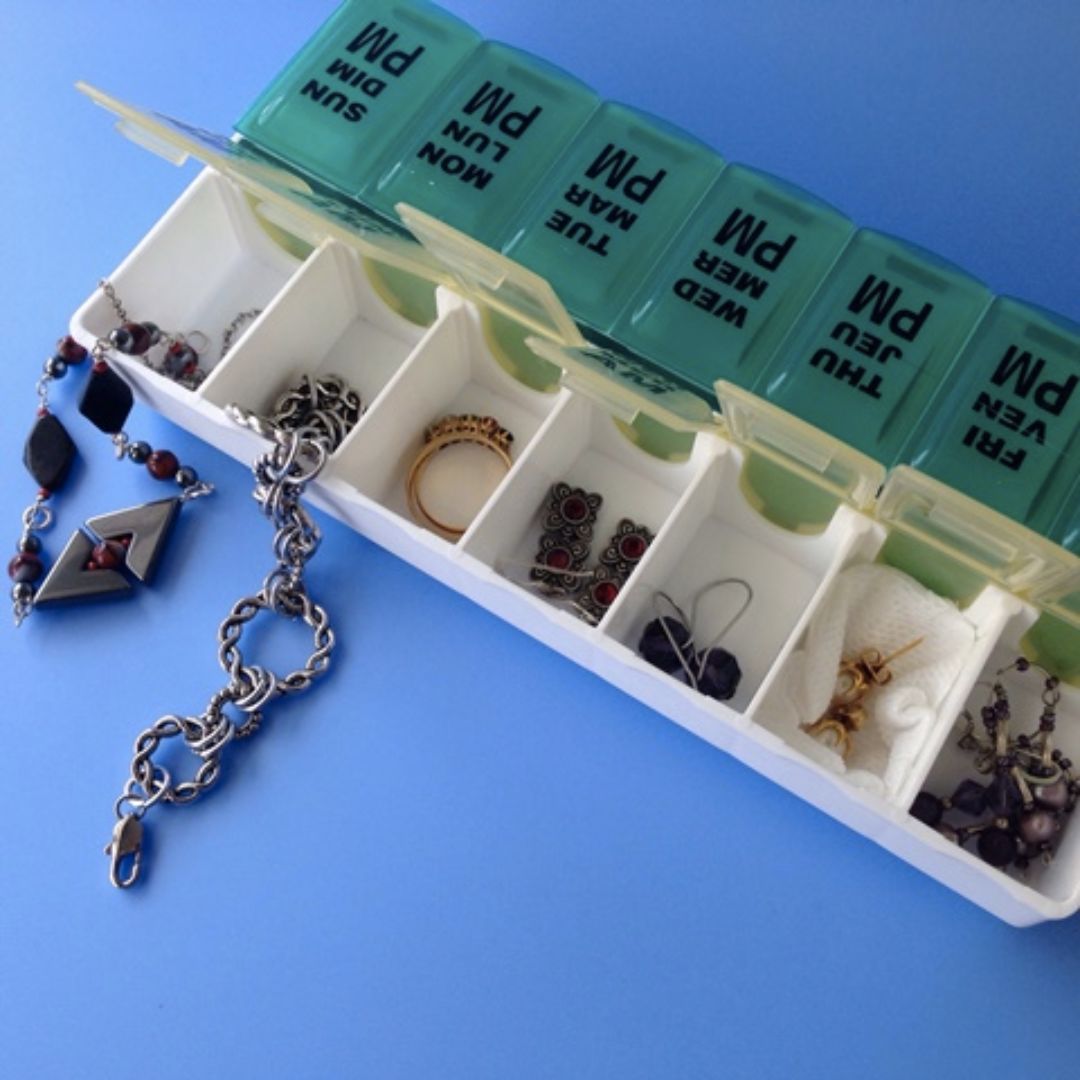 If you plan on bringing jewelry on your trip, we have a super convenient way to store your small valuables. Buy a pill box organizer for $1 and keep your rings and earrings organized and separated.
Put a Balloon over your liquid products
Arriving at your destination and opening your bag to a spilled bottle of soap is the worst feeling. It's not a great start to any vacation. Try this hack to save your bottles from spilling into your bag.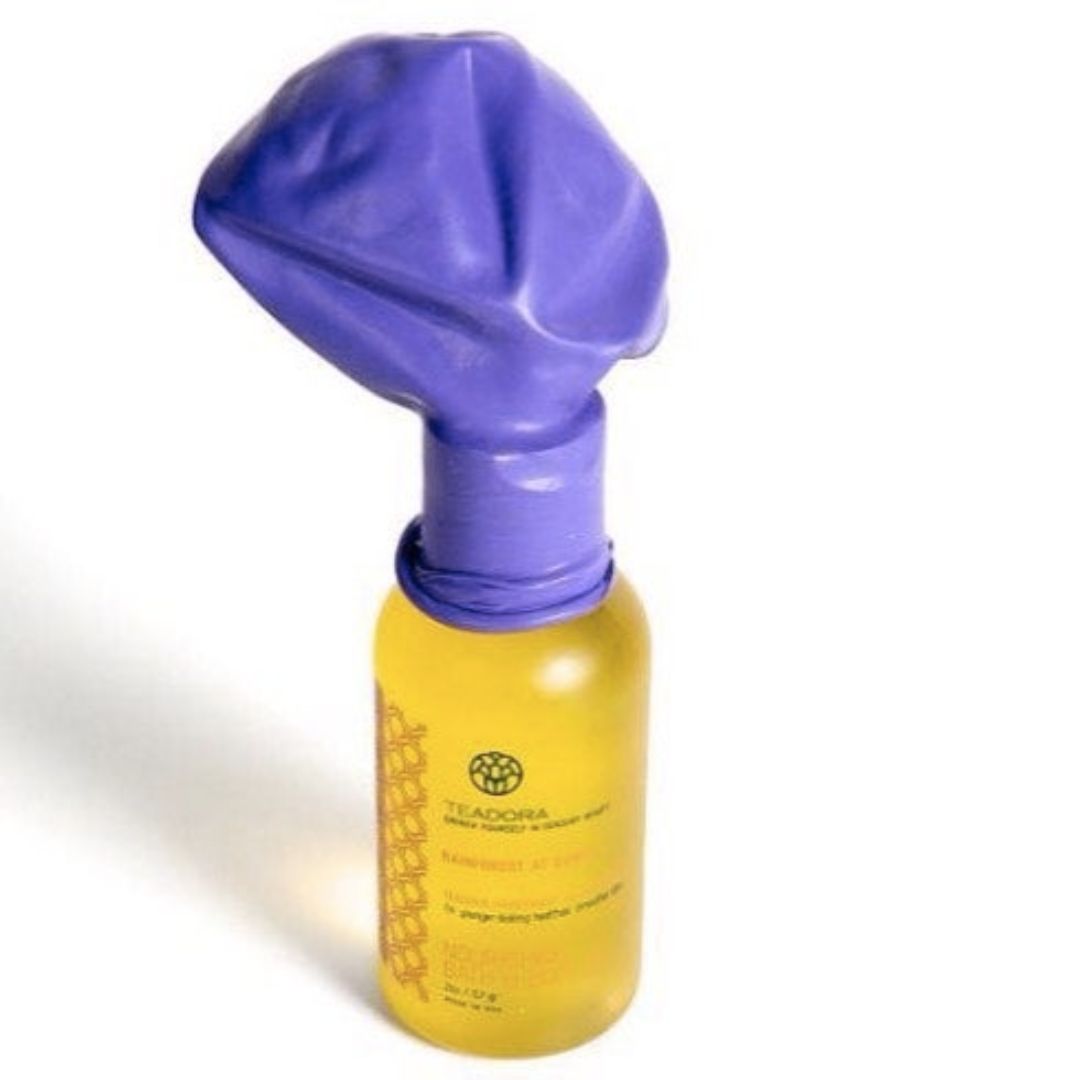 Take a balloon and stretch it around the top of your shampoo and soap bottles. If they do spill, it will be into the balloon instead of all over your stuff.
Keep your Necklaces Untangled with a Straw
Tangled necklaces are the bane of our existence! There seems like there's no great way to travel with them. Try this hack so you don't spend hours detangling your jewelry!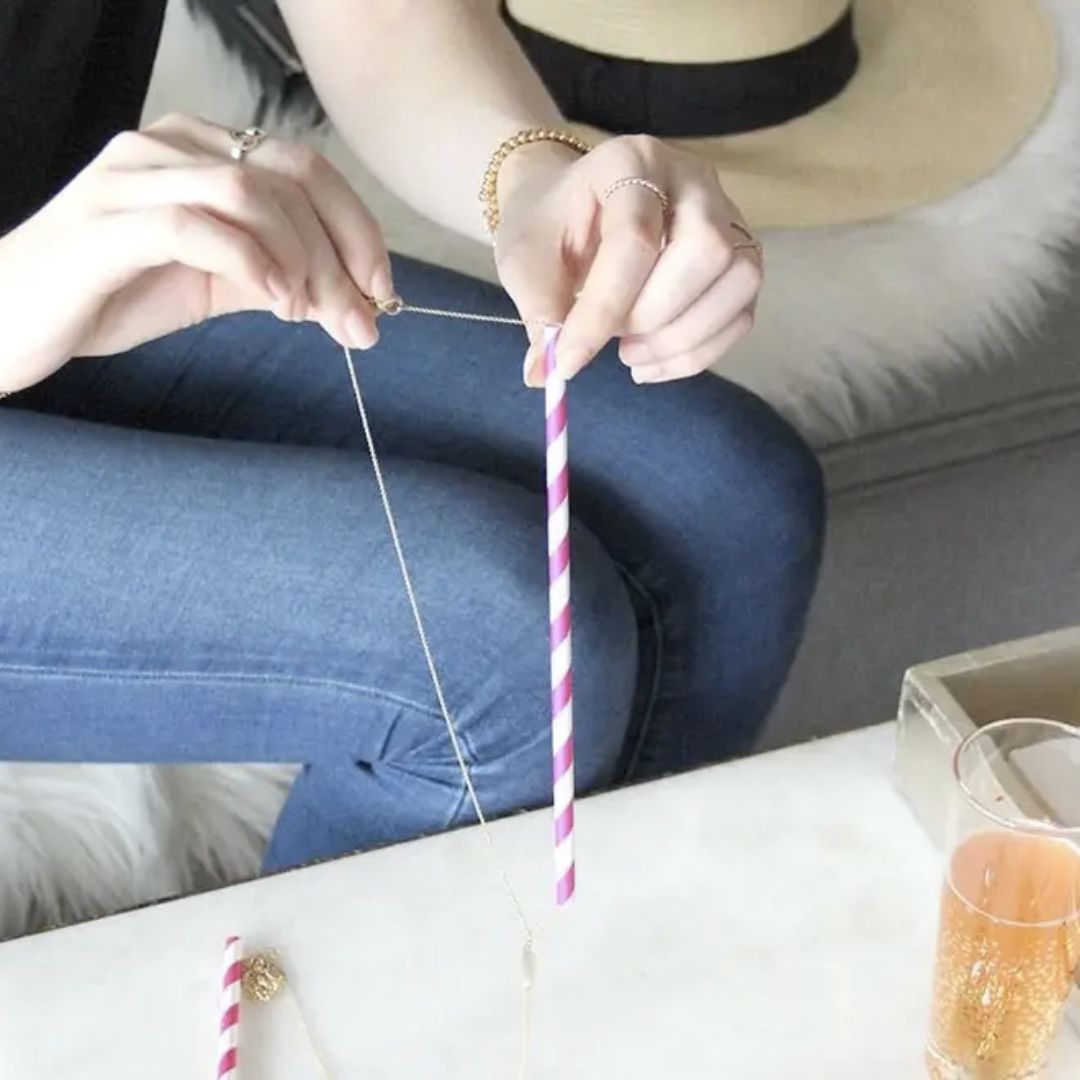 Cut some plastic straws into halves or thirds (depending on the length of your necklaces). Thread the necklaces through the straw and clasp it together. This will keep them from tangling during your travel.
Put colored duct tape on your bag
If you have a suitcase or bag that is not easily recognizable, try putting some duct tape around the handle of the bag so you can easily pick it out in the airport.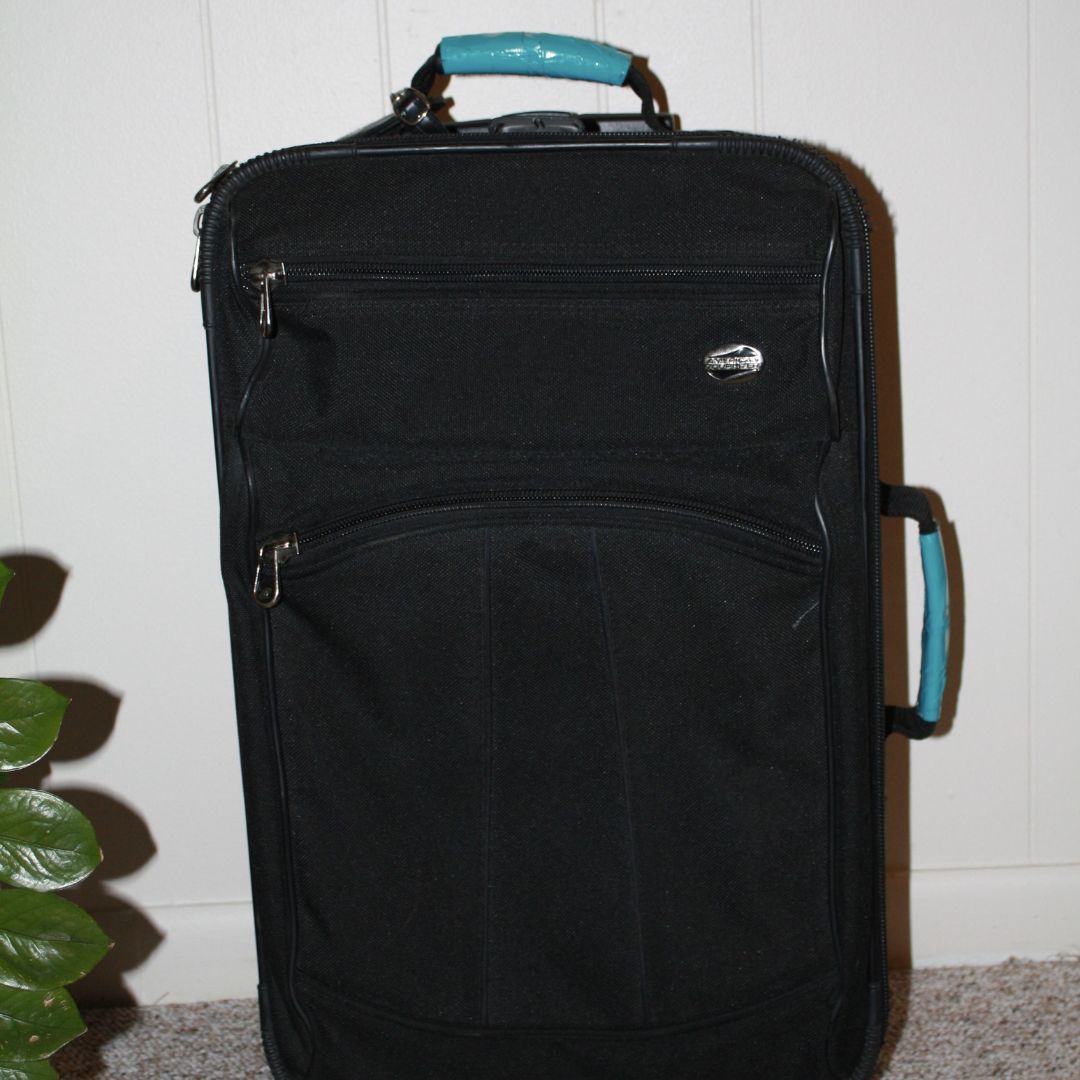 We recommend using a bright color so it is easy to spot in a sea of black and blue suitcases. You don't want to grab someone else's bag by accident and open it to an unfortunate surprise when you arrive at your destination.
Zip-Tie the Zippers of the Suitcase
If you want to keep other people's hands out of your baggage or you want to avoid it becoming unzipped accidentally, we have a cheap solution for you.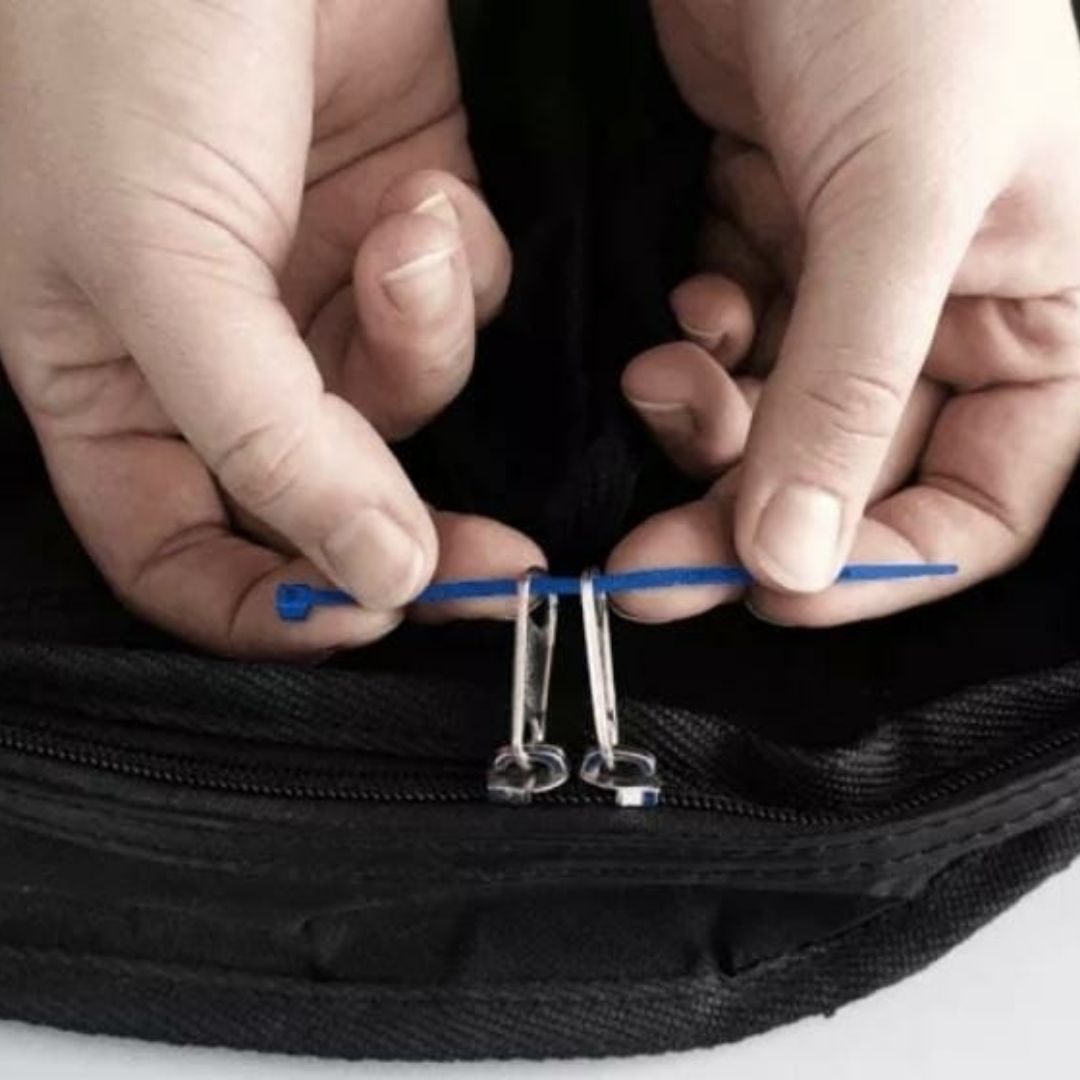 Zip-tie the zippers of your bag together to avoid them getting opened. This is especially useful if you're traveling at airports since other people might be handling your luggage.
Use an Empty Tic Tac Box to Keep a Toothbrush Clean
Hotels are not known for their cleanliness. You might not want to set your toothbrush down on that bathroom counter. If you can't get your hands on one of those toothbrush covers, an empty tic-tac box will do the trick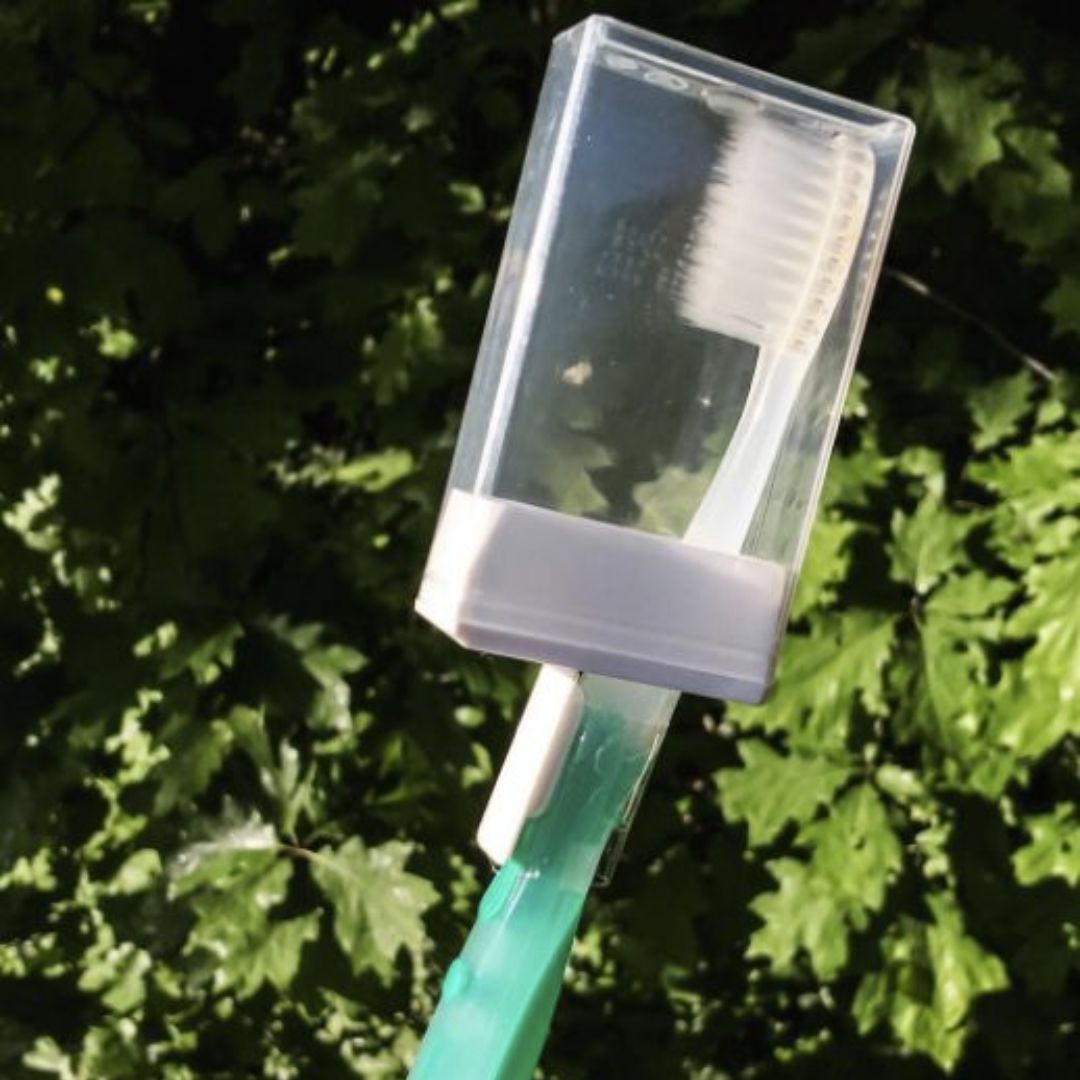 This is a great hack for those of us who are often on the go and want to keep things clean. Use it while you're traveling or even while you're home to keep germs out of your mouth.
Use a Claw Clip to Keep Chargers Untangled
Traveling and tangled chargers go hand in hand. Throwing your cords into a bag is almost guaranteed to result in knots.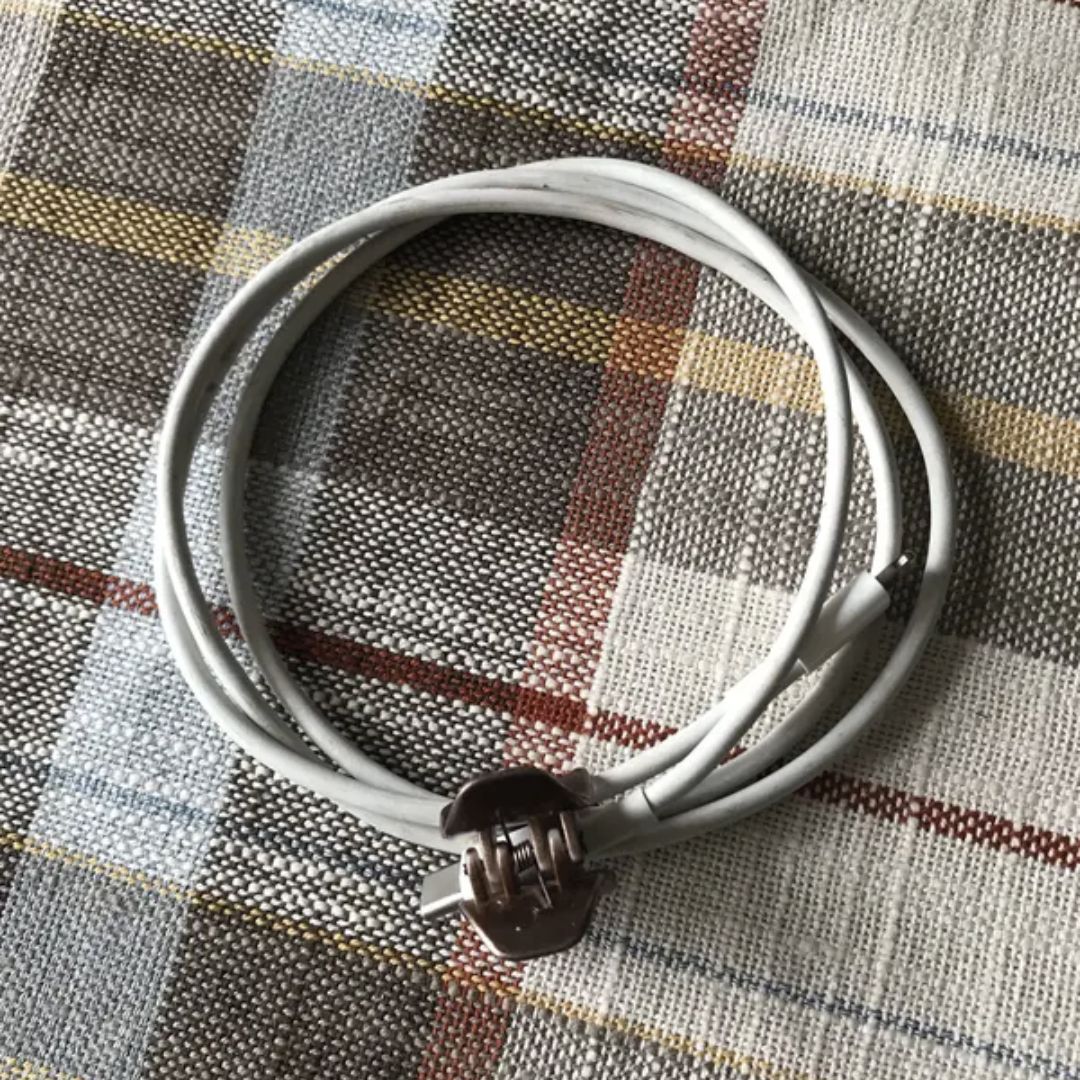 Keep your cords tangle-free by wrapping them and clipping them together with a hair clip. Not only will this keep you from getting frustrated, but it's good for the charger too. Less bends in the cable will also give it a longer lifespan.