Simple Tips for Organizing Your Kitchen and Improving Efficiency
The kitchen truly is the heart of every home. It's the space where we undertake our culinary adventures and gather with loved ones to share a meal.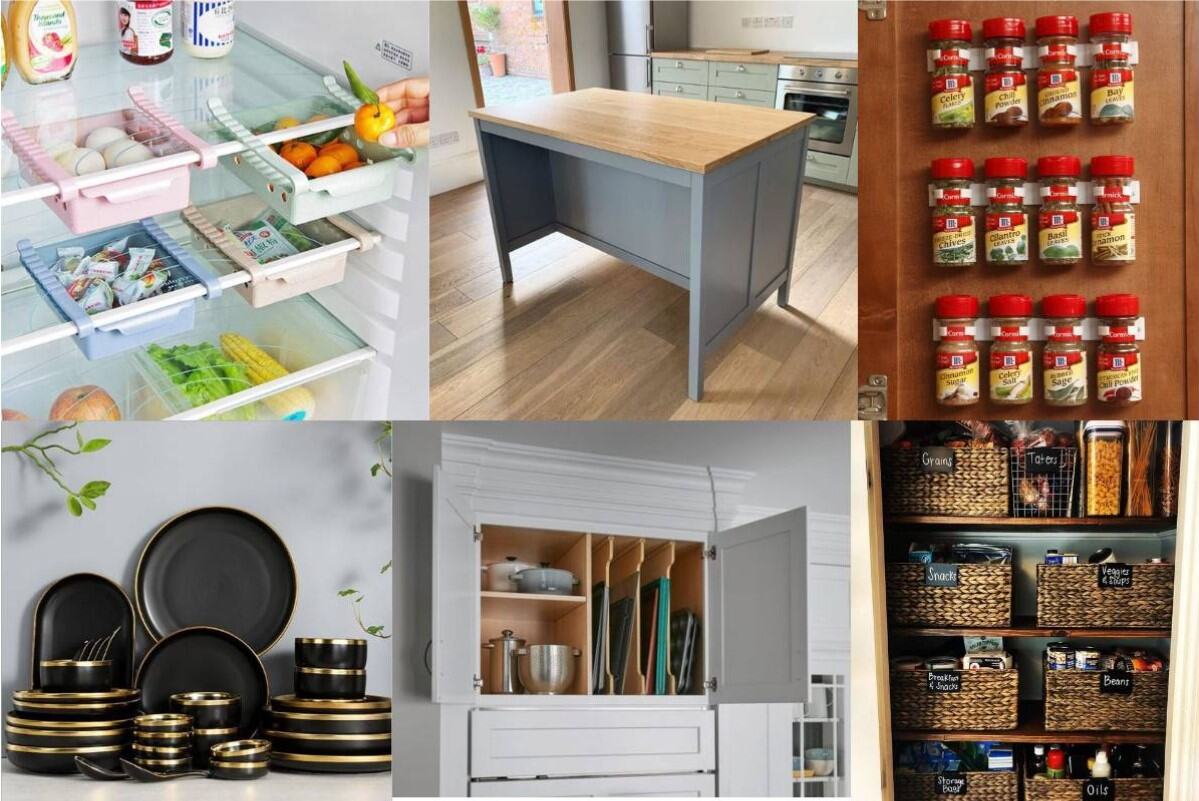 Over the years, kitchens have evolved from simple and functional to workstations of multi-functional culinary activities. A kitchen should be carefully organized to ensure optimum functionality; here are some hacks to help you achieve that.
From Chaos to Order: Easy DIY Pan Lid Organizer
Storing pots and pans with lids can be annoying. You can successfully stack them up in your cupboard, but removing them again can be chaotic. We have the right hack for that.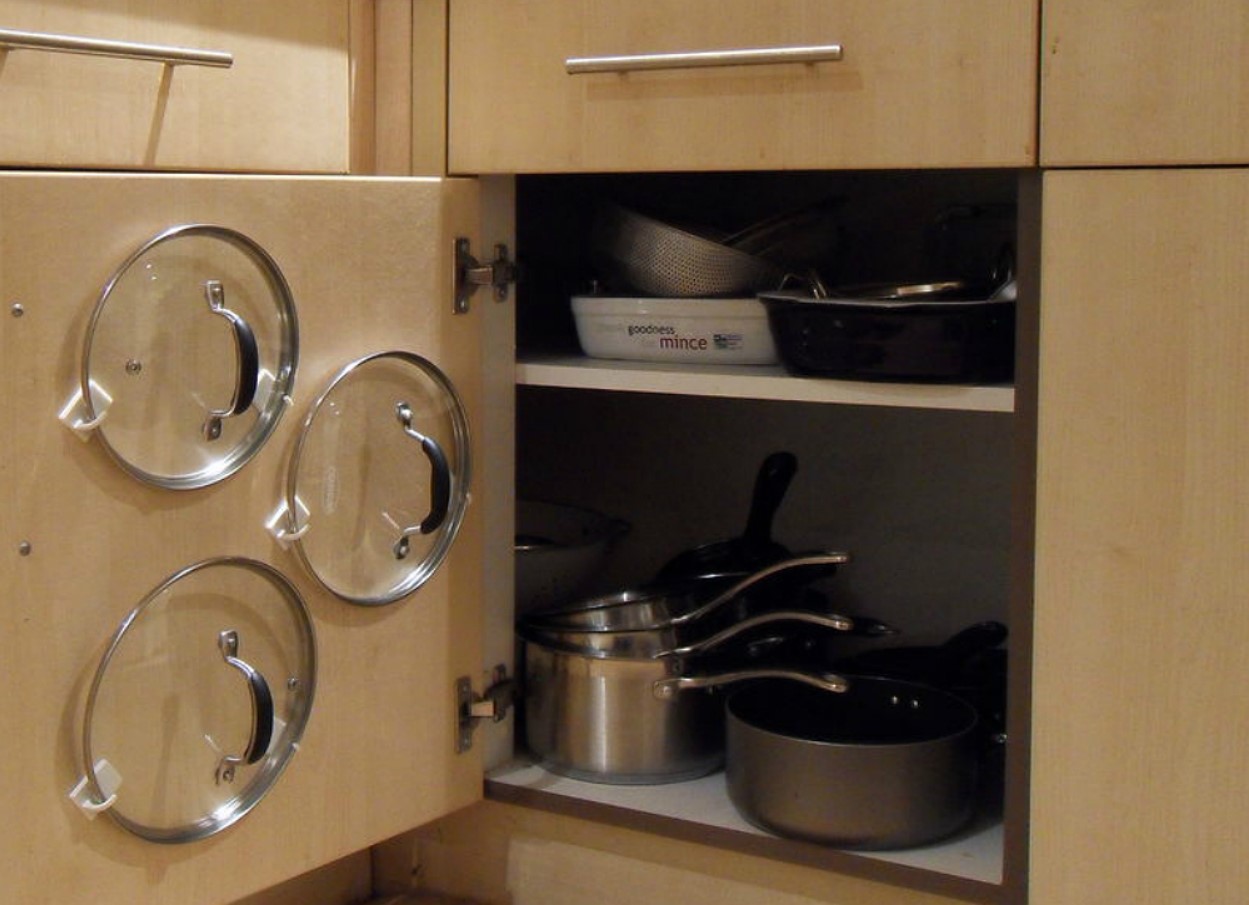 With the help of sticky hooks and a pencil, you can hang the pot lids on your cupboard door. Position the hooks to face the center of the pan; the covers will slot perfectly between them.
Bonus Storage
If you have a stack of pots that are too much for your cupboard, you don't need to spend money to buy more kitchen wares.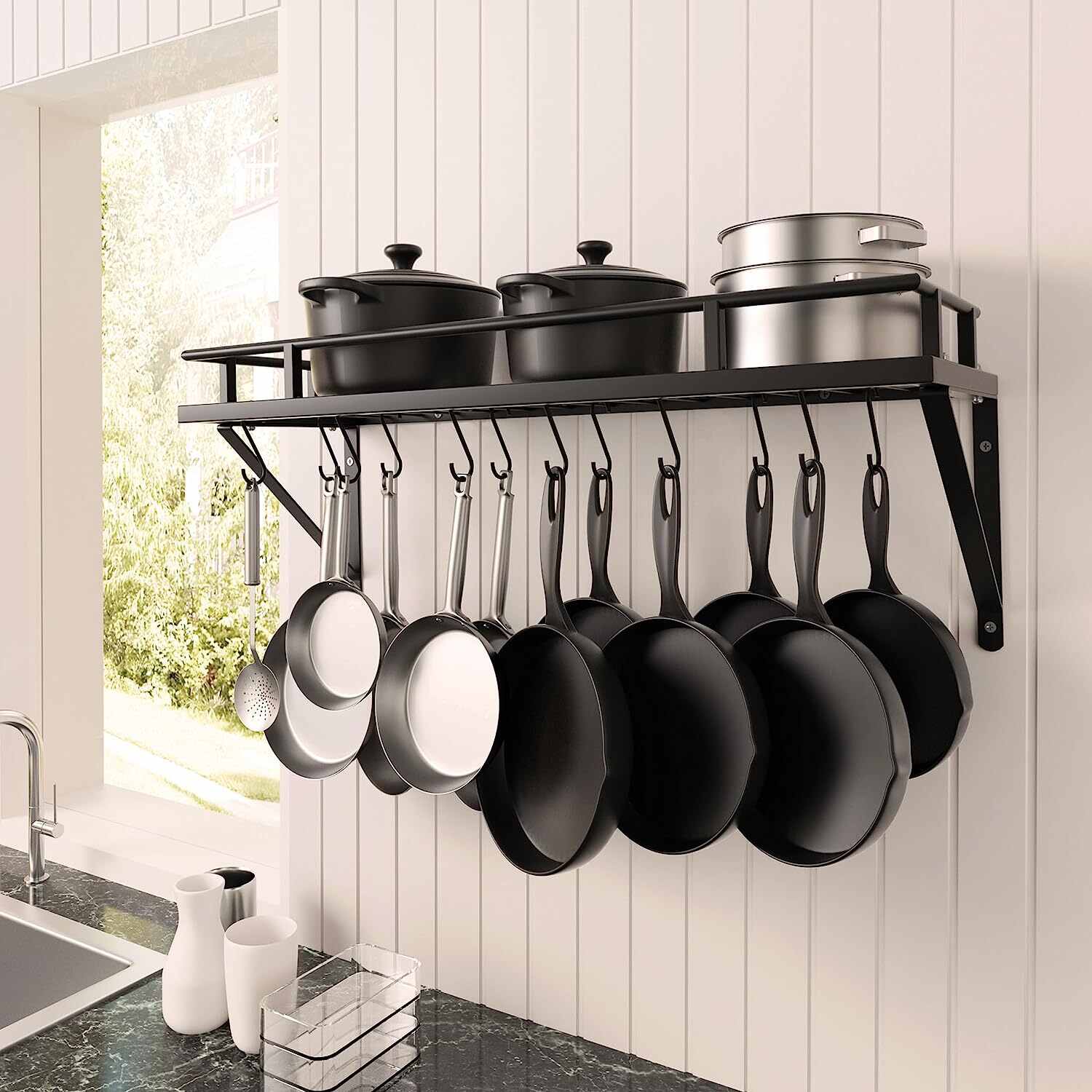 A pot rack can be made from items you already have in your kitchen. A crossbar and some hooks will do just the trick. You can utilize the unused storage behind the countertop to create extra space for your pots and pans.
Spice Up Your Kitchen
Spices are major ingredients that improve your favorite dishes. Although essential in the kitchen, they should not just be placed anywhere. Cluttered jars can make your kitchen look scattered.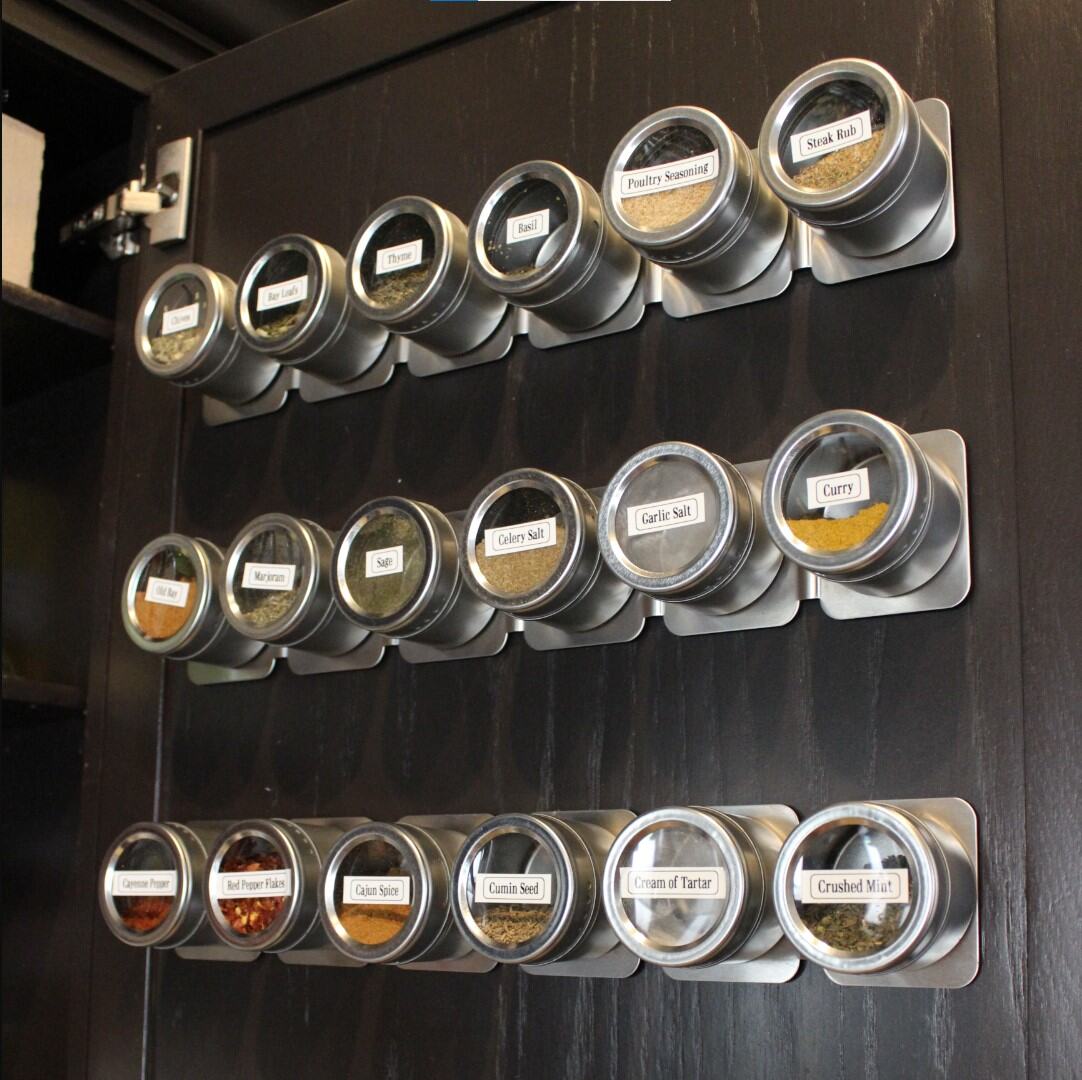 A good solution is to keep each spice in magnetic spice holders. These spice holders look elegant, and they can be easily reached. You won't have to go through spice jars when looking for a particular one.
Small Spaces: Make Use of Hidden Areas in Your Kitchen
Finding places for all your items can be a struggle when your kitchen is cramped. One solution is to utilize each and every corner; another solution is this hack.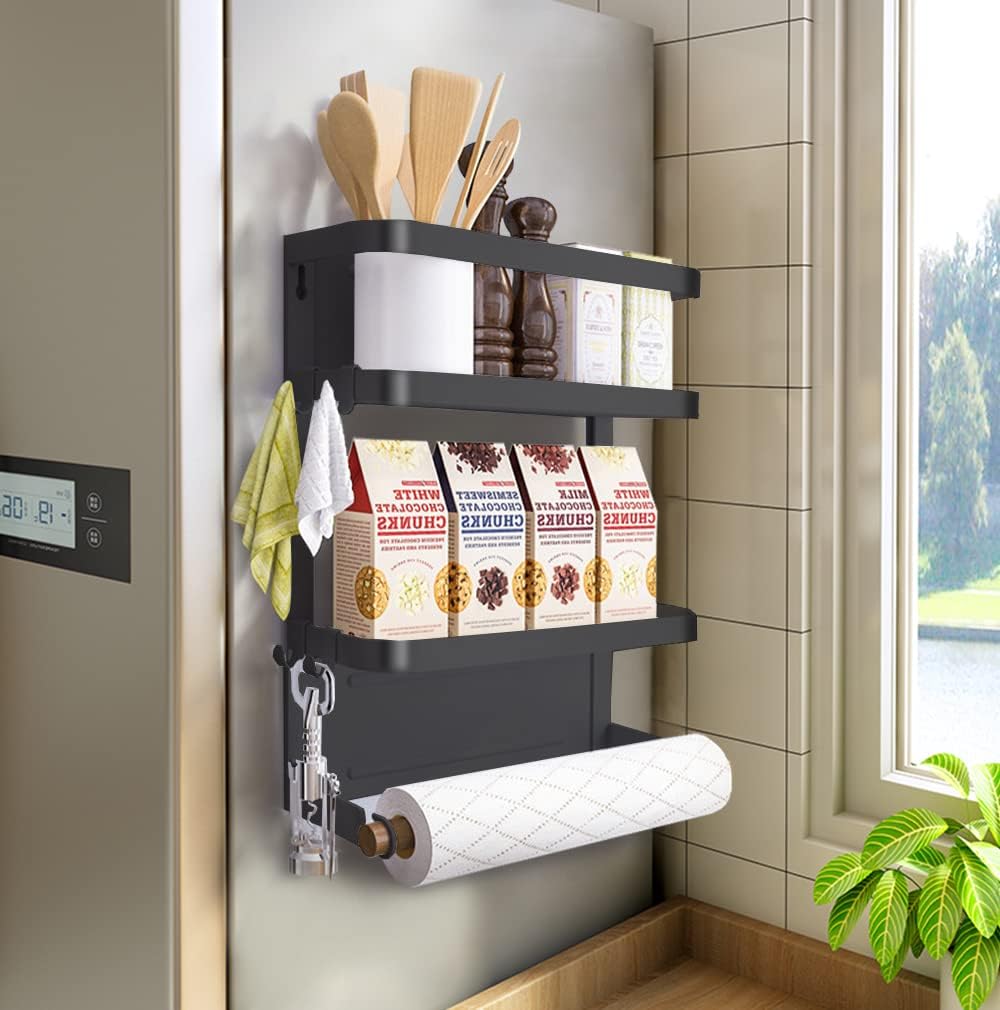 The empty side of your fridge not covered with magnets and photos can be pretty useful.
From Messy to Marvelous: Avoid Messy Cabinets
Trays and cutting boards are kitchen tools that can be tricky to store. Keeping them on top of each other can result in a mess. Using dividers in your cabinet is a simple and brilliant hack to keep them organized.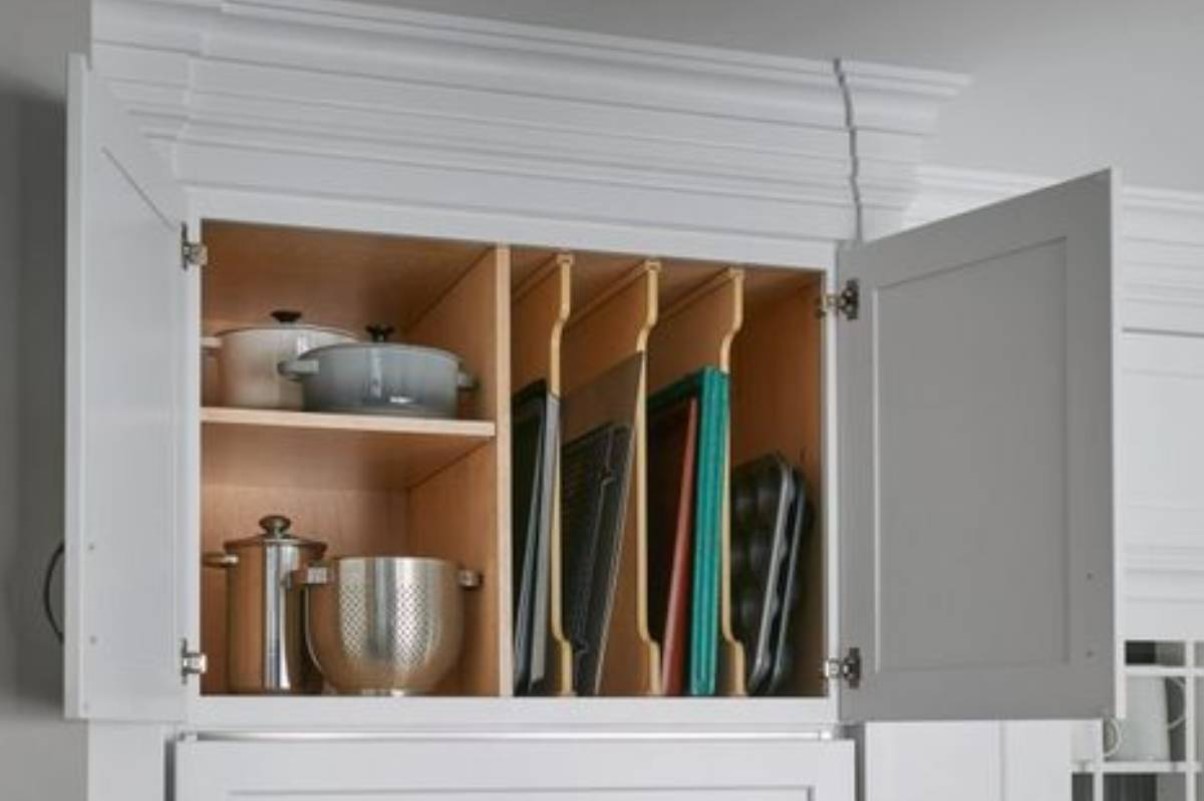 By adding dividers, you can easily slide the tools in and out. The dividers are also removable, so you can reorganize them whenever necessary.
DIY Kitchen Organization: Countertop Knife Holders
Knives are essential tools in the kitchen, and there are different types of knives for different purposes. You might find knife holders quite bulky if you use knives a lot. Even if they fit into your drawers, you might not want them there.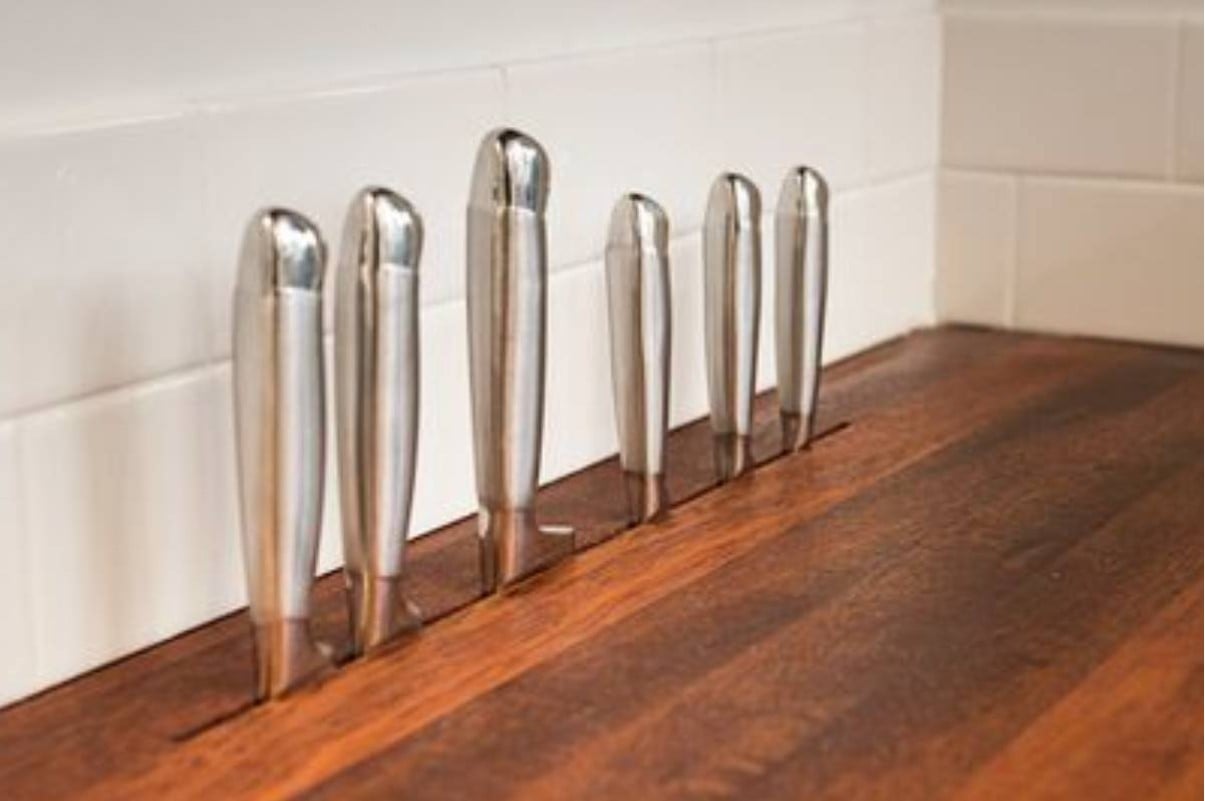 You can make your own countertop knife holder by carving holes the size of each knife and save yourself a lot of space.
Organizing The Space Under The Sink
Martha Stewart, the Queen of Clean, has inspired us with many kitchen-organizing hacks, but this is one of the best. It shows us how to organize the space under the sink.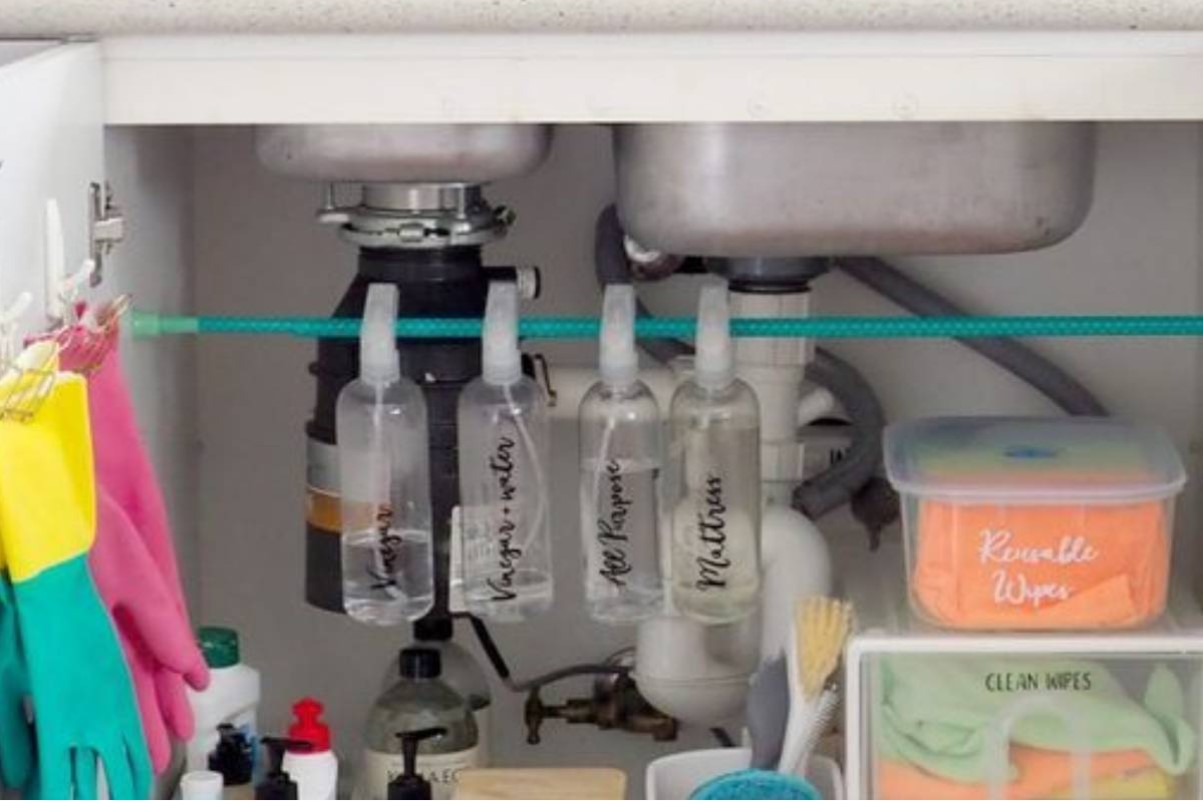 You can add a tension rod to this space, then store things like home cleaners and sprays. The rods should be extended to both sides of the cabinet.
Small Space-Friendly Hack: Space-Saving Dish Drying Rack
Dish racks are one of those pieces of kitchen equipment that can take up a lot of space. Some of them can also look unappealing in the kitchen and ruin the entire aesthetic.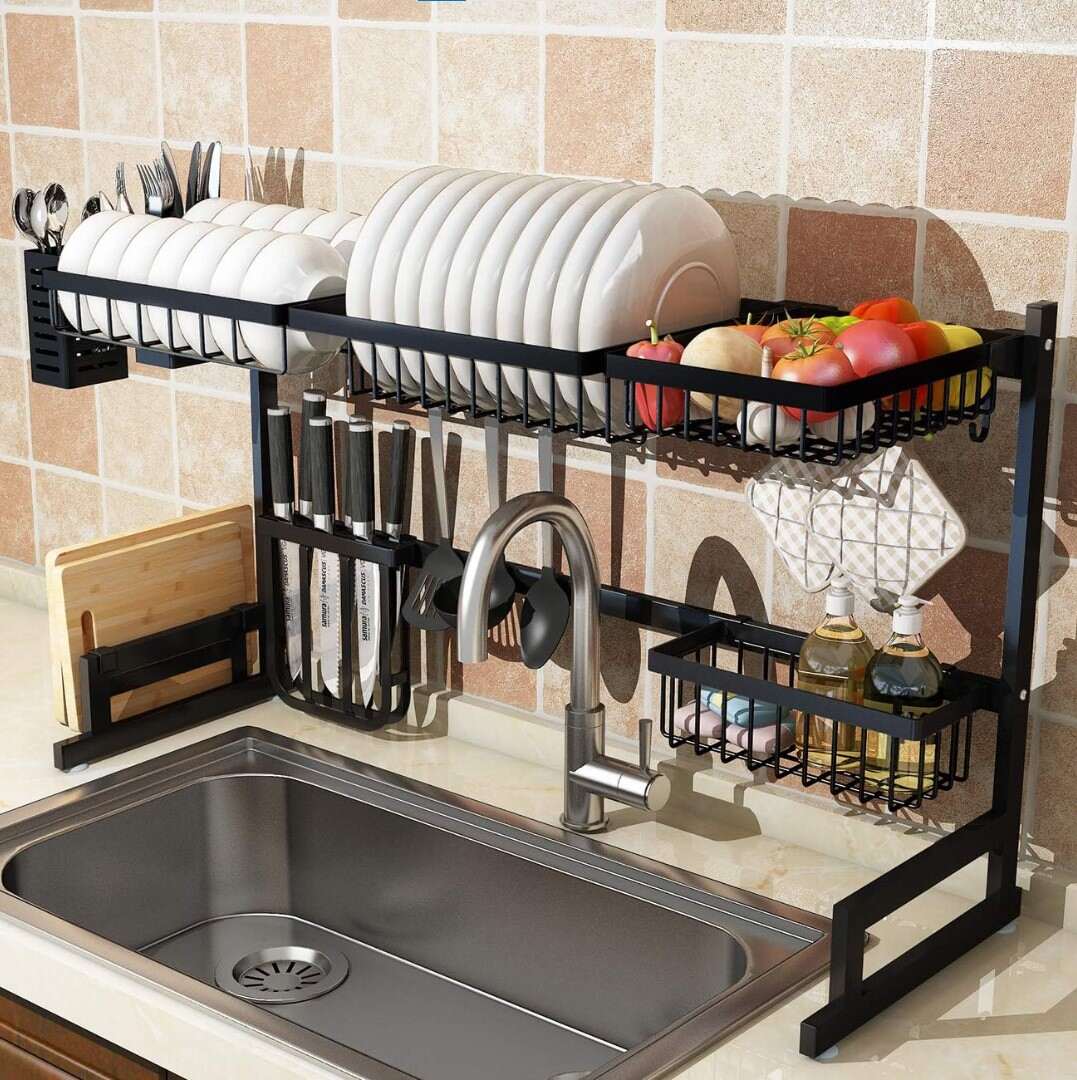 This elegant gadget goes right on top of the sink, so it's great for smaller kitchens. Apart from looking appealing to the eyes, it won't leave all your countertop wet.
Eco-Friendly Kitchen Hack: Recycle your File Holders to Store Cans
File holders can do just about anything. They can be used to partition spaces in your freezer and store cutting boards. In this case, you can use them to store cans.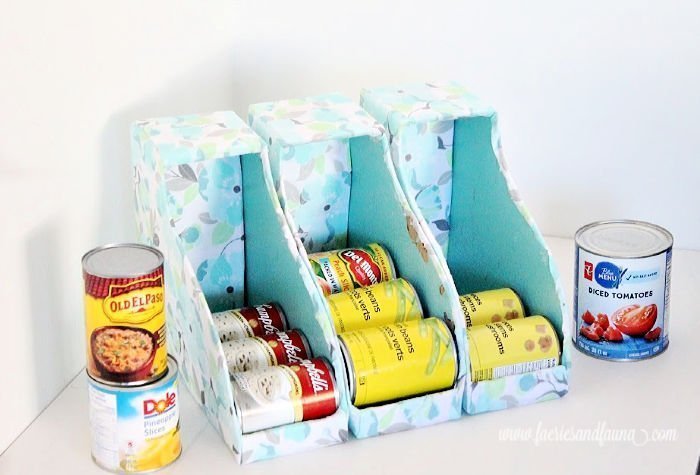 If you don't have file holders to recycle, you can make cute holders with cardboard, glue, and your favorite paper wrappers.
Transform Your Cooking Space
Is your kitchen small, or does your kitchen layout make it look cluttered, which in turn, makes cooking a hassle? Here's a solution.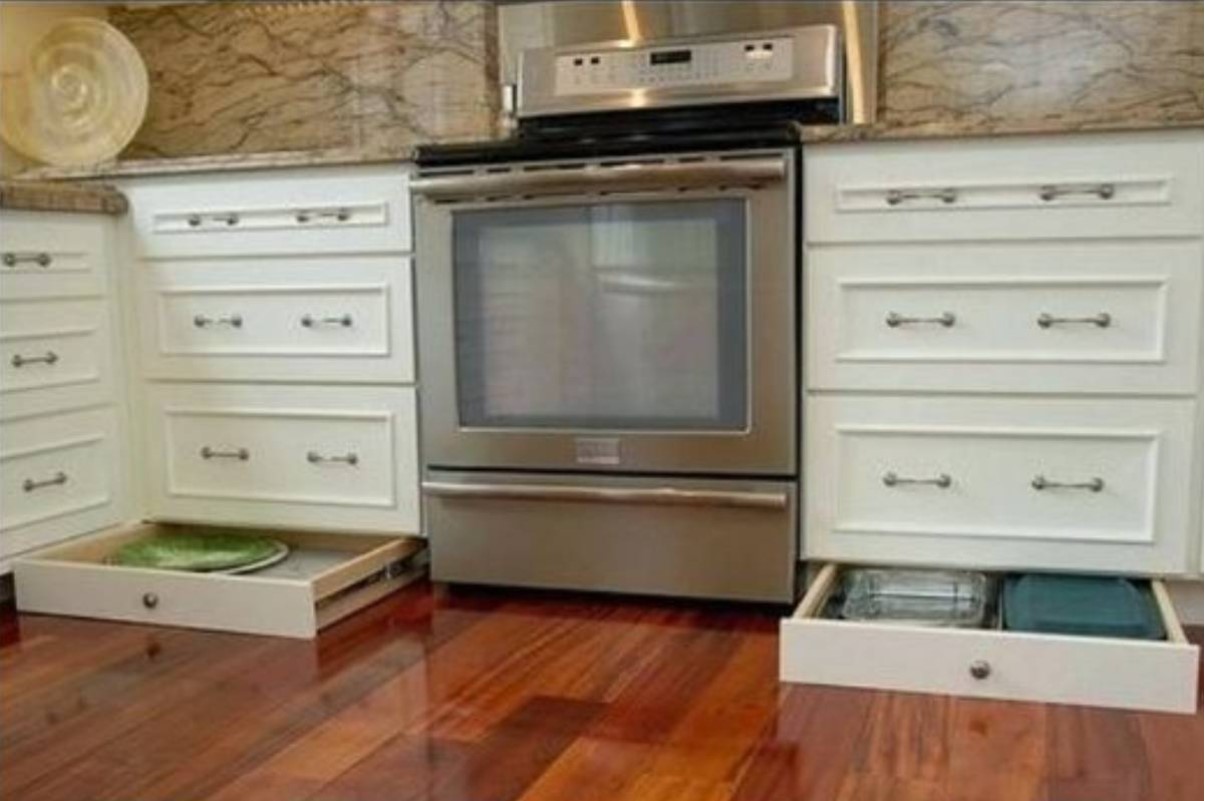 You can use toe-kickers in the room between the kitchen cabinets and the floor. They can be used to take advantage of storage spaces that are usually forgotten. Although the drawers are slim, they are good for oversized flat items like trays and cutting boards.
Minimalist Hack: Make Shelves with Pallets
You don't have to break the bank to organize your kitchen. If you want inexpensive materials and less DIY experience, go for wooden pallets.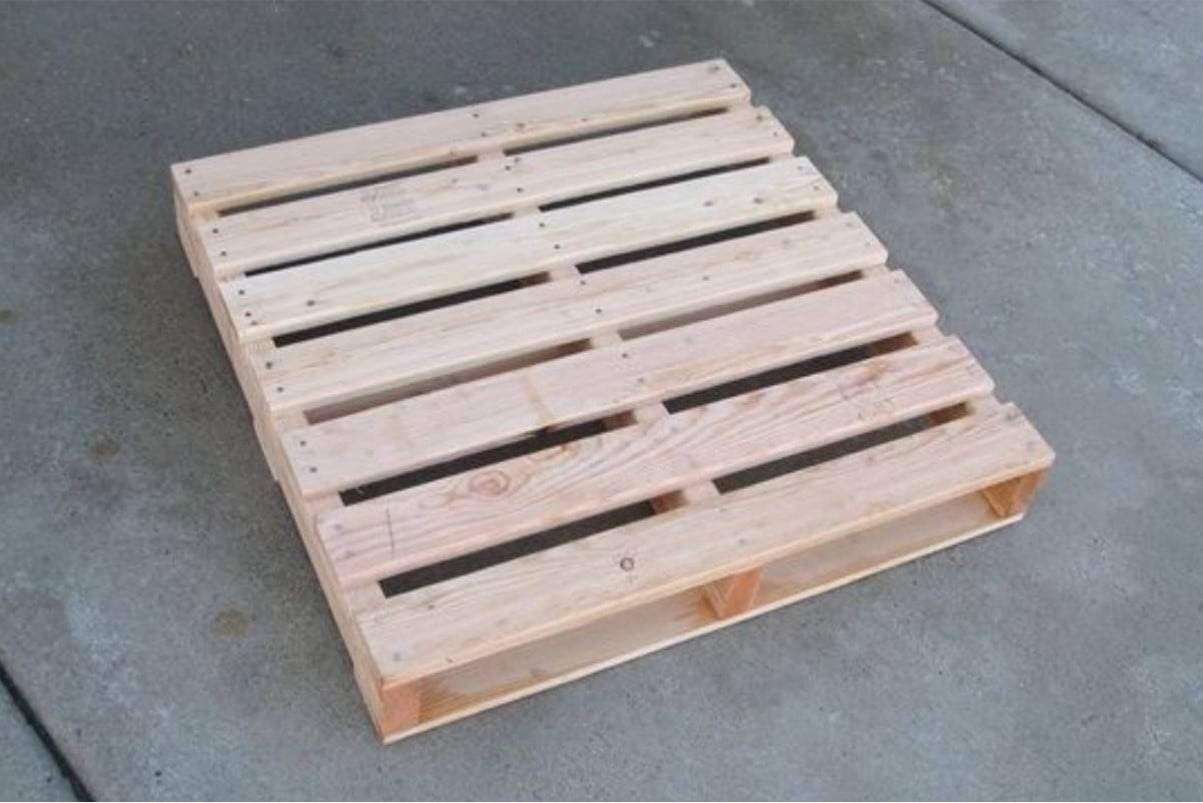 Wooden pallet shelves might not be the most elegant piece of home decor, but they are one of the best solutions for a well-organized kitchen. You can be creative with the pallets by painting them to add a splash of color.
Conquer your Cabinets
Mason jars are very useful containers; you can store almost anything in them. From fresh nuts to spices, these jars are the best choice. This trick will help you use them to keep your kitchen organized and save space.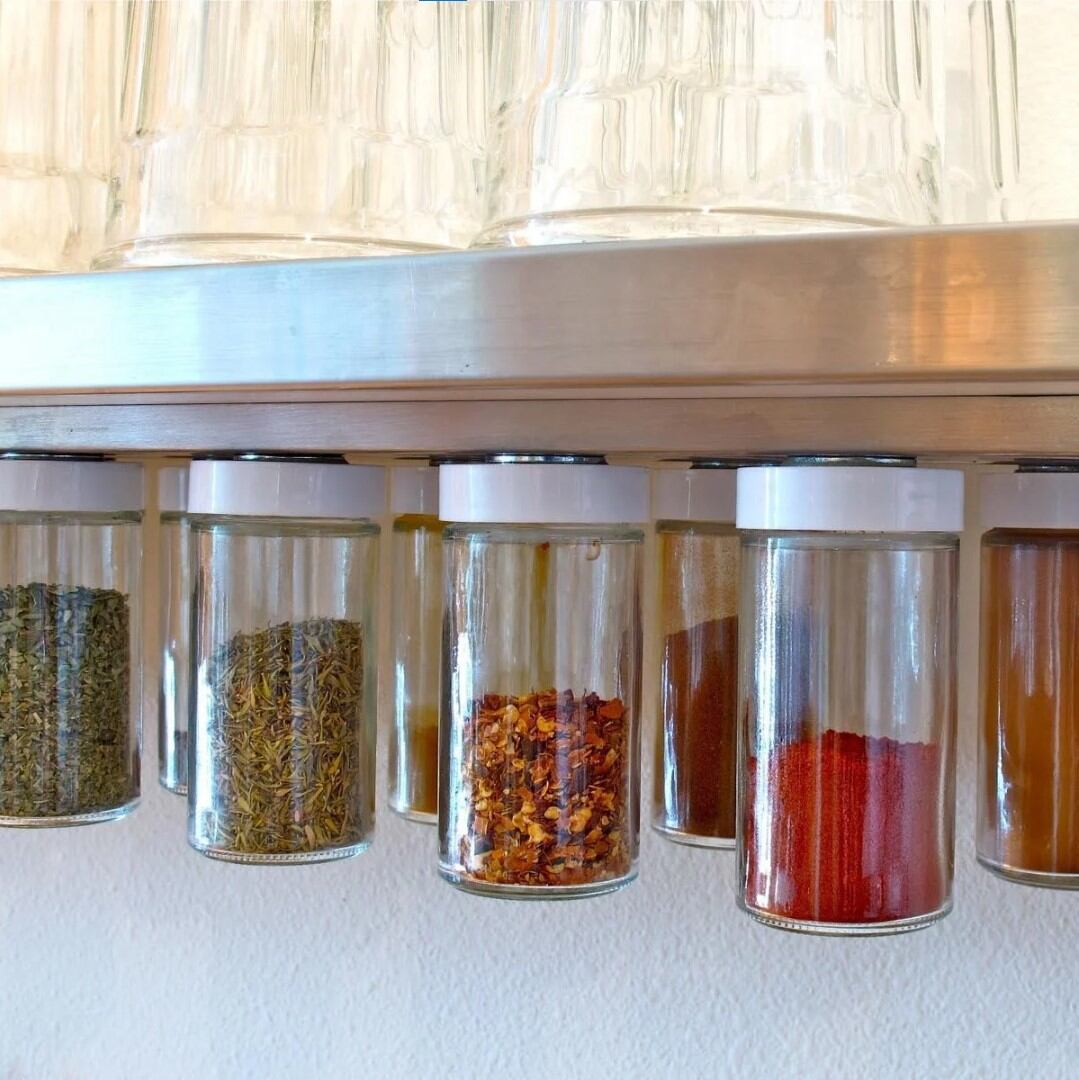 The bottom of the cabinet can be used as a jar holder. You can drill the jars' lid to the cabinets' bottom. You can also use a metallic bar and hold a powerful magnet to the top of each cover.
A Tidy Kitchen: Labeled Storage Bins in your Pantry
The storeroom or pantry is a part of the kitchen that can quickly get disorganized. However, this simple trick can be the key to having an organized pantry.
Different products can have a designed spot in different labeled storage bins. This will make reorganizing and putting away groceries after shopping easier.
Ceiling Rack for Pans and Pots
Big pots and pans with irregular shapes can be a headache, and some might not be able to fit into your cabinet. Luckily, here is a stylish solution.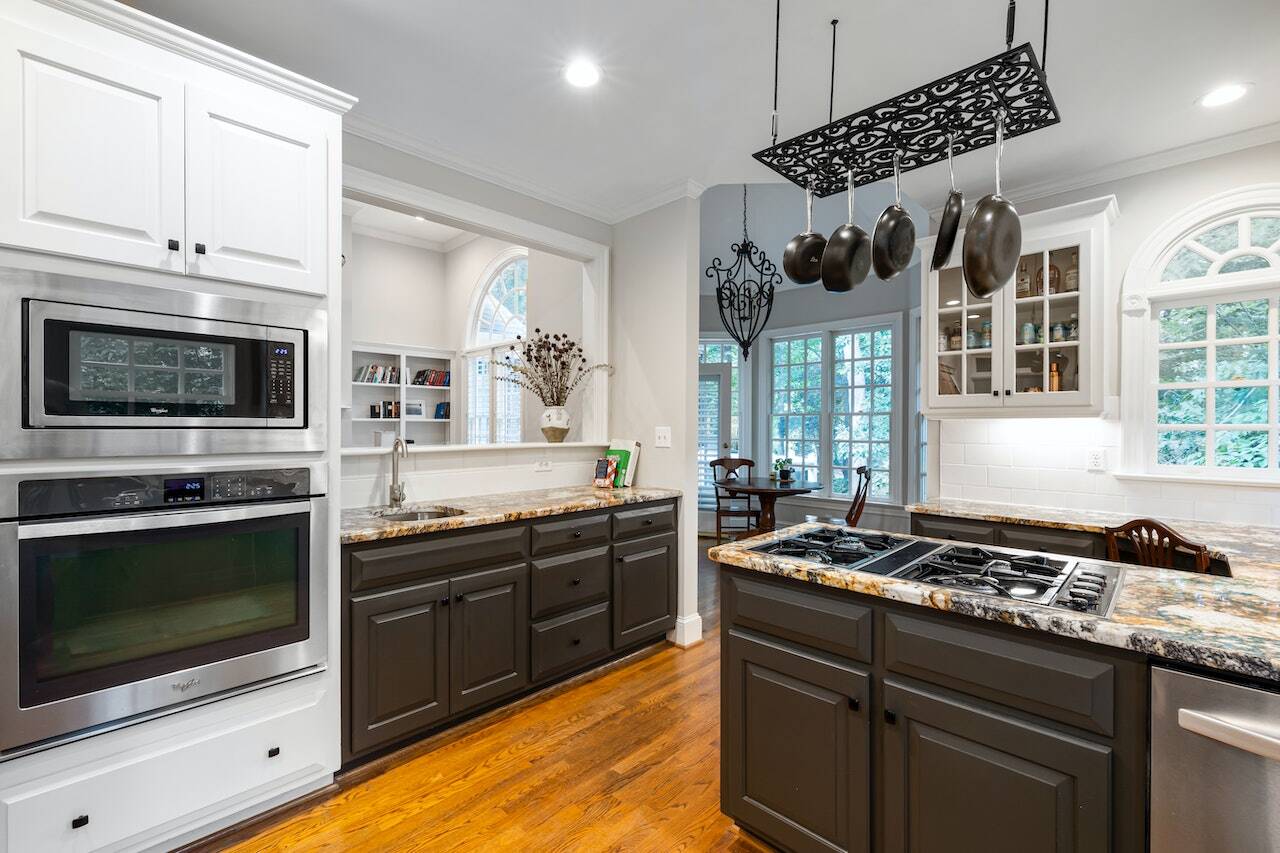 Although they may be expensive, ceiling racks are worth every penny. You can save lots of space both in and on your cabinets, and the pots and pans can also be easy to get when you need them.
Innovative Storage
Here is another hack for spicing things up! Suppose your cabinet does not have as much space as you want, and your spices don't have enough room to be arranged appropriately. You can use this neat trick.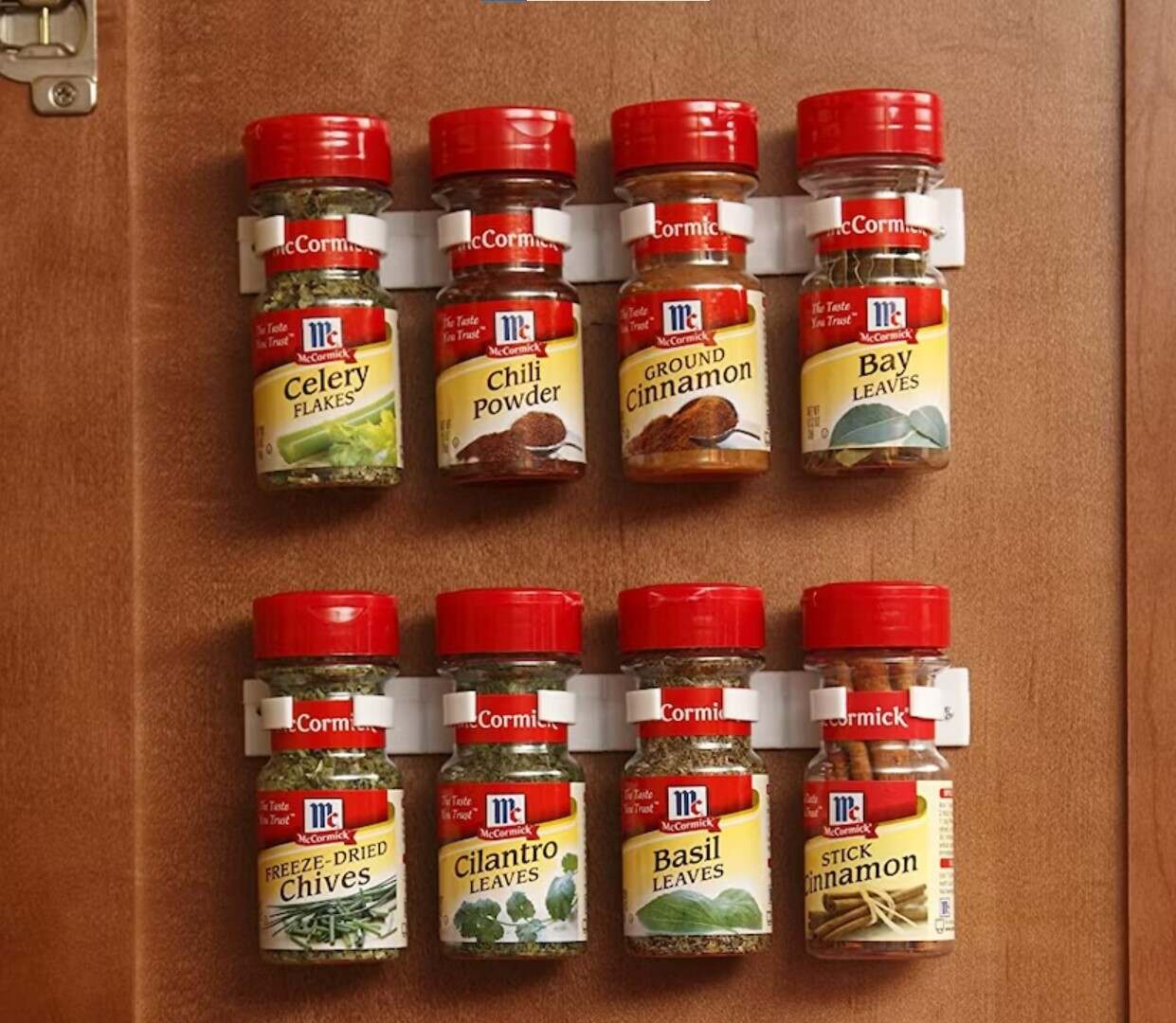 Get spice holders, which can help you take advantage of the extra space on your cabinet doors. These spice holders are cheap and easy to get. They also do not require much work as you only have to attach them to the cabinet doors.
Tidy Cutleries
The most-used items in the kitchen are spoons, forks, and knives. These cutleries are kept in the top drawer because of their constant use. However, there are more efficient ways to organize them.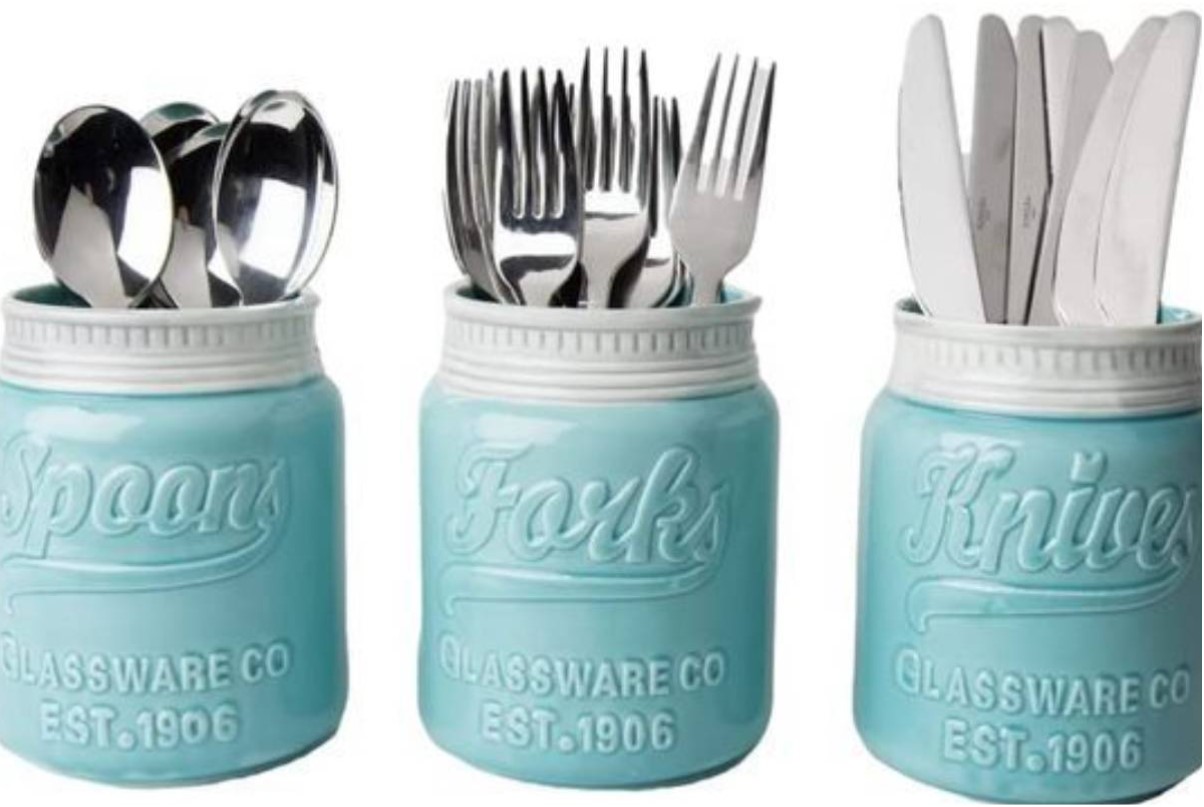 You can keep each type of cutlery in separate mason jars. The fun part is you can be as creative as you want with the jars. With paint and labels, these jars can light up your kitchen.
Mastering the Art of Kitchen Organization
Take advantage of every available space in your kitchen in an organized way. A lot of kitchens have filler panels on the sides, which were placed there for aesthetics. You can, however, turn this non-functional space into something useful.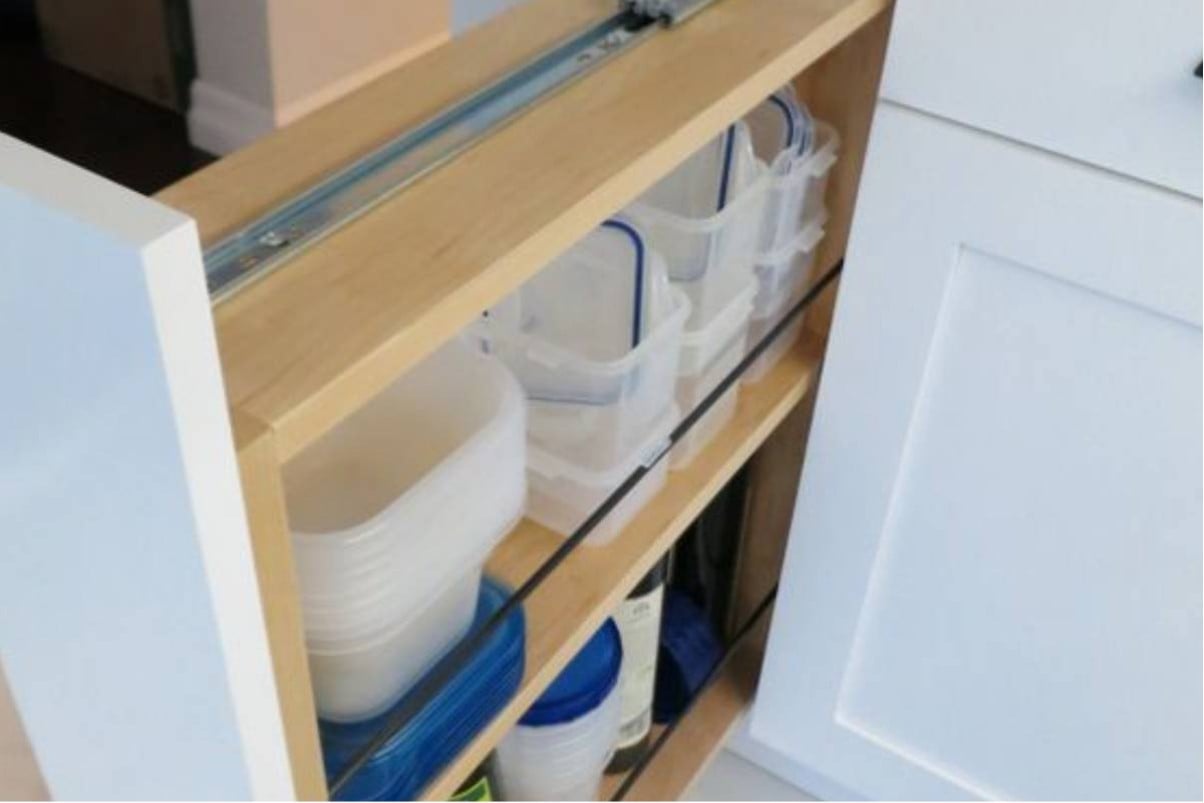 This project requires some effort. You will need drawer rails, screws, and wood. First, take out the cover. Measure and fit your wood inside, assemble the drawer, attach the rails, and you're done.
Utilize the Sides of your Cabinet
This hack is perfect for small kitchens that need extra space but have no obvious places to add extra cabinets or drawers.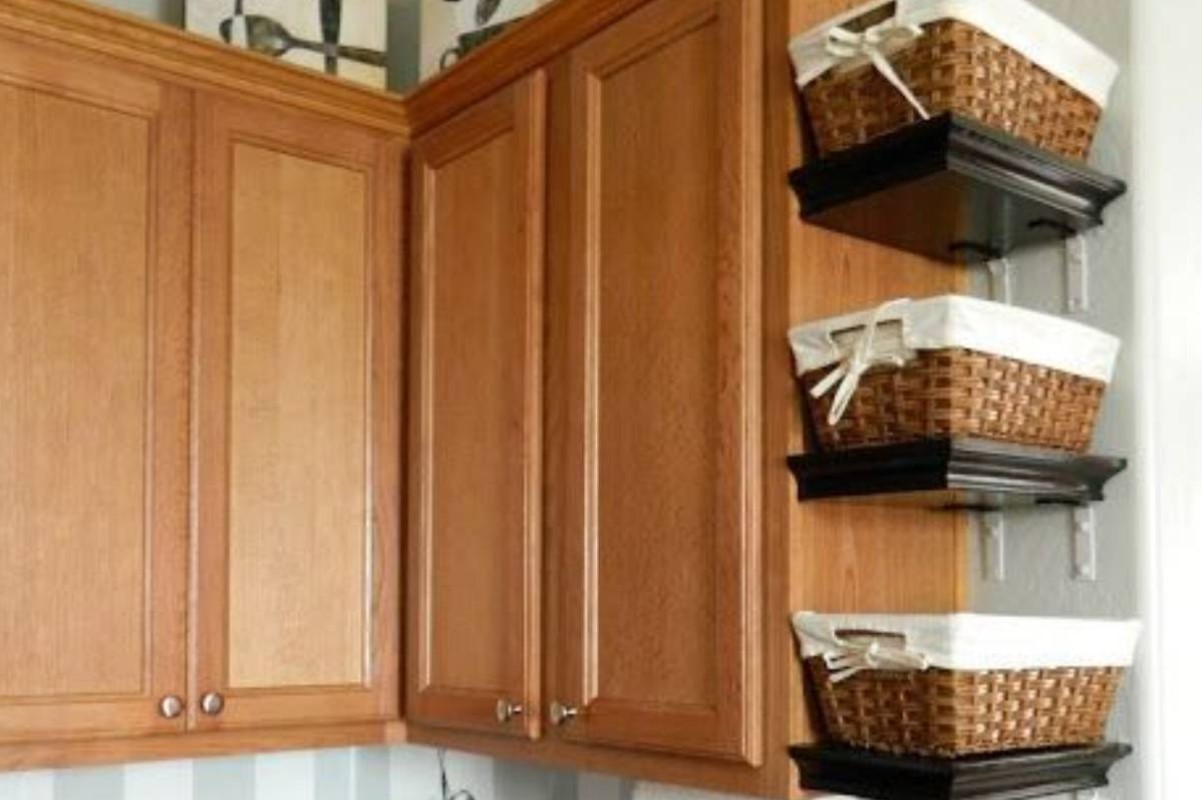 Take advantage of the sides of your cabinets and install some shelves. You can place some baskets on top of them for a more polished look and use them to store whatever you need, keeping the mess out of sight.
Save the Flavor: A Storage for Garlic and Onion
Do you know where to store your onions and garlic? Are you tired of seeing them go bad? We have the perfect solution.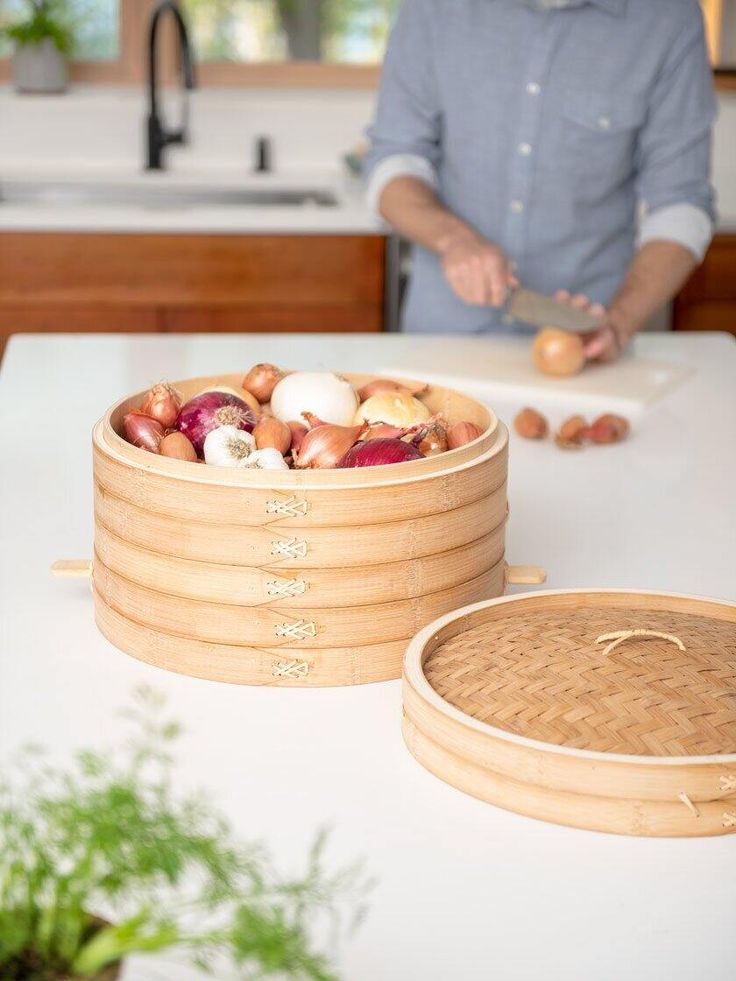 A bamboo steamer is just the thing. Amazing recipes can be made with bamboo steamers, but they have another use. Its material and design prevent moisture from getting inside, thereby extending your product's shelf life by two to three months.
Make a Unique DIY Napkin Holder
If you are a fan of trendy hacks, you will definitely love this simple napkin holder. It is a DIY project, and you only need two items: glue and wooden clothespins.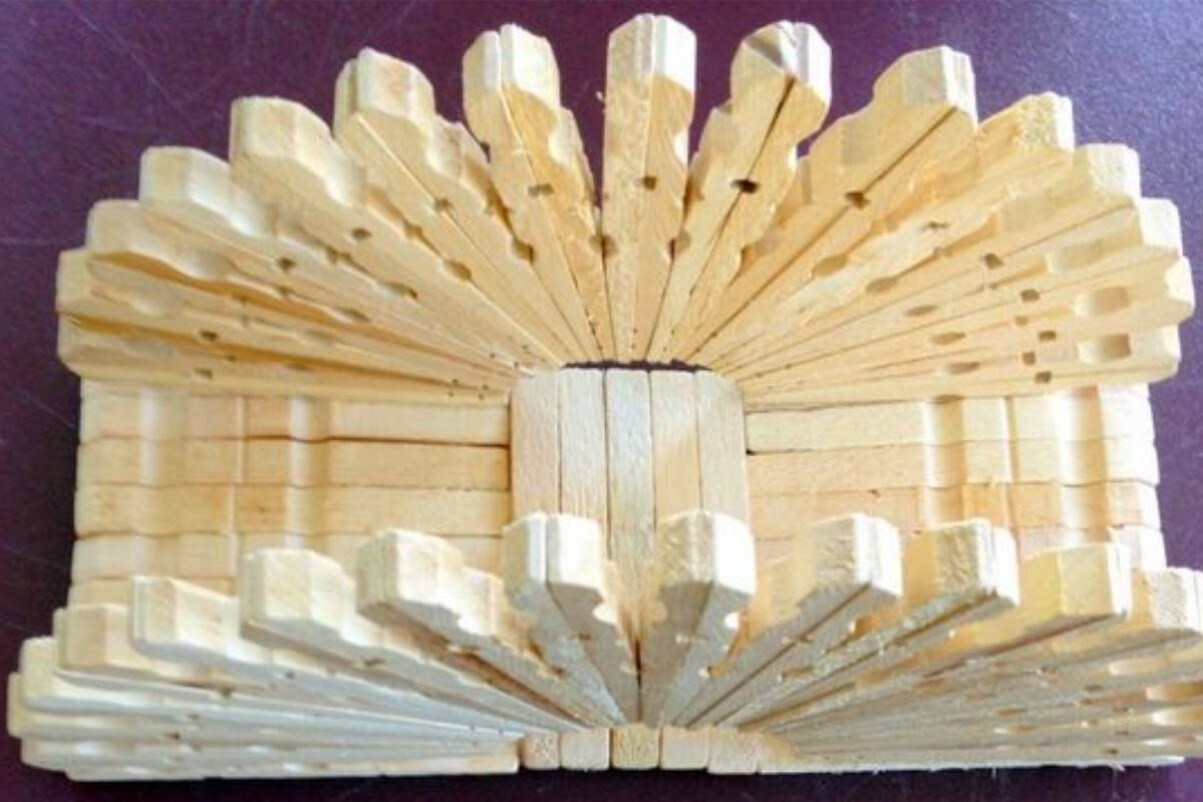 Take out the wires of the clothespin safely. Then, attach them with glue to form a semicircle. Do this twice and use the remaining pieces to make the bottom. And if you think the wood looks too boring, just give it some color.
Tips for a Clutter-Free Kitchen
"Just-in-case" items are things almost everyone indulges in. Most times, we don't even use these items. Scientists have proven that if you haven't used something in six months, there's a good chance you will never use it again.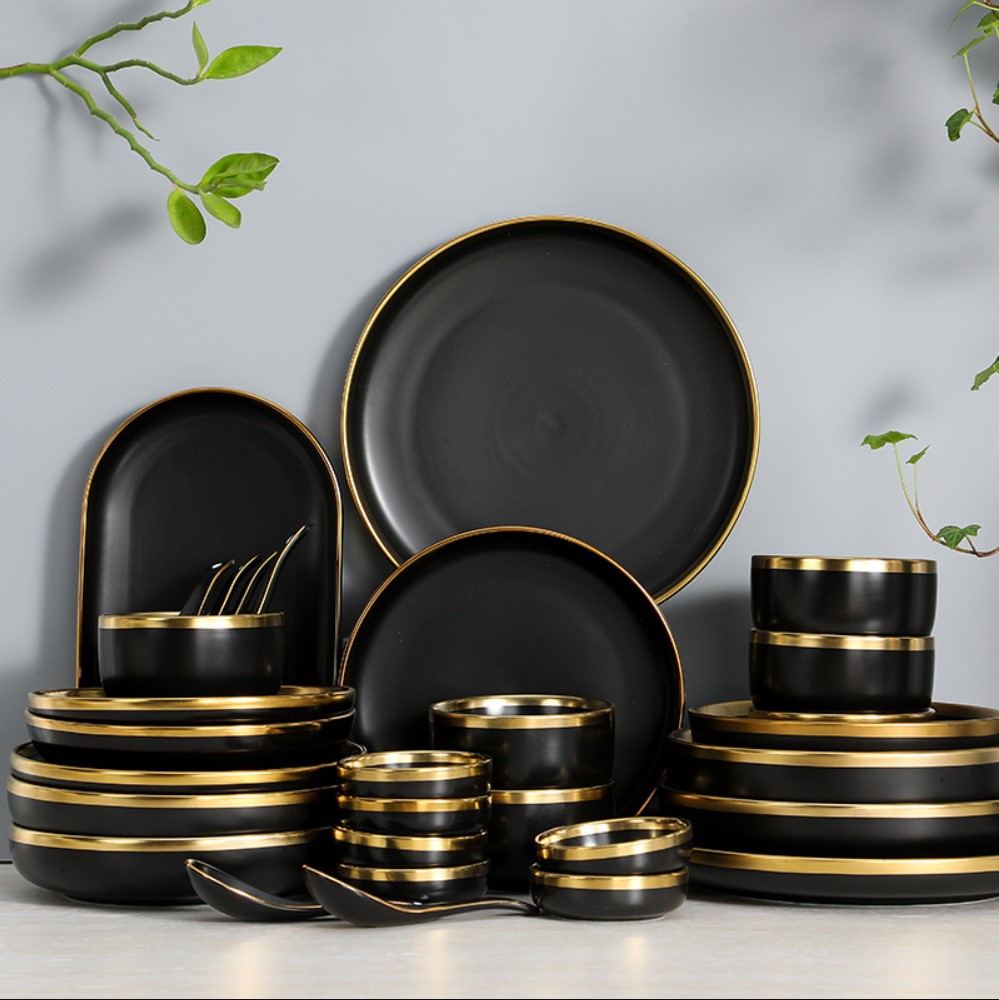 Work up some courage and get rid of anything in your kitchen that you haven't used in months. Clear out all the clutter that prevents you from having a well-organized kitchen.
Simplify your Space: Wipe Holder in the Sink
Reusable kitchen towels can become an enemy if you want to keep your cooking space organized. If you leave a wet towel on the countertop, it makes the whole room look cluttered and takes forever to dry. Luckily, there is a solution.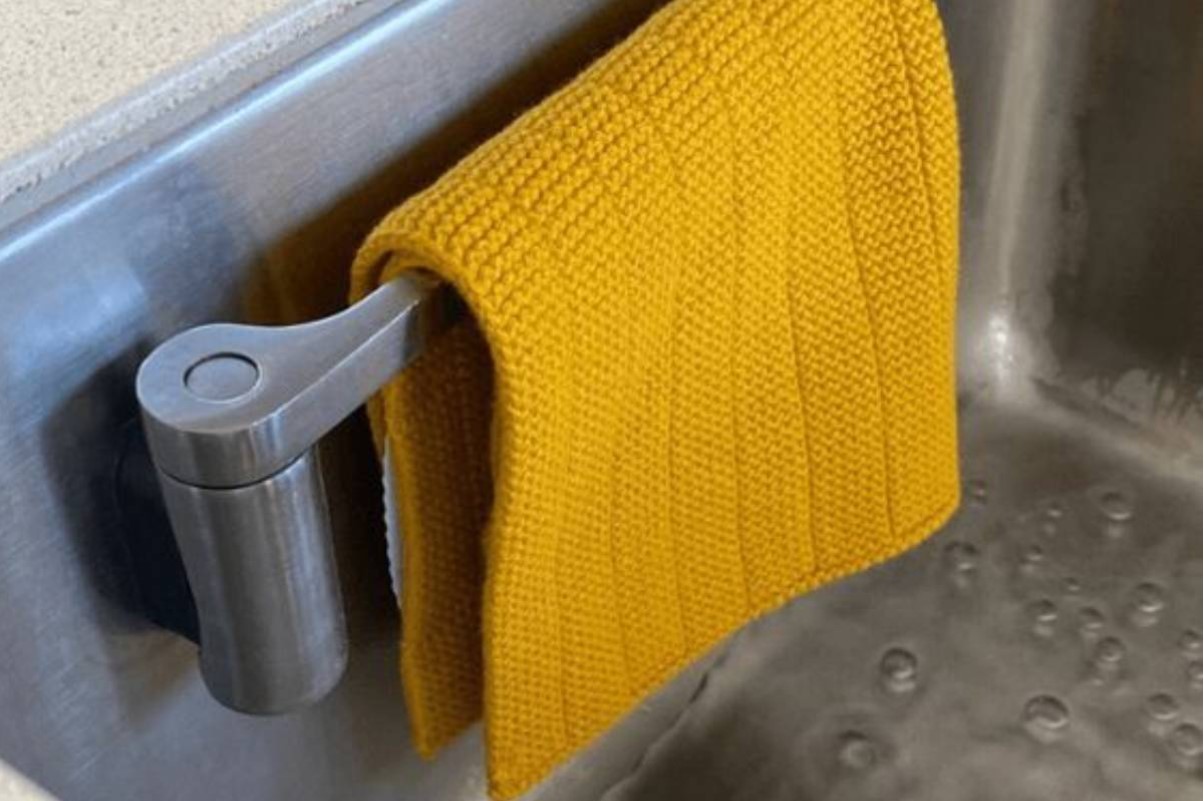 Having your kitchen towel on one of the sides of your sink is a smart way to keep your countertop dry and make it look more polished.
Access Hard-To-Reach Items With a Lazy Susan
An annoying issue that often occurs in the kitchen is trying to reach something from the back of a cupboard or cabinet. It can be very cumbersome, especially when things aren't arranged well.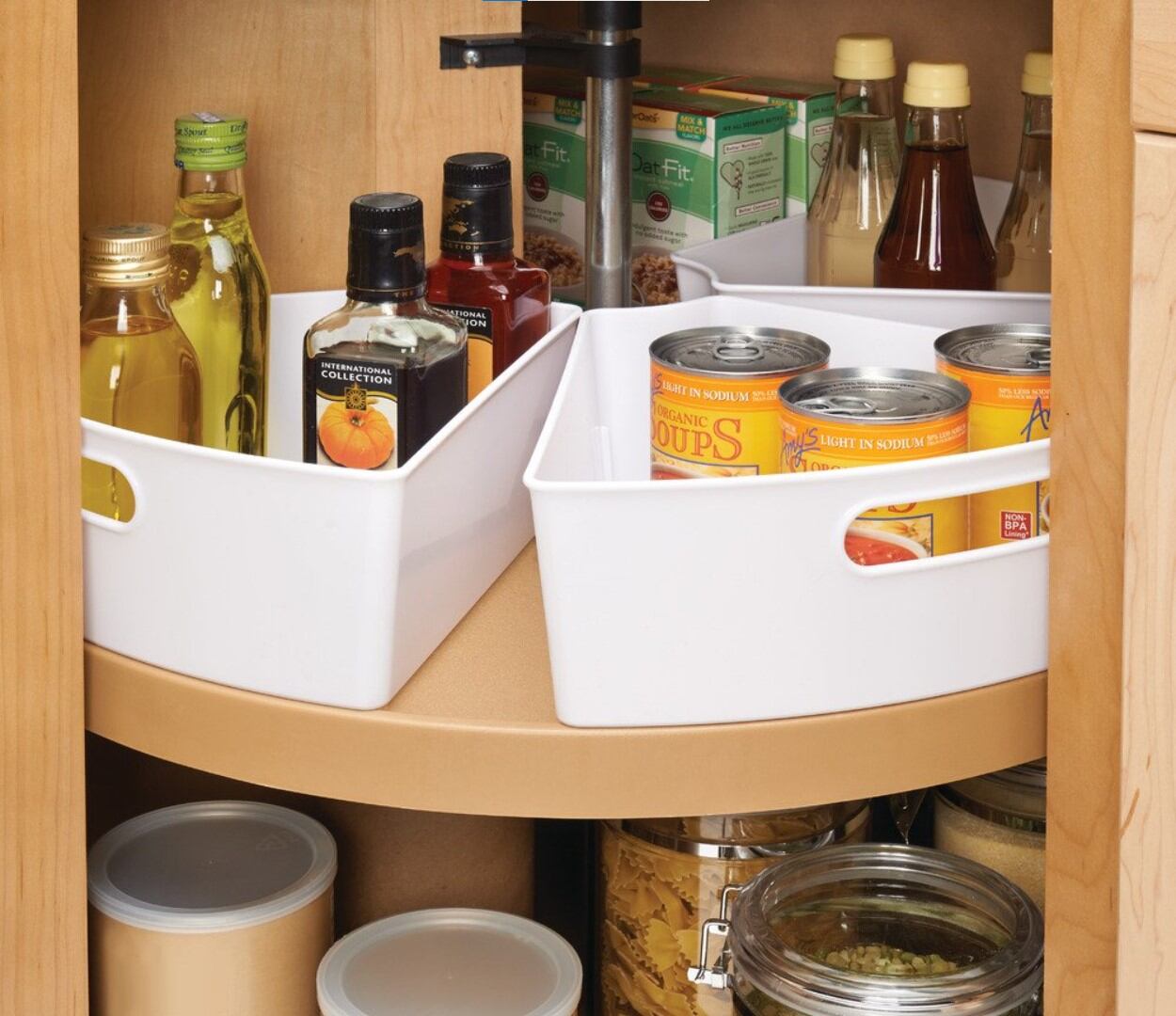 A revolving tray, or a Lazy Susan, is just the right thing for organized cabinets. These trays not only keep all your items at your fingertips, but they will also save you a lot of space and stress.
DIY Trend: Make Your Own Cutlery Drawer
Not everyone would like to use Mason jars to store their kitchen utensils; some people are more comfortable with top drawers for their cutlery.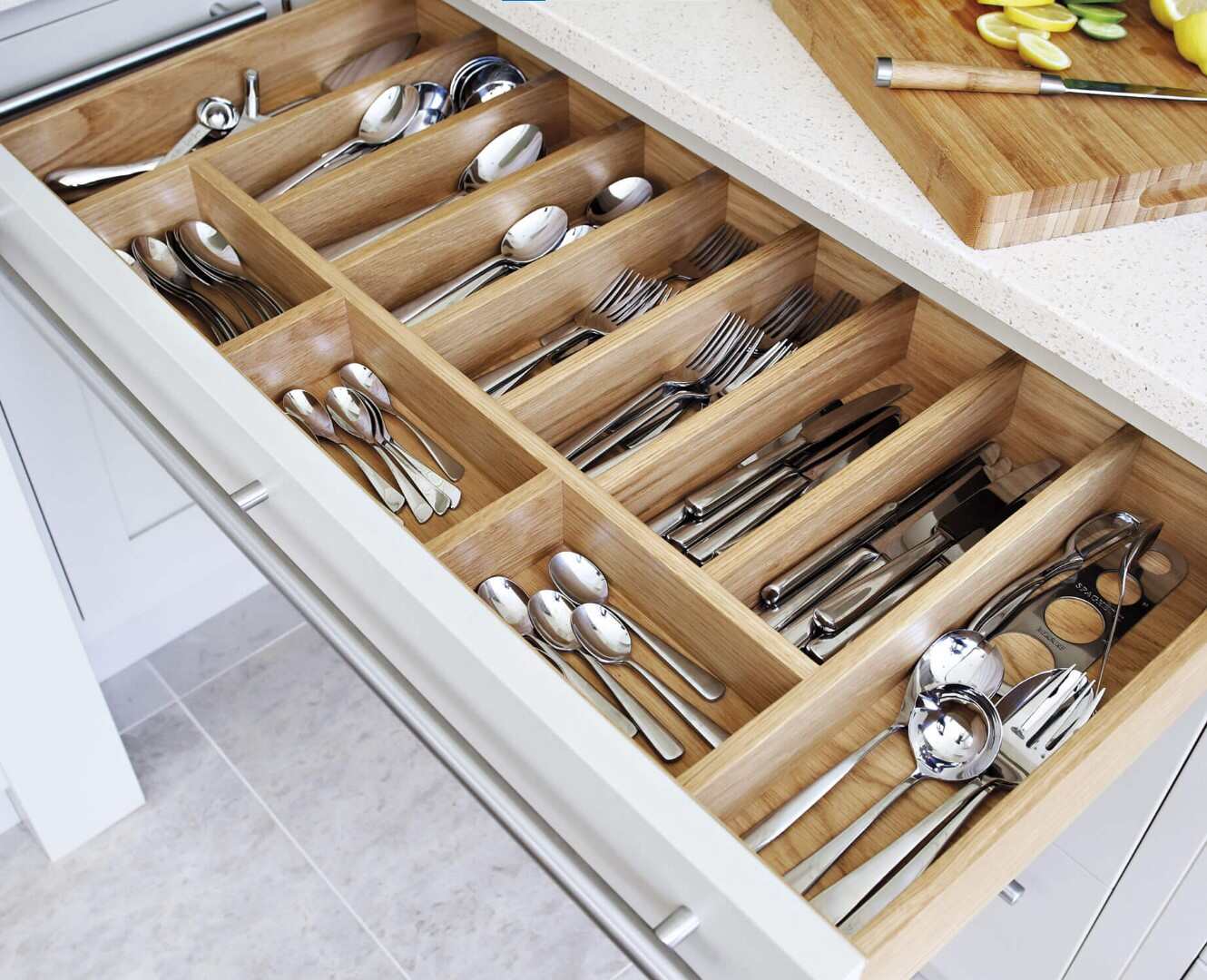 Making your own cutlery tray is actually easier than you might think. All you need are a few pieces of wood. You can place dividers in the drawer to make space for each piece of cutlery.
Drawers for Towels
Every kitchen has tea towels, and they only take up a little space when folded inside a drawer. However, they might start to smell a little musty if they take a long time to dry.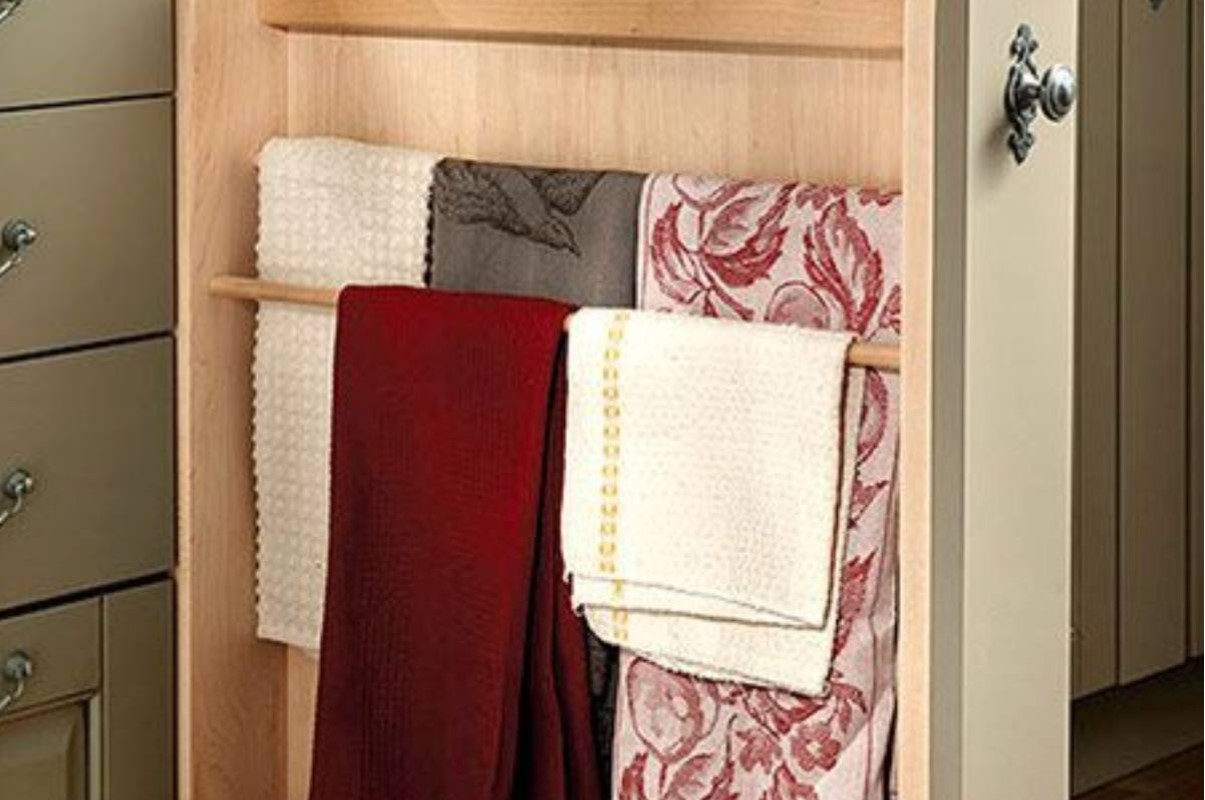 A pull-out drawer is a perfect solution for saving space and avoiding mess. All you need to do is glue in some wooden rods at your preferred height and hang your tea towels on them.
Fridge Problems: Extra Drawers
Fridges tend to have plenty of storage space. Most of the room is left unused because the shelves are too far apart. There is a perfect gadget for that.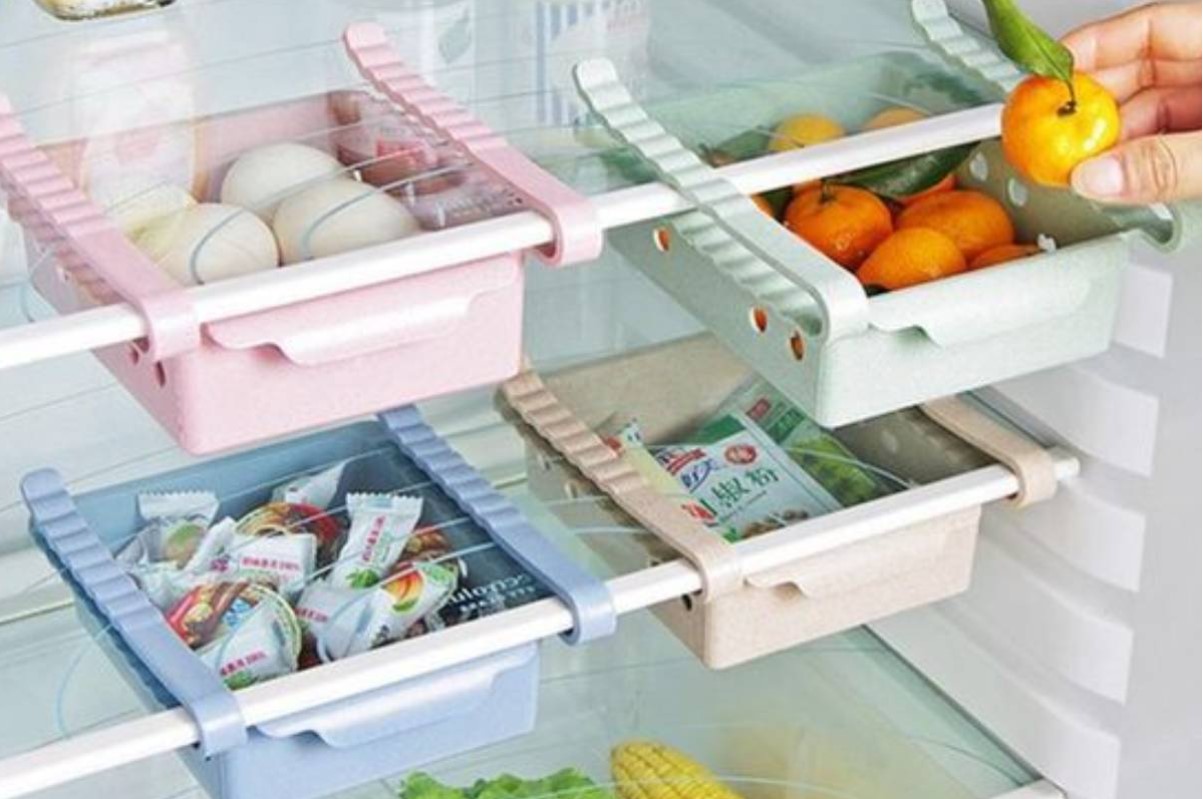 These cute little drawers can help save space in your fridge. You can use them to store eggs, condiments, and other things, leaving plenty of room for big items like bottles.
Recycling: Another File Holder Hack
File holders are so versatile that they can even be used even in the freezer. When you pile frozen food on top of itself in a freezer, they tend to stick together. File holders come to the rescue.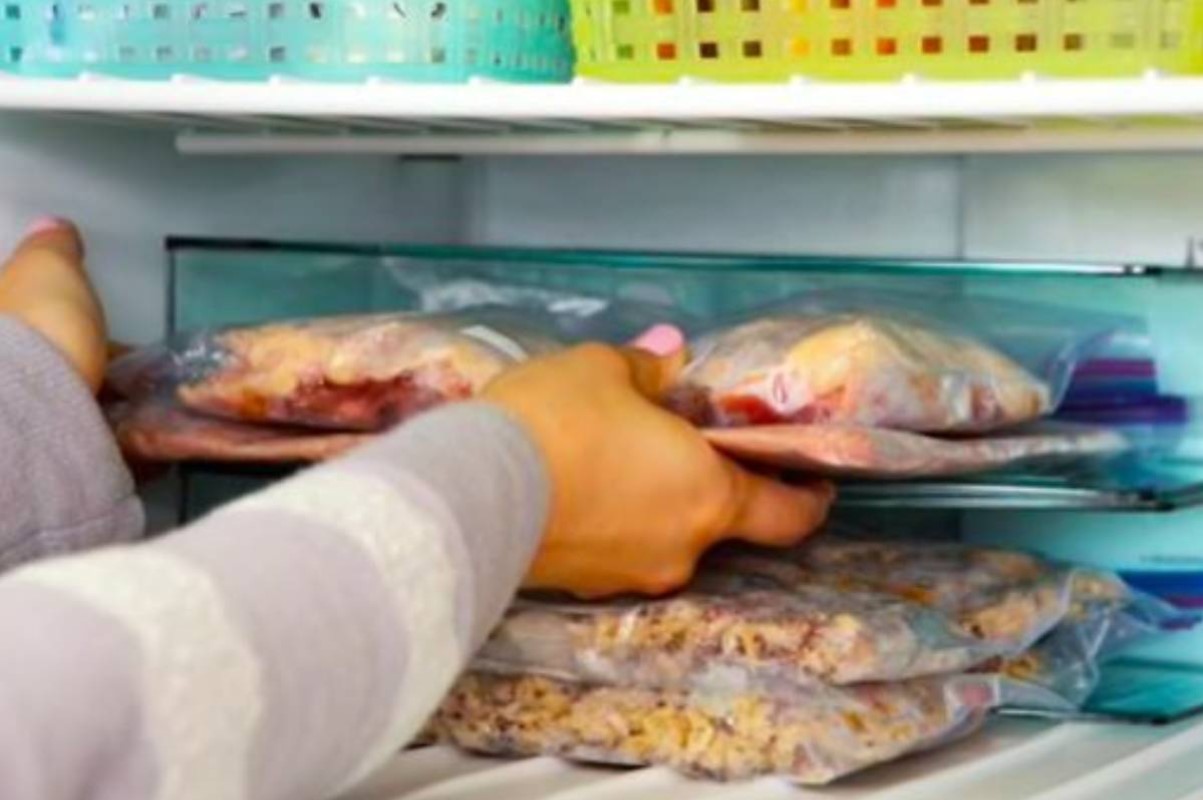 They can be used as improvised dividers for frozen foods. Place one between each item you piled up. This will prevent them from sticking together. Creative, right? Your freezer will instantly look more neat and organized.
Solutions for Kitchen Chaos: Baking Supplies
Just like spices, baking supplies can also be a hassle. Baking can be a messy business, even if you are a tidy baker and your supplies are stored in different places.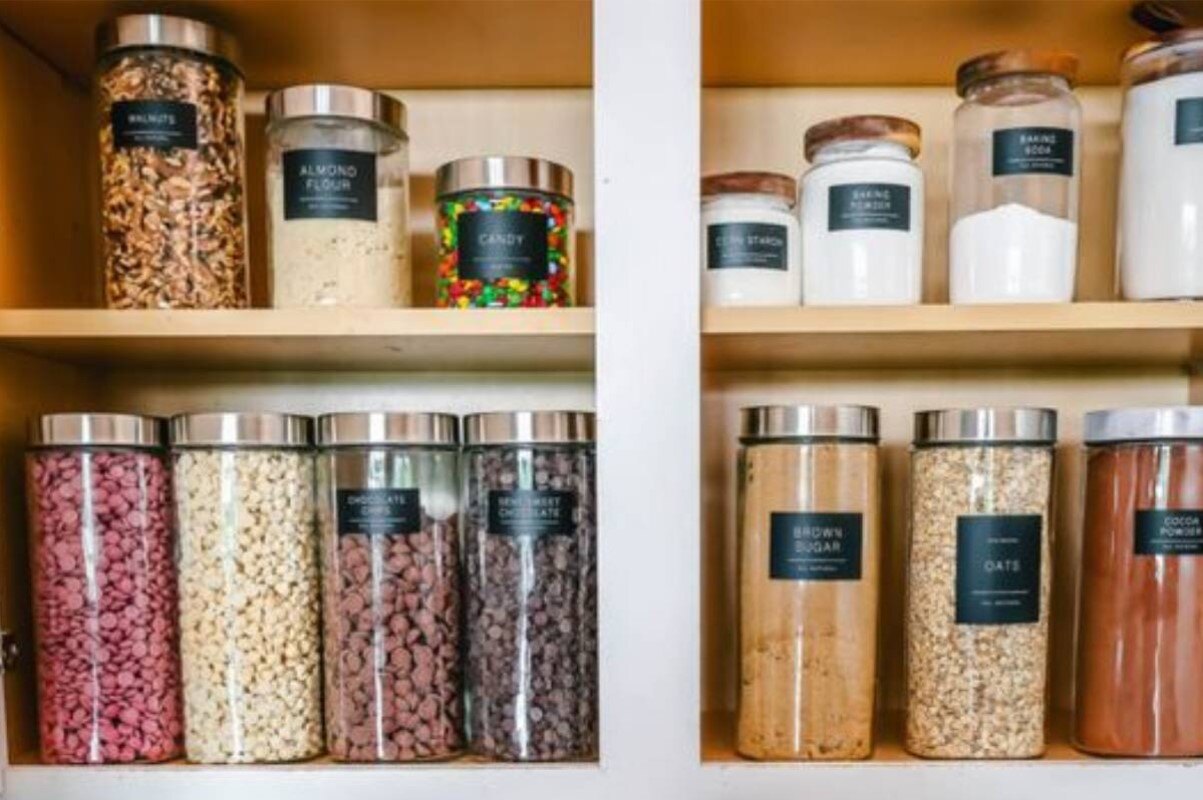 You don't have to be a professional baker to start storing all your baking supplies in one cabinet. Storing supplies like sugar, chocolate chips, and flour together is the best way to keep your kitchen organized. Plus, everything will be right at your fingertips.
Picnic Chic: Beer Box Storage
Condiments and sauces are easy to store, but they have a major problem: they can leave annoying marks on the table or counter. This simple DIY project can help you avoid these types of stains and messes.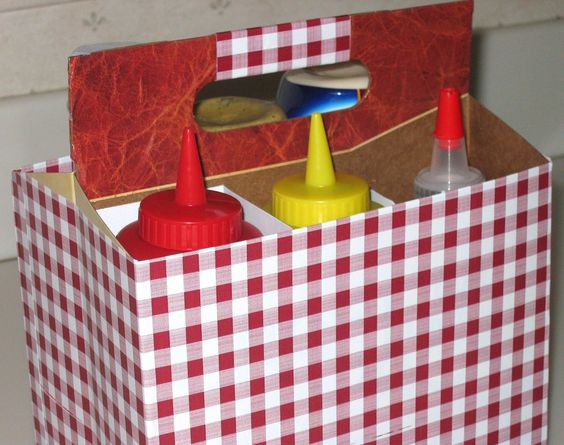 This condiment box is quite simple to make. You only need a beer box, and you can paint it or cover it with a nice piece of paper. These condiment boxes can hold up to six different condiments.
Effortless Meal Prep: Fruits and Vegetables
Some fruits like watermelon and vegetables like cabbage can take up unnecessary space in the fridge. Another problem is they can quickly go bad, no matter how fresh they are or how soon you put them in the refrigerator.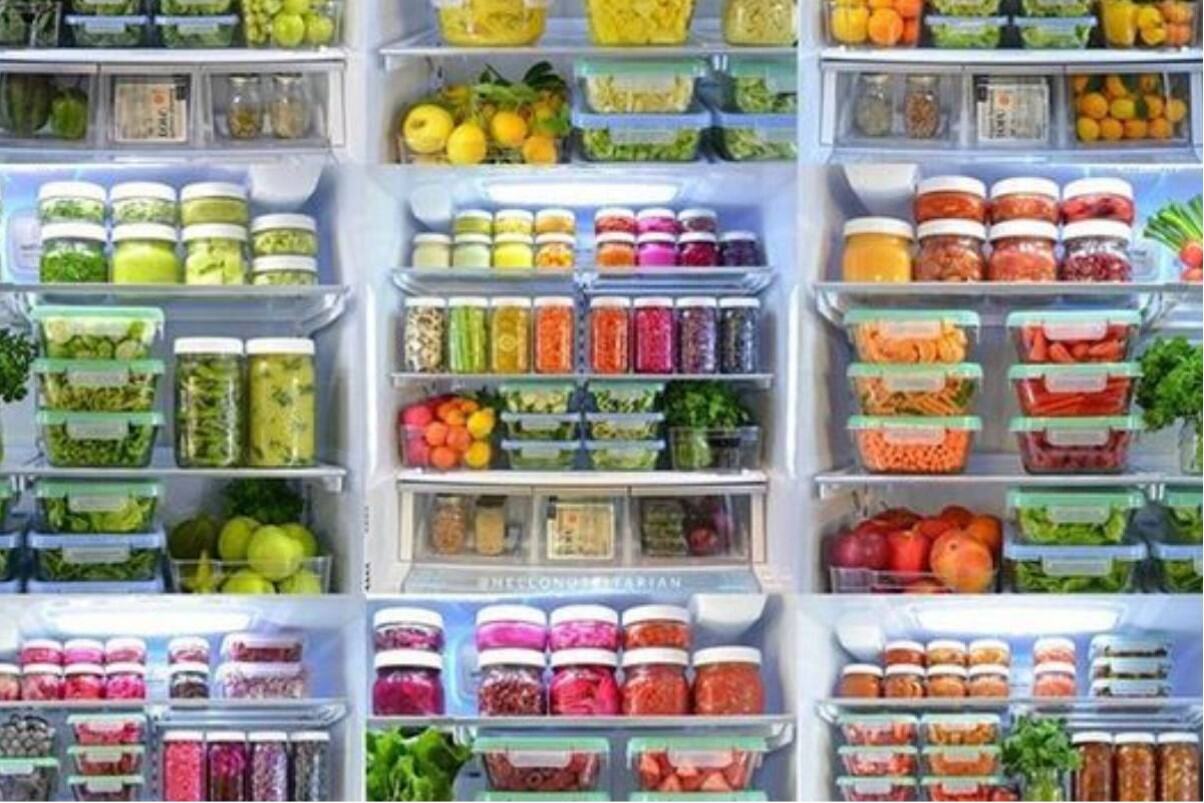 Get clear containers, and fill them with your fruits and veggies already chopped up. Although it seems like a lot of work, it is worth it as it will help them last longer. Bonus: they'll also take up less space.
Elevate Your Cooking Space: Add a Kitchen Island
Even after following most of the hacks in this article, you might still be short of storage options. If you need more countertop space or a better place for your kitchen items, there is a perfect solution.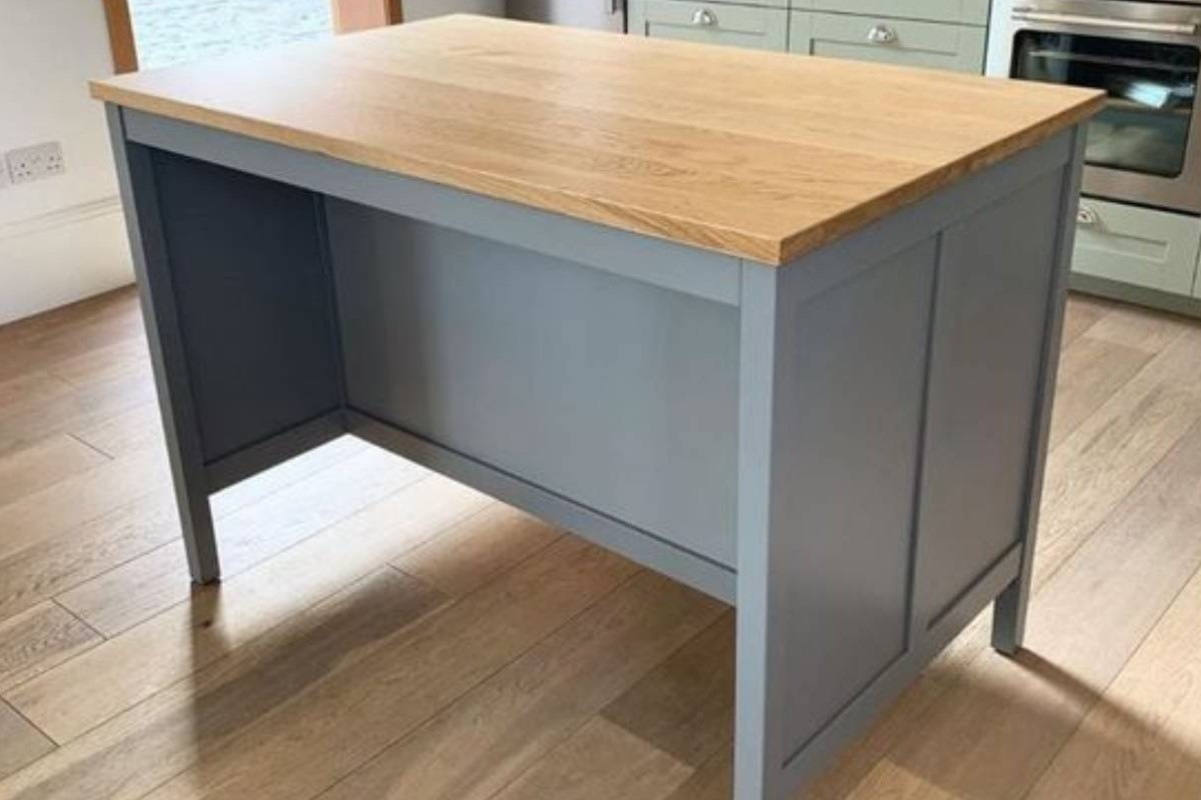 Yes, a kitchen island. It doesn't have to be expensive; any old dresser can be turned into a kitchen island. Just give it a fresh coat of paint, and voila! You have a vintage kitchen island that can hold all of your essential cooking items.
A Rack for Your Appliances
Usually, the countertop should be empty and available for cooking activities. This is, however, not always realistic, especially if appliances are involved. Your microwave, toaster, or electric kettle on the counter can be space-consuming.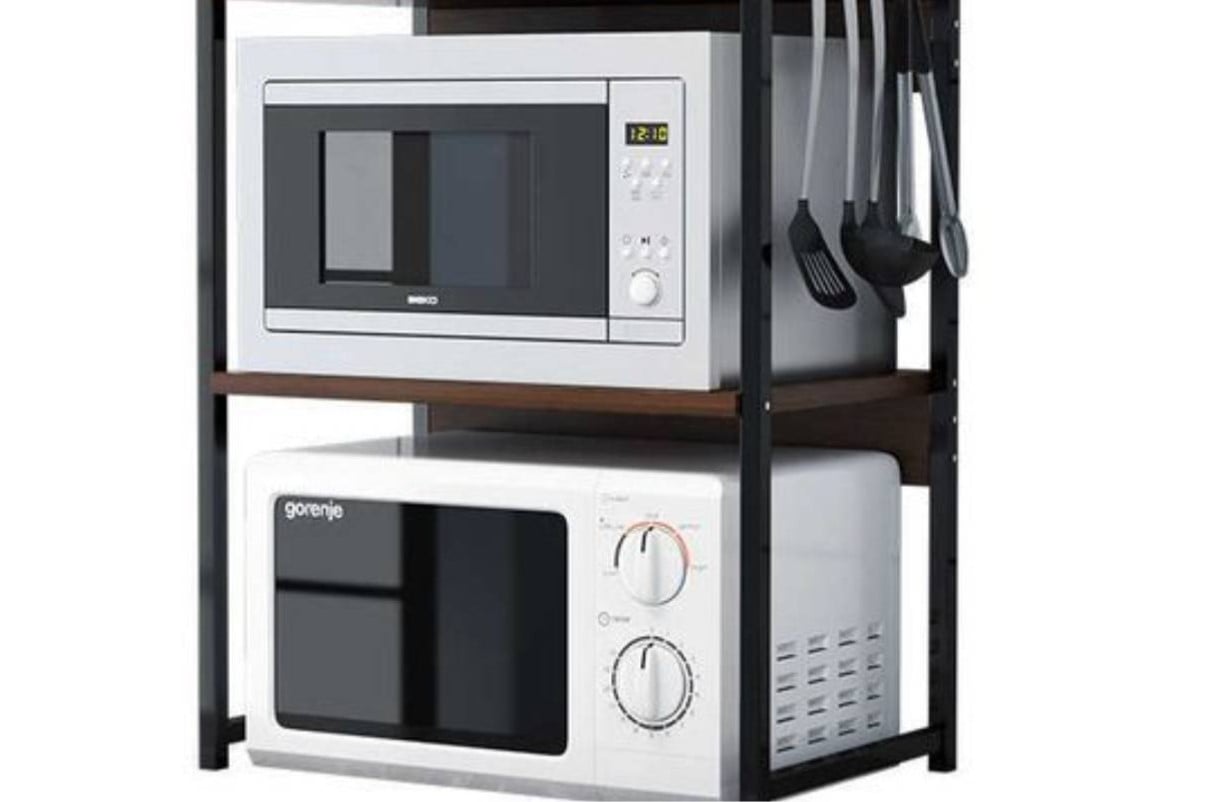 The trick is to get a microwave/oven rack. It's perfect for those kitchens that might not have enough countertop real estate for appliances. They usually come with hooks on the side to store utensils.
Display Your Fine Plates in Style
Let's say you don't want to get rid of your fine plates yet. It would be a waste to keep them hidden in a cabinet, especially if you have little room to spare. A better idea would be to keep them where their beauty can be appreciated.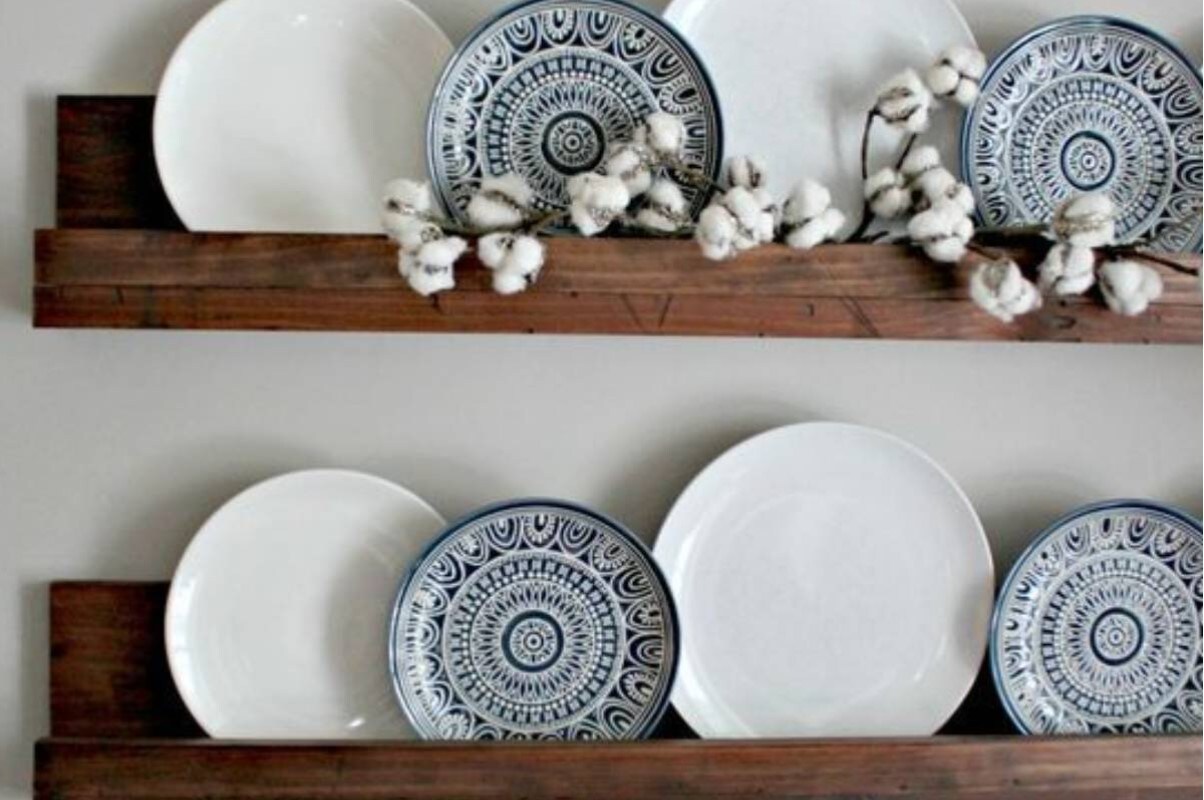 Displaying your fancy plates can be a great addition to your kitchen decor. So, get a nice shelf or lovely plate holders and showcase those beauties.
Keeping it Clean: The Best Place for Your Sponge
No matter how many sponges you have, they don't tend to take up a lot of space in your kitchen. However, they still have an annoying problem: leaving them in the sink or on the countertop can cause a mess.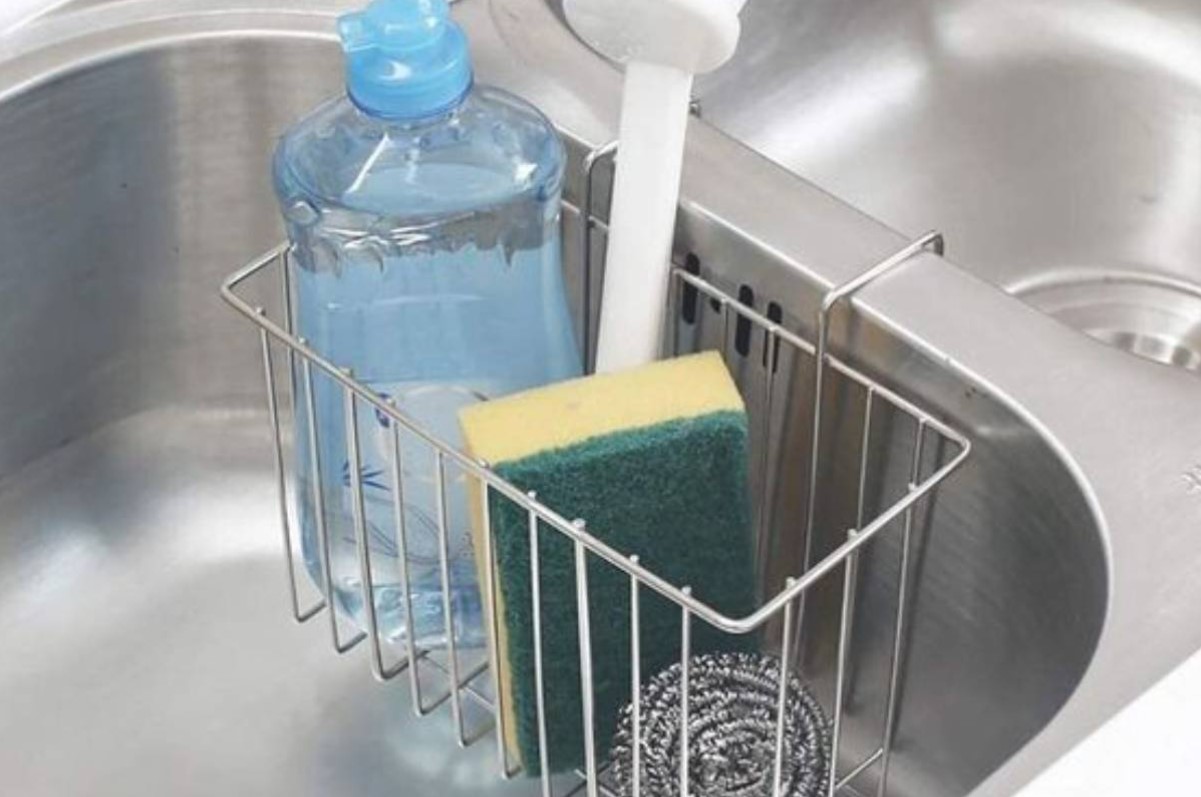 Apart from draining the water from the sponge, a sponge holder on your faucet can also make the sink a little less cluttered.